5 Great Water Destination Hikes of the Wasatch Front
#1 Bell Canyon
This beautiful hike, located on the east side of the valley in Sandy City, is rated as an easy to moderate hike by most. The hike does contain some obstacles such as rocks and some moderate incline, but nothing too difficult for the average person. The entire hike is 4 miles round trip, however the first reservoir is only 1/2 mile in and is a beautiful place to stop to take a break or just make your destination for a very short hike.

However, if you proceed on past the first reservoir, you will hike another mile to the first waterfall, which is an absolutely gorgeous view.
If you are looking for a more strenuous adventure, you can keep going up another 1.5miles to the upper waterfall.
#2 Donut Falls
This family-friendly hike located 9 miles up into Big Cottonwood Canyon is considered an easy hike for all ages, but with a tremendous view. The trails are wider and there isn't much strenuous elevation. The entire hike, round trip, is just 3.5 miles. The best time to visit here is during the summer months, since that is when the most water will be melted and flowing through. Since this hike is located in Big Cottonwood Canyon, you can definitely find some great places to eat after your hike one your back down the canyon. Some great food recommendations after your hike right outside the canyon are also located on our website here. (Refer to Solitude or Brighton Resorts)
#3 Stewart Falls
If you are headed a little more south of Salt Lake, Stewart Falls is a great, easy hike located in the Provo Canyon. This hike can get a little difficult in the winter with snow, so the best time to visit is from May to October. This 3.5 mile round trip hike is considered to be easy for most families, and even dogs! That's right, dogs are allowed on this hike too. It is known as one of the most scenic waterfalls in all northern Utah.
#4 Dog & Desolation Lake
For a longer more intense hike in Big Cottonwood Canyon, try Dog or Desolation Lake! To get to this hike, you will drive 9 miles up Big Cottonwood Canyon. Then you will reach a large trail head on the left titled "Mill D North Trail Head." This trail is about 7.4 miles round trip and about half way through, you will encounter a fork in the road to lead you to either Dog Lake (only .6 miles from the fork)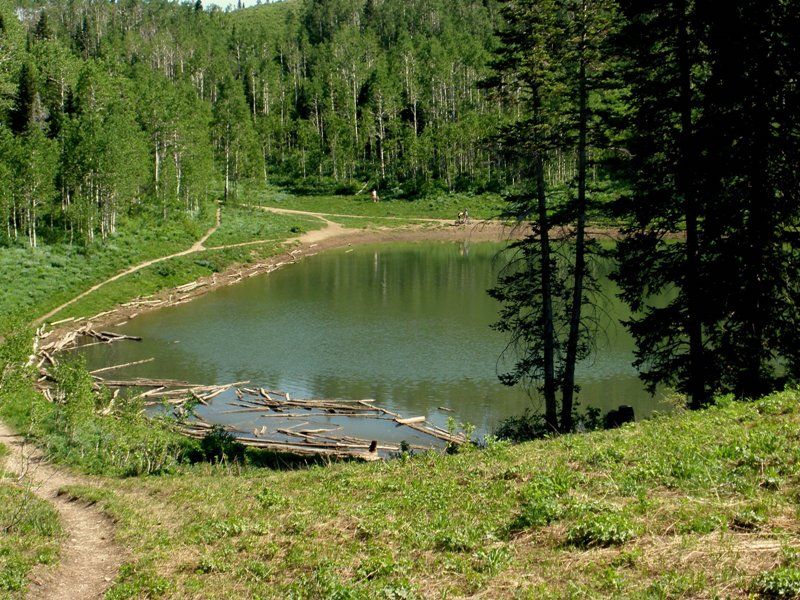 Or Desolation lake (1.9 miles from the fork). Whichever one you choose is sure to be a fantastic view. However, people are not permitted to swim in either of these lakes. Also despite the name, dogs are also unfortunately not allowed on this trail.
#5 White Pine Lake
Located in Little Cottonwood Canyon, White Pine Lake is a local favorite. From the trail head it's about 5 miles up to get to the lake, making it a 10 mile round trip. It is rated intermediate to difficult, so it will be a bit of a challenge, but it's worth the work! This is great for a day trip or is also popular for overnight backpacking. However, there is no swimming in this lake or dogs welcome.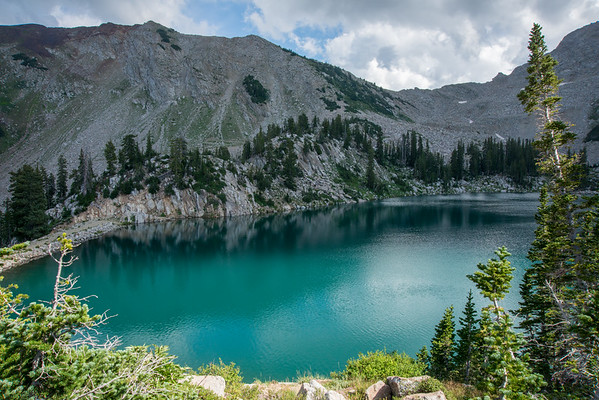 After you finish any of these hikes, we'd highly recommend visiting some of the best breweries and pubs Utah has to offer!