Where to go Jeeping in Southern Utah
Utah is popular for many outdoor activities and Jeeping is especially popular in Southern Utah. Moab provides unique trails for all Jeepers with spectacular views of the red rock.
Best Jeep Trails in Moab
Hell's Revenge (Trail Rating – 6)
This trail provides steep climbs and descents with some edges that are definitely not for the faint of heart. Many obstacles can be bypassed if the vehicle is not equipped. The steep slopes however are not as difficult as they look because the sandstone gives excellent traction while driving. This trail lies between Sand Flats Road and the Colorado River and is northeast of town. It's approximately 16 miles total and has amazing views going from the La Sal Mountains to cliffs that overlook Moab. Look out for different challenges on this trail like "Tip-Over Challenge" and "Hell's Gate" where spectators gather to watch jeepers attempt these obstacles.
Moab Rim (Trail Rating – 7)
With the best views and most beautiful areas, Moab Rim is definitely nerve wracking for those who don't like cliffs. Southwest of town, the trail begins downriver and the first mile has more dense obstacles than many other trails offered. It overlooks the Colorado River and is 14 miles long in total. Two obstacles to look for at the start of the trail, up the tilted rock layers, are called the "Z Turn" and the "Devil's Crack."
Poison Spider (Trail Rating- 6)
Located northwest of town, access to this trail is found on the scenic byway UT279 and is 37 miles total. Poison Spider is one of the most popular trails in Moab due to the great scenery. It is challenging enough for jeepers to be fun without breaking parts as easily. The Mesa on Poison Spider forms one of the cliffs that is part of the landscape of Moab. Enjoy lunch by the "Little Arch" which has an awesome view of other Jeepers on Moab Rim across the river.
Fins and Things (Trail Rating- 4)
This trail is easier and gives jeepers a trip that feels like a roller coaster because of the Navajo mounds everywhere (fins). The start of this trail can be reached via Sand Flats Road and includes slick rock or sandy dirt. It has great views and a few sudden steep climbs and descents amongst the slick rock. If you run the entire trail it will be approximately 25 miles total, with 13 off highway.
Jeep Trail Difficulty Levels
There is no national standard of difficulty ratings for jeeping trails, they're relatively subjective to their specific areas. Like ski trail ratings they apply a form of difficulty rankings. In skiing green is for the easiest of trails, blue for intermediate level riders, and black reaching an expert level. Check out our page for the best places for skiing near Salt Lake City. Jeep trails in Southern Utah go off of a 10-point scale with 1 being the easiest and 10 being the most difficult.
For lower number ratings a Jeep Wrangler (or an equivalent) with standard tires should be satisfactory and a higher clearance is typically recommended. On higher rated trails it's required that your vehicle has rear axle traction along with attach points at both front and rear, 4WD, and a deeper tire tread (3 ply or more) that can handle the steeper slopes. Vehicles need taller tires (35" plus), lockers and limited slips, and enhanced suspension. Skid plates and traction devices on both axles would be useful for the upper end of this difficulty level. For the expert level trails, in addition to all that should be included from the previous levels of difficulty, your vehicle should likely be fitted with winches, potentially spare parts/fluids, oversized tires, higher clearance, and a roll cage if you're traversing an especially challenging trail.
Popular Jeep Events Near Moab
Easter Jeep Safari
Easter Jeep Safari is known for being one of the largest gatherings of 4-Wheel drive lovers in the U.S. It's an event that takes place in Moab, UT and lasts for 9 days culminating on Easter Sunday. Register early to ensure getting the trails that you want to do that are with the Safari. There are a maximum of 35 vehicles on the trail and each trail has a specific starting time each morning. Each trail is number rated and it's always a good suggestion to start out at one lower than what you think you will be comfortable with. This will help you and others on the trail to avoid an unpleasant day. Pricing for each trail is $50 and you can register your vehicle by going to the club website for Red Rock 4-Wheelers. 
Just like how the trails fill up fast, so do the places to stay! Moab books up very early for those wishing to stay there during Safari. Make sure to find a campground reservation or hotel right after you register. Some reservations carry from year to year and so it's good to think ahead. The Old Spanish Trail Arena (OSTA) is where registration is located and you can pick up your registration packet before your first trail. It includes a raffle ticket to the giveaway held at the OSTA on Friday night before Easter Jeep Safari concludes that weekend. This giveaway features thousands of dollars in prizes so don't miss it! This arena also has the Moab Jeep Safari Expo all week which is free admission. This is where several vendors get together to display different products appealing to "the 4-wheel crowd".
There are many sponsors that join the trails and usually will be giving away swag to the participants. Jeep has a display on main street during this event where you can go to see their new prototypes, test drive new vehicles, and get to experience all of their concept vehicles.
Whether this is your first time at Easter Jeep Safari or not, there is something for everyone. Definitely an event to put on your calendar! Not everything has to be done with the Safari and Jeepers can go experience other trails for free on the days that are not being used for the event.
Winter 4X4 Jamboree
Every year in January there is a jeeping event held in the Hurricane/St.George area. It has spectacular views of Zion's National Park, Sand Hollow, and Pine Valley Mountain! This event is $50 per trail similar to EJS posted above. These trails are led by experienced trail leaders and have a cap as to how many vehicles are allowed on the trails at one time to make sure they aren't overcrowded. Typically you would be looking at 10-25 vehicles per trail dependent on the difficulty level and technical guidelines. Trails are rated on a 10-point scale with 1 being roads that are traveled easily by most vehicles and 10 being purpose-built vehicles. These would mainly be expert drivers with experience. 10 rated trails are mostly buggy territory and modified factory vehicles would not be able to do these trails.
All trails will be closed to non-participants during the hours of 8 a.m. and 4 p.m during the event so make sure to mark your calendars! There are many places to stay near this event with St. George being close, but still make sure to book ahead.
Trail Hero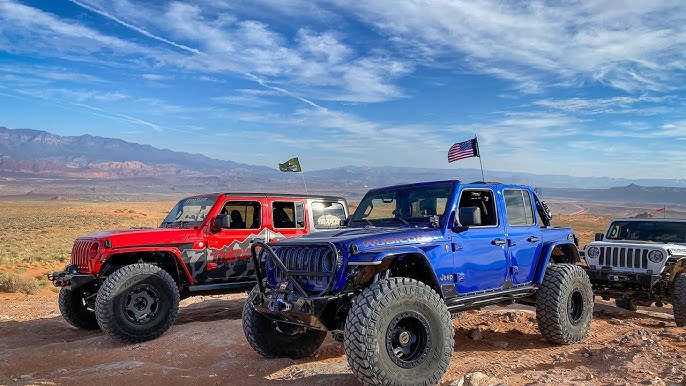 The Trail Hero event is built with everyone in mind and takes place October 4th-9th with several trails and activities. Early registration ends on September 15th and is $50 per vehicle per trail. Trail Hero is newer and will be doing it's sixth annual event this year in 2021. 4-wheel drive enthusiasts love this because it's located in Sand Hollow, in Hurricane, UT and offers thousands of acres of off-road access. It has lake access as well and is close to many restaurants, golf courses, and other services. It's concentrated on filling up all five days with entertainment on the trails and then afternoon activities. There are nightly bonfires, a slip n' slide, snow cones, and something new where people try to conquer Bounty Hill. This is one of the toughest qualifying trails in the world. 
The afternoon activities are free of charge but there are non-profit organizations like 4 Wheel to Heal (serving wounded and disabled veterans) and U4WDA (dedicated to providing access to public lands and providing education and stewardship) that will be onsite collecting donations. Don't miss out on the vendor show, live music, charitable raffles, and Jeep show that will also make an appearance. This event encompasses something for everyone and looks to entertain all days with jeep trails and much more!
Southern Utah Jeep Rentals and Tours
If this sounds exciting but you don't own a Jeep, or yours is not equipped with the necessary equipment to handle the more difficult trails, there is still the option of renting a Wrangler. To rent these vehicles there are age requirements of 25 and older and will be required to have full-coverage insurance. For the experience you'll be receiving the price is more reasonable than you'd think. To find the best Jeep that works for the level of difficulty that you're chasing, searching local rental stores can provide better prices, offers, and range of vehicles available.
For those wanting to experience the beauty of Moab from the passenger or back seat, there are options as well. The Moab Adventure Center offers 4×4 Hummer Tours which will take you to see the best of Southern Utah. They also provide tourists with information that provide some insight into the actual geology and terrain that can be seen. If you're curious about pricing and additional details on available tours and rentals, visit Moab Off Road Tours.