Top 5 Food Trucks In Salt Lake City

Top 5 Food Trucks In Salt Lake City, Utah
Salt Lake City, Utah, is known for its vibrant food scene, and food trucks have become an increasingly popular way for locals and visitors alike to sample a variety of delicious cuisine. With so many food trucks to choose from, it can be hard to know where to start. That's why we've compiled a list of the top 5 food trucks in Salt Lake City based on their popularity, quality of food, and overall dining experience. Whether you're in the mood for Hawaiian poke bowls, Korean BBQ, or waffles, these food trucks are sure to satisfy your cravings and leave you wanting more.
1. Black's Sliders Food Truck
Black's Sliders is a family owned business that believes in the importance of a healthy diet. The menu has an assortment of items ranging from hearty meals to healthy snack options as well as catering to meat eaters, vegetarians and those who are gluten-free options. Black's Sliders believes in providing their customers with hormone and antibiotic free food that is purchased locally. From farm to truck as they say! Be sure to consider Black's Sliders to cater for your next event as they are available by appointment. In the mean time, check out their menu here as well as their schedule to plan your next night out!
Visit Black's Sliders website here!
2. Cupbob Korean BBQ
Cupbop food truck is known for its delicious Korean-inspired dishes. The truck's specialty is the Cupbop, a Korean rice bowl that is served with various meats, vegetables, and sauces. The rice bowl is prepared fresh on-site and can be customized to suit individual preferences.
One of the best things about the Cupbop food truck is that it offers a wide range of menu options, making it a great choice for people with different tastes and dietary restrictions. The menu includes vegan and vegetarian options, as well as gluten-free and low-carb choices. This makes it easy for everyone to find something they enjoy and feel good about eating.
In conclusion, the Cupbop food truck is a fantastic option for anyone looking for delicious Korean-inspired food served in a convenient and fast-paced setting. The truck's diverse menu, welcoming atmosphere, and convenience make it a must-try for foodies everywhere. So, if you see the Cupbop food truck in your area, be sure to stop by and try one of their mouth-watering rice bowls!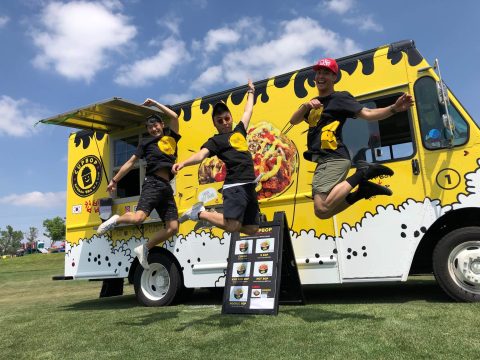 Visit Cupbops website here!
3. Waffle Love
Waffle Love is a food truck that serves a variety of sweet and savory waffles. It is the perfect option for breakfast, lunch, dinner, or dessert. Their menu includes classics like the "Red Wonder" with Nutella and strawberries, as well as more unique options like the "Benny" with ham and hollandaise sauce. Waffle Love uses high-quality ingredients and makes everything fresh to order.  After being featured on "The Great Food Truck Race", the company quickly shot to fame. It is known by many, and beloved by all. Check out the Waffle Love schedule to find out when a truck will be near you!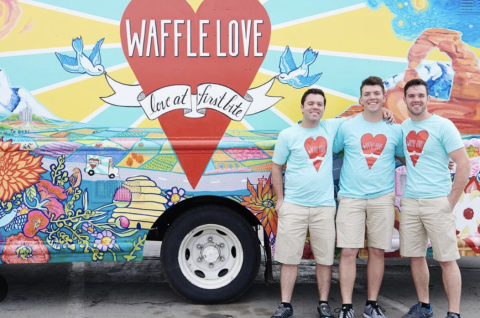 Visit Waffle Love website here!
4. The Salty Pineapple
The Salty Pineapple is a food truck that specializes in Hawaiian cuisine. They offer a variety of dishes, such as poke bowls, spam musubi, and shaved ice. The Salty Pineapple prides itself on using fresh, high-quality ingredients, and its menu is inspired by the flavors of the Hawaiian islands. The owner, Daysha Filipe, decided to share their knowledge of the Hawaiian culture with Salt Lake City. Their menu includes delicious Hawaiian BBQ, as well as vegan and vegetarian options. Be sure to visit The Salty Pineapple next time you want a little taste of the islands.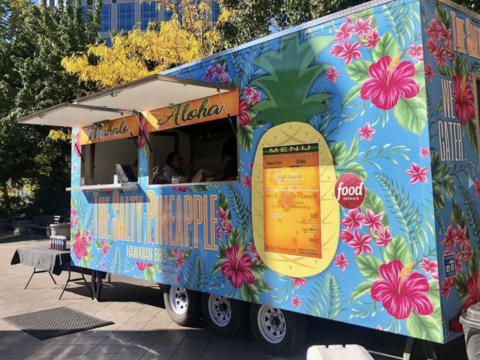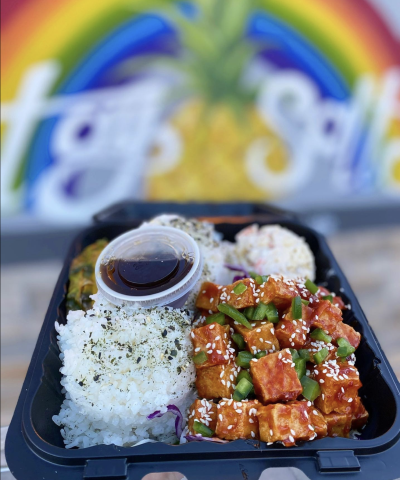 Visit Salty Pineapple website here!
5. Normal Ice Cream Truck
Normal Ice Cream truck is located at Millcreek commons. They are known for their unusual flavor combinations such as "Fruity Pebble Milk", "Balsamic", "Raspberry Sour Cream", and "Wasabi White Chocolate". Normal only uses locally sourced milk and local ingredients to provide their customers with the best quality ice cream that money can buy. Normal Ice Cream truck offers ice cream cones, dipped cones, pup cups, choco tacos and merch! Not to mention, every flavor is gluten free and a few of these options are also vegan. Check out Normal Ice Cream truck menu here to look out for new flavors coming this summer!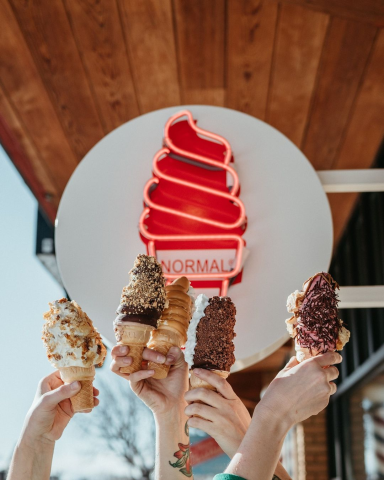 Visit Normal Ice Cream website here!
*Bonus* Oh, lookie here! Feeling famished and nosy about some other grub that's less sinful? Well, check out our Best Plant-Based restaurants and vegan-recommended spots!