Pet-Friendly Hikes in Utah
Utah is famous for its breathtaking scenery and remarkable hiking trails that allow you to connect with nature, achieve serenity, and engage in physical activity. However, some of these trails have restrictions on bringing your furry friend along for their protection, as well as safeguarding the local flowers and wildlife, and watersheds. We understand your desire to share adventures and expose your pet to Utah's beauty. Fortunately, Utah offers a variety of hikes that range from simple to challenging, which allows your four-legged friend to join you.
Easy Pet-Friendly Hikes
The Memory Grove Trail, located near Salt Lake City, is a delightful 1.7-mile loop that follows alongside a creek, providing serene water views. Despite being popular with joggers and bikers, there is space for your furry companion to frolic and enjoy the surroundings.
For a slightly more challenging experience, consider the Mount Olympus Pipeline Trail, a 3.0-mile out-and-back hike that rewards you with stunning views of the Salt Lake Valley. While it can get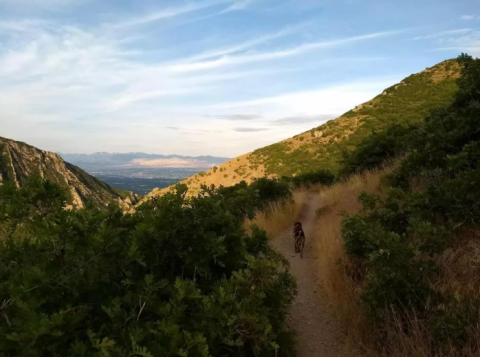 crowded with runners and bikers, certain portions of the trail may also pose a challenge due to narrow paths close to edges. However, if you and your furry friend can navigate it together, you'll be fine. Another noteworthy feature of this hike is that odd-numbered days permit off-leash walking for dogs, whereas, on even-numbered days, dogs must remain on a leash throughout the trail.
If you're planning a trip to southern Utah, you won't want to miss some of the state's most breathtaking natural wonders. The iconic Monument Valley, with its towering rock formations, is a must-see. Mexican Hat and Muley Point are all great pet-friendly options, but the best choice is easily Valley of the Gods. Zion National Park is another must-visit destination, offering stunning hikes and scenic drives that showcase Utah's natural beauty. Pa'rus Trail is a must for any hikers with dogs in tow.
Moderate Dog-Friendly Hikes
If you are looking for something more moderate, longer distances, with a little steeper incline, the 10420 Peak Trail is located in the Bonanza Flat Conservation area, which is about a little over an hour outside of Salt Lake City. If you are located in Park City, this will be a quick 20-30 minute drive. It is located to the east of the Salt Lake watershed, so dogs are permitted. The hike is a 5-mile hike round trip with a 1,200 ft elevation gain. On the hike, you will pass by Bloods Lake, a stunning alpine lake offering swimming if you are interested. Overall, people say the hike is amazing, the views are beautiful, and it is a great workout! Just remember to bring your bug spray and lots of water!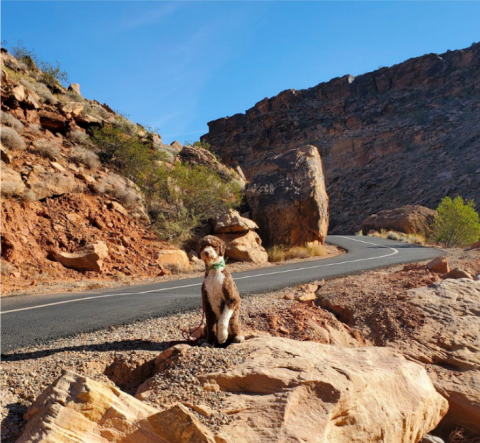 If you are looking for a hike near the southern part of the state, the Virgin River and Cotton Wash Trail are perfect. It is right on the Virgin River and a quick 10-minute drive from St. George. You are surrounded by red rock while walking beside the Virgin River, it cannot get better than that! The trail is 3.8 miles round trip with a steady 419 ft elevation gain. Dogs can be off-leash in some areas. Reviewers say it is a great trail where you won't see many other hikers!
Difficult Dog-Friendly Hikes
If you are looking for a challenging hiking trail near Salt Lake City with stunning views you can conquer with your dog, the Mount Olympus trail should be at the top of your list. The trailhead is located just off the belt route near cottonwood heights. The Mount Olympus trail is a 7.8-mile long hike that is broken down into 5 sections. The first section is the trailhead which is located at 40.65227, -111.80632 where there is also free parking.
The next section of the trail is the first stream crossing. Then after that, you will encounter what is known as the saddle. If you or your dog is not capable of climbing over large rocks this would be a good place to turn around at. After the saddle, the next stage is the start of the scramble, as the name implies this is where the hike starts to show its difficulty. The final stage of the trail is the Mount Olympus summit. This is where the challenging climb will be rewarded as once at the top you will see spectacular views of the Wasatch mountain range and views of Salt Lake City. If you decide to take on this trail be sure to bring a leash as some parts of the trail may have leash requirements.
Dog-Friendly hikes outside of the Salt Lake Valley
If you're looking for dog-friendly hikes outside of Salt Lake City, there are plenty of options to choose from. In Moab, you can take your furry friend on the Corona Arch Trail, which offers breathtaking views of a natural sandstone arch. Provo is home to the Y Mountain Trail, a popular hike that's also dog-friendly. Another great spot to check out is Goblin Valley, where you and your pup can explore unique rock formations and natural caves.
Utah has so much to offer for outdoor enthusiasts, and hiking with your dog is a great way to experience it all. If you're looking for more things to see in Utah, consider visiting Bryce Canyon National Park, or Arches National Park, which all offer plenty of dog-friendly trails and activities. No matter where you choose to go, be sure to pack plenty of water, snacks, and a first aid kit for you and your furry friend.
Additional Resources for Utah Adventures
Accessible and Kid-Friendly Hiking Trail Near SLC: https://www.sevenslopes.com/accessible-and-k…g-trail-near-slc/
Voted Best Waterfall in Utah: https://www.sevenslopes.com/voted-best-waterfall-in-utah/
2023's Best Hiking Trails in SLC: https://www.alltrails.com/us/utah/salt-lake-city