Hike, Eat, Repeat.
Utah is famous for being a hiker's paradise, with stunning trails that offer breathtaking views of the state's natural beauty. Luckily, Utah has no shortage of amazing restaurants that serve up tantalizing treats to hungry hikers after a long adventure. From brunch, farm-to-table bistros to hearty diners and everything in between, the state's culinary scene is as diverse as its terrain. Whether you're looking for a juicy burger, a fresh salad, or a decadent dessert, you'll find it all in Utah's hiking hotspots. So why not plan your next adventure around some of the best hiking spots in the state, and treat yourself to some unforgettable meals along the way?
Zion National Park
Zion National Park is a hiker's dream, with incredible trails like Angels Landing and The Narrows. Once you've worked up an appetite, head to the Zion Lodge Dining Room for a seasonal menu of locally sourced ingredients. The Zion Lodge Dining Room houses the Castle-dome-cafe which is perfect for snack bar-type items such as coffee, espresso, and cinnamon buns in the morning and burgers, hot dogs and french fries throughout the day. Local microbrews are served on the Beer Garden Cart on the patio as well. Whereas the Red Rock Grill Buffet has an abundant mix of food for all your cravings.  Whether you want breakfast, lunch or dinner, these places have you covered in a picturesque place that matches the scenery of the rocks.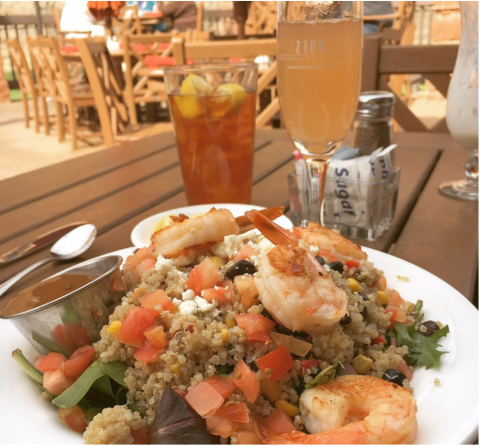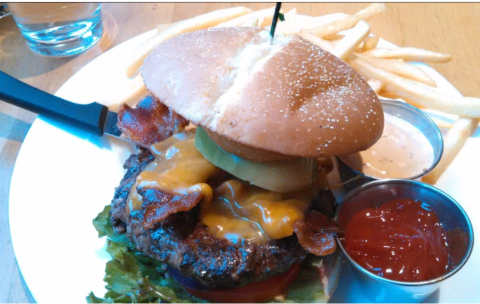 Park City
Park City has plenty of hiking trails to explore, from the easy Mid Mountain Trail to the more challenging Mount Timpanogos Trail. When it comes to dining, Ritual Chocolate Cafe serves up delicious smoothie bowls that will leave you feeling refreshed and energized. Davanza's is a local favorite for its delicious burgers, fries, and shakes. The menu also includes salads, sandwiches, and pizza. The restaurant has a laid-back atmosphere, with indoor and outdoor seating available. Another great option in Park City is Five Seeds, where they serve nourishing breakfasts all day and have great coffee for some energy after a long hike.
Moab
Moab is a mecca for outdoor enthusiasts, with hikes like the Fiery Furnace and Delicate Arch Trail drawing visitors from all over. After your hike, treat yourself to a healthy meal at the Love Muffin Cafe, where you'll find plenty of vegetarian and vegan options. You can also head to the Moab Garage Co. for fresh, locally sourced ingredients  and food ranging from coffee, meatball sandwiches and more!
Salt Lake City
Salt Lake City has plenty of hiking trails, including the popular Mount Olympus and Donut Falls trails. For health-conscious dining, try Vessel Kitchen on the lovely 9th and 9th or for something more greasy check out the Crack Shack! On your way out of both you can treat yourself to gelato, ice cream, and or a smoothie!

Bryce Canyon National Park
Bryce Canyon National Park is a must-visit destination for hikers, with stunning rock formations and trails like the Navajo Loop and Queens Garden Trail. When you're done hiking, indulge in a hearty steak dinner at the Cowboy's Buffet & Steak Room whether you're looking for breakfast, lunch or dinner they have you covered! If that's not your taste, head to the Bryce Canyon Pines Restaurant for a slice of their famous pie.

Capitol Reef Nation
al Park
Capitol Reef National Park offers some of Utah's most scenic hiking trails, including the Cohab Canyon and Grand Wash Trails. After your hike, treat yourself to a slice of pie and ice cream at the Mesa Farm Market, or head to the Rim Rock Restaurant for a mouthwatering steak.
Ogden
Ogden is home to some amazing hiking trails, like the Waterfall Canyon and Skyline Trails. After a long day of hiking, head to Roosters Brewing Co. for some comfort food, or try the pizzas and salads at Slackwater Pizzeria & Pub.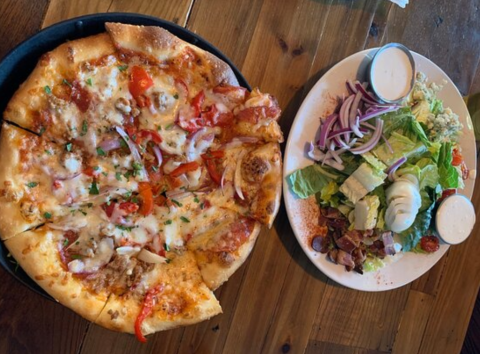 Hiking in Utah is an unforgettable experience, and the food options nearby make it even better. Whether you're in the mood for healthy eats or decadent treats, these restaurants will satisfy your cravings and fuel your body for your next adventure. So hit the trails, enjoy the stunning views, and indulge in some of the best food Utah has to offer.