4 Affordable Saint George Golf Courses

We all know the old saying – there's no golf like Saint George golf. Okay, maybe not, but as mentioned in our Best Utah Golf Courses write-up, Saint George golf is a fantastic idea when it's too cold to golf in the rest of the state. Although, to be fair, Saint George golf is a fantastic idea even when it's not too cold to golf in the rest of the state.
But what if you're golfing on a budget? Because let's face it – golf ain't cheap, and Saint George golf can be extra pricey if you're not careful. So with the price-conscious golfers out there, here's a closer look at four affordable Saint George golf courses. (The fact that they're all gorgeous is just a bonus.)
Sand Hollow Golf Resort
Sand Hollow is a challenging, fun, and absolutely beautiful course. It has been ranked on Golfweek's Top Resort Courses and as #1 in Utah. It also boasts the only Par 3 course in southern Utah, so if you're pressed for time, Sand Hollow could be a perfect option.
Tee times during peak hours can run upwards of $100, but you can find times for around $50 after about 5PM, which is honestly perfect because the weather starts cooling off shortly thereafter. Regardless, with views like this, you can't go wrong, no matter what time you get out.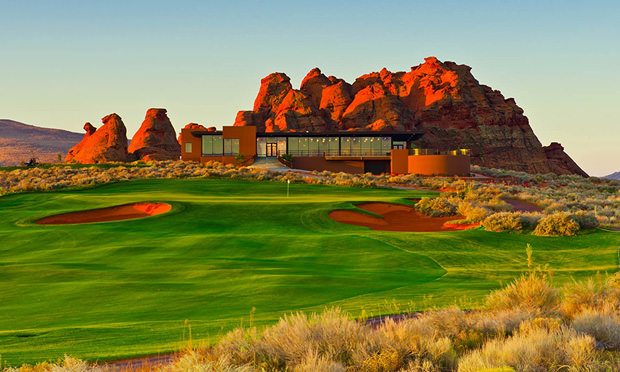 SunRiver Golf Club
SunRiver is set in the Virgin River Valley, just north of the Utah/Arizona border, which makes for some of the most beautiful desert landscape you could ever wish for. The fact that you can golf while you enjoy it only serves as a bonus.
At just $68 for 18 holes during peak season (September-May) and $45 during the offseason (June-August), SunRiver is a very affordable hidden gem, and a course I'd highly recommend if you're looking for a great Saint George golf deal.
Southgate Golf Club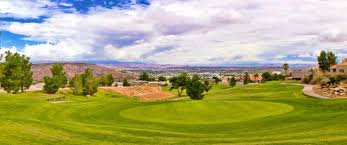 Located just off I-15, Southgate Golf Club is not only conveniently located, but it's also another affordable Saint George golf course. After a flood in 2010, the front nine has been largely redone, with water features on eight of the first nine holes, so be careful. Thankfully the fairways are wide, so you can usually find a dry landing zone for your shot. Heads up on the back nine, however. There aren't as many water features, but the fairways are more narrow, so while your ball may stay dry, it might still get lost.
At just $33 for 18 holes October through May and $19 June through September (it's $14 more for a cart if you're going to ride), Southgate is another great option for affordable Saint George golf.
Sunbrook Golf Club
The only course in southwest Utah offering 27 championship holes, Sunbrook Golf Club has been named the best golf course in Utah by Golf Digest not once, but twice. But don't let its beauty fool you – Sunbrook will likely test your patience a few times while increasing your appreciation of nature.
Rest easy, though, because at just $40 for 18 holes with a cart, losing a few balls is an easier pill to swallow.
They Don't All Start With 'S'
Well there you have it. If you're looking for affordable golf in Saint George, it's not only available, it's beautiful. The good news is Saint George has a ton of other amazing courses, and some of them even have names that don't start with 's'. So next time you're planning a trip to Utah, don't count out golf, even if it's during the winter.
For more great Utah golf info, check out our Salt Lake City Golf and Topgolf Utah reviews.
Or if you're not the golfing type, check out the 5 Best Bike Trails in Salt Lake City, Top 5 Destinations to Cool Down Around Salt Lake, or the Best Historic Towns and Sites to See Surrounding Salt Lake City. If you bring your little ones on your trip, see these 3 Kid Friendly Activities in Salt Lake City
See Golfing in Saint George for a quick run down on the numerous other golf courses Saint George has to offer!