Early Season Backpacking Trip to Reflection Canyon
Backpacking Trip to Reflection Canyon
Looking for a fairly easy early season backpacking trail in Utah? A trip to Reflection Canyon in Glen Canyon Recreation Area is the perfect choice for a spring or fall hike. The total hike is 15.2 miles with an elevation gain of 1,564 feet, making it a challenging but doable task.
There is very little shade available on this hike and no drinking water available. It's important to go in the shoulder seasons of spring and fall and to pack all the water you will need. My friend and I drank our 4 liters of water each and had to walk the last mile or so without water. Make sure to keep full water bottles in your car for after the hike. This hike is also a great jumping off point for a visit to Lake Powell, where there is more to explore! Looking down into the canyon from the high cliffs above help you to see the beauty of this lake. It may even make you yearn to explore the canyons from a different vantage point: that of a boat.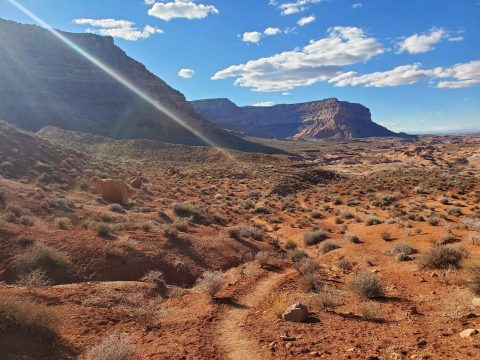 The trail
The trail to Reflection Canyon follows a sandy path that is fairly straightforward for the first two miles or so. The sand is not too deep, so it's pretty easy going. The views are beautiful, with mountain peaks and steep desert bluffs all around.
After the first two miles, the trail turns to sandstone. For the rest of the ~5.5 miles, you will need to utilize the cairns on the ground, as the trail is no longer obvious. Luckily, there are many cairns to guide you, and the sticky sandstone is easy to climb on. The trail gradually climbs upwards onto some large sandstone hills. Once you get to this portion, you're getting close! Climb up the sandstone hills to get a spectacular view of Reflection Canyon. Next, follow the cairns to the right of the hill to find the pathway to get a bit closer to the canyon. Here, you will be able to dangle your legs over the canyon walls.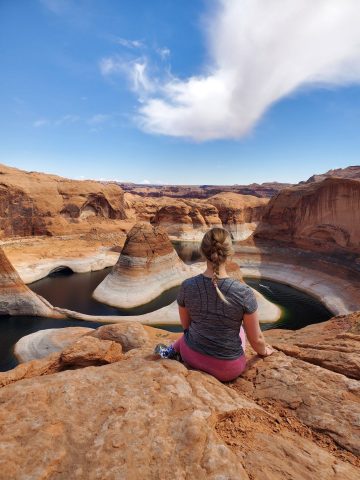 The orange/red tones of the canyon walls are mixed with white layers, and the rock formations visible from the cliff edge are breathtaking. This view is the perfect reward for carrying that heavy backpack 7.5 miles!
Camp spots
There are a few great campsites right along the cliffs of the Reflection Canyon overlook. These spots are coveted, so start your hike early if you plan on doing this trail on a weekend. There are also several spots along the walls of the sandstone bluffs you will pass on your hike. Camping next to one of these bluffs helps to protect your tent from the winds that may be strong and can provide some afternoon shade. When choosing your spot, look for an area where there is no plant life that you will disturb. There are many sage bushes the closer you get to the trailhead, and it's important to leave no trace and to leave the vegetation undisturbed by your presence.
Things to Note
Now that we've taken you through the trail, here are some important things to keep in mind before heading out on your backpacking trip to Reflection Canyon:
Do not attempt this hike in the summer as there is very little shade available, and temperatures soar in this area. Pack that sunscreen!
Make sure to pack in all your water, as there is no drinking water available on this trail. Keep full water bottles in your car for after your hike
Leave no trace! Yes, this does mean using a wag bag. Help us to keep this spectacular desert landscape that way we find out!
Take a high-clearance 4WD vehicle to the trailhead. This easy backpacking trail is at the end of Hole-in-the-Rock rode. This is an infamous off-roading area that is not for the faint of heart. It will take you about 45 minutes to go 9 miles to get to the trailhead because you cannot go fast. This dirt road is full of giant potholes and rocks, so make sure you have a spare tire. My friend and I got a flat tire a few miles into this road and had to quickly change the flat before darkness hit!
Lastly, have fun!
external link: https://www.reddit.com/r/CampingandHiking/comments/bitogh/finally_made_it_to_reflection_canyon_ut/em2yfva/