Topgolf Utah
Combining food, friends, and a frenzy of swings, this local destination is your one-stop shop for hole-in-ones. While Topgolf is not your traditional golf course, it's arguably one of the top golf courses in Utah (get it?). 
What is Topgolf?
Beginners and experts alike can excel in this bowling-golf hybrid scenario, with bays equipped with everything you'll need to tee off. Of course, if you're practicing for the U.S. Open and serious about your game, personal clubs are always welcome. Each golf ball features a unique tracking chip, which allows for easier scoring (especially when taking aim at the giant outfield targets). Topgolf offers a variety of games that might include hitting specific targets, completing challenges, or earning the most points. Open year-round, Topgolf is a great activity for all seasons – especially with the climate-controlled bays. Hit the slopes during the day, and top off your fun with a little friendly golf competition.
What Makes the Topgolf Experience Unique?
Whether traveling from out of state or looking for local activities to liven up life, Topgolf provides an unforgettable experience. Here's what makes an evening out at Topgolf Utah so unique:
Topgolf balls feature a patented technology, allowing players to track and accurately score each shot.
There are no age restrictions, although anyone under 16 requires adult supervision.
All equipment usage is complimentary, and personal clubs are welcome.
Each venue features a full bar with local brews, classic cocktails, and a chef-driven menu. Bay hosts will help you order anything you'd like so you can focus on the main event. Gluten-friendly and vegetarian options are also available.
Unless there's an extreme weather event, Topgolf bays are open year-round and are fitted with fans and heaters to keep groups comfortable.
Topgolf offers over a dozen games that utilize the microchipped golf balls and Toptracer technology. These are ranked from beginner to advanced depending on your skill level.
Topgolf Menu
Make an evening out of it and be sure to check out the Topgolf menu, which features fresh twists on American classics paired with local drinks. Try the Wing Trio – the best of three worlds (buffalo, Asian sesame, and garlic parmesan), or the Tres Tacos (smoked chicken, steak, or shrimp). Top it with a cookie crumble sundae, and no one needs to know you only tagged along for the food. Topgolf caters to families as well – kids can choose from the bite-sized menu, or mix and match any 6 menu items for less than $60.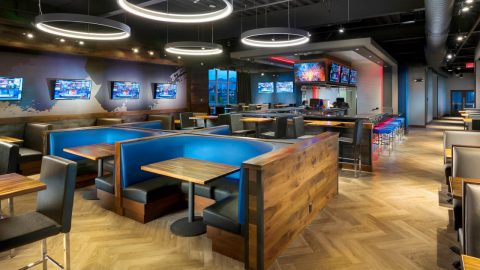 Topgolf's kitchen is almost as enjoyable as the drinks and games, and the quality is far beyond anything you'll find at your local bowling alley or movie theater. With shareable portions and fresh, high-quality ingredients, the cuisine is the perfect pairing to the evening. Food and catering packages are also included with large group events – making ordering and eating a breeze.
Topgolf Utah Prices
Topgolf pricing is determined per hour, per bay with each bay accommodating up to six players. Like many venues, prices tend to be higher on weekends and during evening hours. There is a one-time membership fee of $5 for new players, which will add to the total cost of your first visit. Topgolf frequently offers promotions, so keep your eyes peeled for all current deals. These could include half-price Tuesdays, $15 unlimited play, or friend referral discounts.
The more friends you invite, (filling up the bay) the cheaper the price! So try and plan an evening out with coworkers, neighbors, and family. By splitting the price of bays, Topgolf can be a more economical choice. You can also sign up for exclusive Topgolf offers, and be the first to know any latest and greatest updates. If you're a pro golfer and/or Topgolf fanatic, you may be interested in a Platinum membership. There are various levels which offer different perks, such as weekly unlimited game play hours, 20% off food and drinks, private bay access, $1,000 hole-in-one prize, or upgraded clubs.
Plan Your Next Event
Topgolf is a great way to get people together – whether for birthday parties, corporate events, holiday parties, and more. Topgolf provides various packages depending on the group size and amenities needed. Most packages are all-inclusive which feature game play, food, drinks, and a dedicated staff to help things run smoothly for your big day. They even offer team building events which are specifically designed to build trust and challenge individuals to work together and think strategically.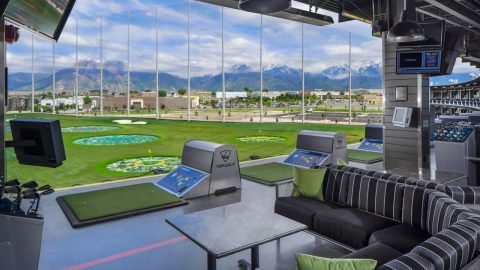 Topgolf is also a great option for birthday events – especially for those individuals who are just difficult to shop for. Additionally, it's the best of both worlds for golf-lovers and golf-newbies to come together and celebrate family and friends – without any skills needed. 
Topgolf Coach
Need to brush up on your golfing skills? Whether you're new to the game or just need a few extra pointers to perfect your swing, Topgolf offers lesson and class packages. These can be done individually or as a group, and are catered to individuals needs. Some packages even include drinks or appetizers to keep spirits up.
Utah Topgolf Locations
Salt Lake City, UT
The Salt Lake City Topgolf location is currently the only venue servicing in Utah. Technically located in Midvale, this location features the most floors, bays, and games to maximize fun (and minimize any wait times). 
Vineyard, UT
Announced in April 2022, Topgolf is developing their second Utah location in Vineyard. Located just west of I-15 at the intersection of Mill and 400E, this new location is scheduled to open in early 2023. This new two-story venue will include 72 outdoor hitting bays, and will complement nearby dining and retail options, along with a Megaplex theater.
For additional information on golf destinations in Utah and Salt Lake, visit Best Utah Golf Courses and Salt Lake City Golf. If you're visiting from out of town, be sure to check out the best 5 hotels in Salt Lake City for accommodation. 
Utah Topgolf Amenities
3 floors
100+ climate-controlled hitting bays
Toptracer games
Over 200 HDTVs
Free Wi-Fi
Full-service restaurant and bars
Rooftop terrace with fire pit
Private event spaces and meeting rooms