How to Find Food Trucks in Salt Lake City, Utah
Food trucks are, by nature, elusive. I mean, they are quite literally restaurants on wheels. So how does one find food trucks in Salt Lake City? We will tell you where you can find a conglomerate of affordable grommet food options. Read below for a locals guide.
1. Food Truck League
Food trucks can be unpredictable. They are tricky to locate but are some of the best places to eat in Salt Lake City. Nothing good comes easy but thankfully the Food Truck League provides a simple way to know where and when you can find a curated group of the best food trucks in the city.
The Food Truck League hosts weekly events in Salt Lake City and surrounding areas. Their website includes a list of food truck events including their location, time, and a list of trucks that will be attending. If you can't attend one of the Food Truck Leauge events there is also a "Truck Finder" tab on their website where you can browse a long list of food trucks each with a profile written by the truck owner, the regular location of the truck, and their hours of operation for the day.
Currently, the Food Truck League hosts Food Truck Thursdays at the Gallivan Center weekly from 11:00 AM – 2:00 PM through December 2023. So whether you are a local in need of a good bite to eat during your lunch break or you are visiting downtown Salt Lake City for the first time, make your way down to the Gallivan Center to find some of the best food trucks in the area.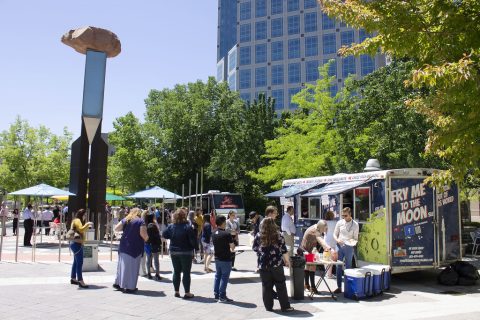 2.80o S & State Street
For authentic Mexican meals in the heart of Salt Lake City head to 800 s & State Street to enjoy Don Rafa's street tacos. Don Rafa's keeps its doors open until midnight, every night. Don Rafa's is accompanied by other street carts on this corner including a churro stand and another Mexican street cart. The food trucks and carts on 800 S and State Street are Salt Lake City staples and have been for over 20 years. If you're visiting Don Rafa's be sure to carry some cash, their card reader can be unpredictable but it's part of the fun.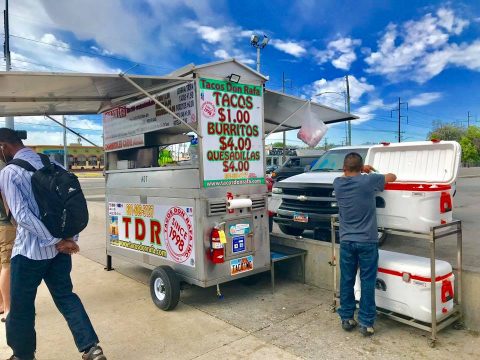 3. University of Utah Campus Courtyard
If you're visiting Utah to explore Utah's best college, the campus courtyard is a great place to stop and grab some lunch. A limited amount of trucks have permits to drive onto campus and park their trucks on the courtyard outside of the Marriot Library. Here you will find Tandooria's Curry, Cupbop, Bento Truck, and Hot Banh. The university's food truck hub is where you can find students hanging out and studying during lunch hours.
4. Gallivan Center Lunches
In collaboration with the Gallivan Center, the Food Truck League holds a large event during one Thursday of every month. The event acts as a platform for lesser and greater known food trucks to show off their food and new recipes. Each month the rotation of Trucks changes and Salt Lake City citizens get to have a choice among dozens of different delicious Food Trucks. The Food Truck League does many collaborations and acts as a union for food truckers to generate more business; it's also a great way for Utahns to find food trucks and no eating options. The Gallivan Center is a popular building in the Salt Lake City area and hosts many culturally stimulating events such as festivals, markets, art galleries, and, of course, Food Truck Thursdays among other things. Head to a Gallivan Center lunch one month and find your next favorite Food Truck in Salt Lake City.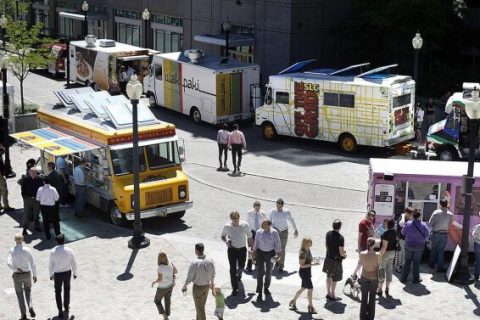 https://thefoodtruckleague.com/food-trucks/events/29847/gallivan-center-lunches/
5. Food Truck Face Off
Food Truck Face Off is an annual charity event held in Liberty Park during the summer. The event helps bring our community together for a charitable cause. It is also great way for people to find food trucks. Not only are you going to be helping a good cause, you'll be indulging in some of Salt Lakes tastiest hidden gems. The Food Truck Face Off features more than 20+ food trucks from the widest reaches of the Salt Lake valley. This annual event showcases a wide array of different cultural staples and is a great option for a get together with loved ones.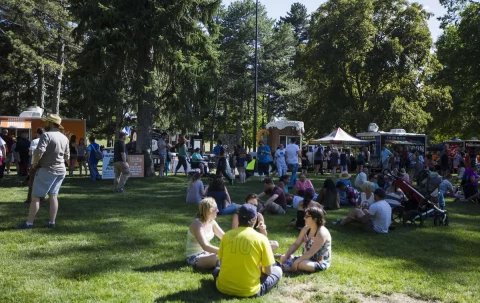 https://www.foodtruckfaceoffslc.org/
Now that finding food trucks is a breeze, it's down to the hard part: deciding what to eat! Here's what we think are the Top 5 Food Trucks in Salt Lake City. Just looking for a good bite? Check out the Top Can't-Miss Restaurants in Salt Lake City.