Moab Rafting
Moab, Utah is the perfect place for white water rafting. Whether you're a seasoned rafter or a first-timer, rafting Moab Utah is an adventure you won't soon forget. So grab your paddle and get ready to experience the thrill of Colorado river rafting in Moab!
Moab, Utah boasts some of the most breathtaking natural scenery on the planet.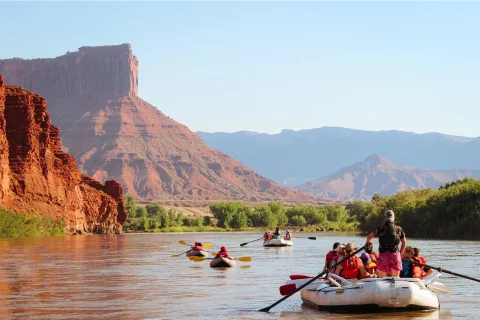 It is conveniently located along the mighty Colorado River, making it an ideal spot for Colorado river rafting trips! With magnificent red rock formations, and the intricately carved canyons, if you are looking for an adventure and a unique way to explore the region, look no further than rafting in Moab, Utah and get ready for some Moab white water rafting!
In this post, we'll explore everything you need to know about Moab river rafting, the best spots to raft for a day trip or up-to a six day adventure.
Location & Seasonality
If you're planning a Moab river rafting trip, you'll want to make sure you know how to get there. Moab is located in southeastern Utah, about a 4-hour drive from Salt Lake City. To get there, take I-15 south and then head east on US-6 until you reach US-191, which will take you straight into Moab. Once you arrive, you'll be ready to hit the water and experience the thrill of rafting in Moab, Utah.
When planning your trip for Colorado river rafting in Moab, it's important to consider the seasonality. The best time to go to Moab for white water rafting is typically between May and September, when the weather is warm and the water levels are at their highest. Keep in mind that the water can still be chilly, especially earlier in the season, so you may want to consider renting a wetsuit to stay warm and comfortable a spectacular experience rafting in Moab, Utah.
Moab, Utah is the perfect destination for outdoor enthusiasts looking for an adrenaline-packed adventure. With plenty of options for white water rafting near Moab, visitors are spoilt for choice when it comes to selecting a rafting trip that suits their preferences and schedule.
If you're short on time, a Moab rafting half day trip is a fantastic option. Outfitters like Mild to Wild Rafting offer half-day trips on the Colorado River, featuring exhilarating rapids such as Onion Creek and Cloudburst. You'll still have plenty of time to admire Moab's iconic red rock formations, making it an excellent option for those who want to experience white water rafting near Moab without sacrificing too much time.
For those who prefer to escape the afternoon heat the splash and dash trip, a is an excellent way to begin your adventure. Departing around 8:30 am, these Moab rafting trips offer a quick and exciting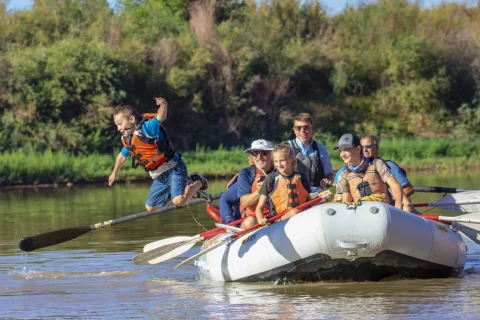 journey down the Colorado River. You'll still have plenty of time in the afternoon to explore other attractions in Moab, such as hiking or sightseeing. This trip is perfect for those who want to maximize their time in Moab.
If you're looking to spend an entire day on the water, a full-day Moab rafting trip is a great option. These trips usually include lunch and offer a more relaxed pace, giving you time to take in the beautiful scenery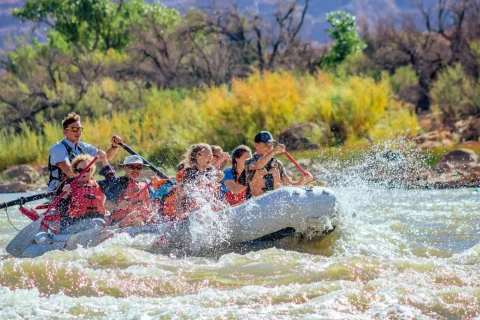 of the surrounding canyons. You'll still tackle exciting rapids like Rocky Rapid and Big Drop, but you'll also have ample time to relax and enjoy the ride. It's a perfect way to spend a day in Moab.
Finally, for those who want to combine rafting with another adventure, a jeep tour and rafting value package is an excellent choice. These packages typically include a half-day Moab rafting trip and a guided Jeep tour of the surrounding area. It's a fantastic opportunity to experience the thrill of rafting Moab, Utah and explore the stunning desert landscapes on a Jeep tour, all in one day. It's a great option for those who want to make the most of their time staying or camping in the national parks and experience the best of both worlds.
If you're looking for an unforgettable adventure, Cataract Canyon white water rafting near Moab is a must-do. The area offers some of the most thrilling and scenic whitewater rafting Moab, Utah has to offer. With a variety of multi-day trips available, you can choose the one that suits your interests and schedule. One of the most popular options is the 3 day Canyonlands whitewater rafting trip that takes you through the heart of Canyonlands National Park. This trip is a perfect combination of excitement and natural beauty, as you'll encounter thrilling rapids and stunning canyons along the way.
For those who want to venture deeper into the wilderness, a 4 day whitewater rafting trip is the way to go. These trips take you through more remote sections of the Colorado River, where you can truly disconnect from the outside world and connect with nature. You'll experience thrilling rapids and have plenty of time to explore the surrounding canyons and hiking trails. This is the ideal option for those who crave a true backcountry adventure.
For the ultimate wilderness adventure, consider a 6 day whitewater rafting trip. This extended trip allows you to explore some of the most remote and breathtaking sections of the Colorado River, including Cataract Canyon. You'll experience some of the most exciting whitewater rafting Moab Utah has to offer, as well as awe-inspiring views of the surrounding canyons and wildlife. With six days on the river, you'll have plenty of time to truly immerse yourself in the beauty of the area. This trip is perfect for those who want a true wilderness adventure and are willing to go the extra mile to experience it. Regardless of the trip you choose, Moab rafting is an experience you'll never forget.