Best Places to Camp in Utah's National Parks
---
National Park Camping
Bryce Canyon
Located in Garfield county of beautiful southern Utah, Bryce Canyon is a beautiful getaway for anyone who loves camping and the outdoors. Bryce Canyon has beautiful hikes to offer for every season and two beautiful campgrounds. Bryce Canyon's North Campground and Sunset Campground are a perfect place to stay while you explore the park's trails and hoodoos. Both campgrounds offer RV and tent camping that include fire pits and flushable toilets year-round. The cost of RV camping is $30 per night while the cost of tent camping is $20 per night. The Sunset Campground offers reservations up to 6-months in advance allowing you to plan your trip ahead and guarantee your spot. The North Campground is first-come-first-served so be early if you want a spot!
The last option is backcountry camping. This option is perfect for those who truly love the outdoors and can live without the luxuries of an established campground. The cost to backcountry camp is also much less expensive in that you must only obtain a $5 permit to do so. Please note you must be at least 16 years of age to obtain said permit. Permits can be purchased at the Visitors center with a reservation 48 hours in advance. This is the perfect way to explore Bryce Canyon to its fullest by hiking all day and pitching your tent at night.
Bryce Canyon also offers world class hiking options in some of the most beautiful and unique terrain that Utah has to offer. For both amateur and veteran outdoorsman, there is a trail for everyone. From 0.5 miles to 20.5 miles, hikes of all distances and difficulties can be found here; Best Trails in Bryce Canyon National Park. Also listed are options for private vehicles, motorcycles, bicycles, and more if interested.
Bryce Canyon National Park, UT-63 Bryce, Utah 84674
---
Capitol Reef
If you have been looking for the perfect getaway away from the world and noise of the city, Capitol Reef is the perfect place to go. Capitol Reef offers guests diverse terrain with wildlife, domes, and the Water Pocket Fold, a must-see geologic landform extending for nearly 100 miles (160 km) through the park.
Capitol Reef offers three different camping experiences, but the most sought-after are the Primitive Campgrounds including Cathedral Valley and Cedar Mesa. These campgrounds are located in remote parts of the park and require no nightly fee to stay. These free campgrounds offer the unique isolation of nature providing that perfect escape from a busy world. This is the perfect experience for the true outdoorsman who likes a fully immersive camp experience. 
These campgrounds are open year-round which offers a unique opportunity to experience the park in all seasons. However, be warned, you may need a four-wheel drive vehicle to navigate the rugged, Southern Utah terrain. This experience is first come, first served so make sure to plan ahead!
All campgrounds come equipped with a picnic table, fire pit, and toilet pit, but there is no water access so make sure to bring plenty!
The park also offers additional backpacking options for the truly adventurous. If you're interested in venturing out to hard-to-reach viewpoints or hiking remote slot canyons, make sure you get a required permit for camping outside designated campsites.
52 West Headquarters Drive, Torrey, UT 84775
---
Zion National Park
Located just outside of St. George, Utah Zion's National Park offers unique backpacking, hiking and camping options. Zion National Park receives more than 300 days of sunshine per year, making it a great place to visit all year long.
As a designated International Dark Sky Park, when you camp under the stars, you will be able to see the stars like never before. When you reserve your stay in Zion National Park, you will be just minutes away from The Narrows and Angels Landing hiking trails.
Camping inside the park will also guarantee you a short drive to Kolob Canyon and the South Campground has 117 campsites and takes reservations up to six months in advance. Located ½ mile from the south side entrance to the park and costing $20/night, this campground is a great low-budget option.
The Watchman Campground has 190 single campsites and 6 group sites and this campground offers easy access to restrooms and is just a short drive away from the visitors center. The campsite prices vary depending on location and size, but they fill up quickly, so be sure to make a reservation!
1 Zion Park Blvd., State Route 9, Springdale, UT 84767
---
ARCHES & CANYONLANDS NATIONAL PARK
These two National Parks are within 30 miles of each other. Arches is known for the iconic Delicate Arch while Canyonlands is known for its Grand Canyon like views. Both parks offer some of the United States best Dark Sites allowing for some fantastic stargazing. Also don't forget that Dead Horse Point State Park sits between them with its own camping. Both of these parks have camping within the parks but during their busy season reservations can be out 6 months. Not to fret as there is a plethora of campground options around the surrounding area. 
Arches National Park
If you were in awe when you saw Utah's best and most iconic Delicate Arch and want to see all the other beautiful arches and rock formations, then a trip to Arches National Park is a must when coming to Utah. Devils Garden campground is located about 18 miles from the main park entrance and is the only camping area within the park. Devils Garden trailhead is home to a handful of hikes of varying difficulty to additional arches.  Hiking at this campsite will give you an experience you will not forget.
There are 51 sites available to be reserved from March 1st to October 21st, after that it is first come, first served. Reservations are available 6 months in advance. The standard fee per night is $25.00 for a group of up to 10 people and limited to two vehicles. Within Devils Garden there are two large sites, Canyon Wren and Juniper group sites. These two sites can accommodate 11 to 55 campers. Prices per night for these larger sites range from $75 to $250. Facilities at all sites include: Drinking water, picnic tables, grills, and flush toilets. So take the family or a group of your friends and camp amongst the arches!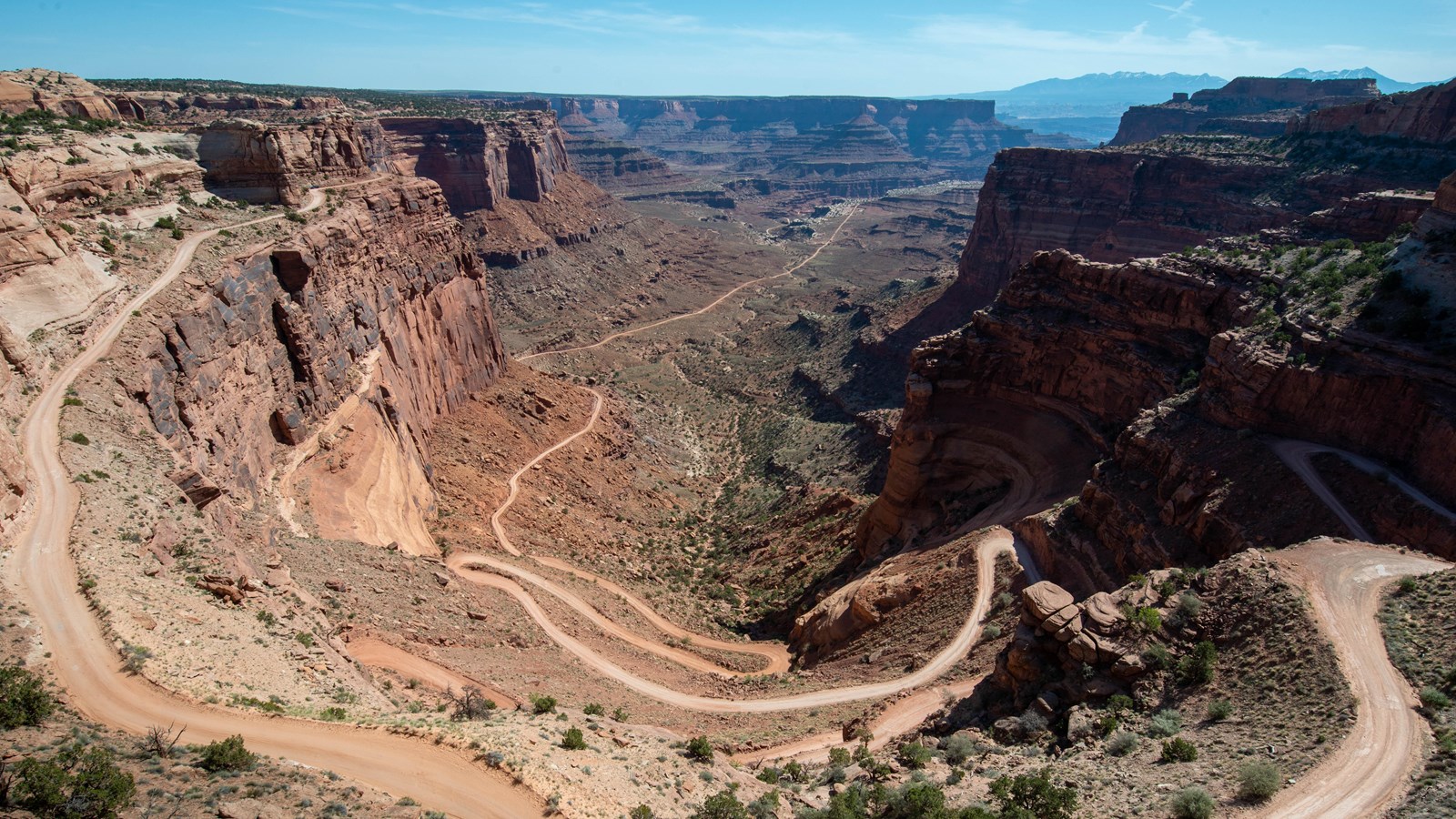 Canyonlands National Park
When you're ready for a change of scenery Canyonlands National Park is home of endless deep canyons, towering mesas, pinnacles, cliffs, and spires all thanks to the Green and Colorado rivers. In addition, Canyonlands is home of the iconic Mesa Arch which is an incredibly easy hike. You will find endless scenic views and many hikes ranging in distance from short to most of the day. Canyonlands is far less crowded than Arches when it comes to foot traffic. While they have 2 campgrounds, they are smaller. Island in the Sky (Willow Flat) Campground has 12 first-come, first-serve campsites while The Needles Campground has 29 sites with 12 available for reservations. Prices per night are $15 and $20 respectively. While Willow Flat is limited to 10 per site, The Needles campsites have sites up to 50 campers ranging in price from $90-225 per night. Facilities include: Toilets (flush seasonal), picnic tables, and fire rings. Water can be found at the visitor center (seasonal).
If you can't find a camping spot within the parks, there are many campgrounds in the surrounding area of Moab, in addition to campsites you can find a variety of lodging, and many other activities all at Discover Moab.
Arches Scenic Dr. Moab, UT 84532
Grand View Point Rd. Moab, UT 84532
---
Resorts
---
Red Mountain Resort
Plan your trip to Red Mountain Resort for your next Utah adventure! This resort gives you the chance to hike and admire the beauty and grandeur of Southern Utah. If you're not up for a hike, focus on your health and wellness with a spa retreat or take a dip in the resort's pool. Red Mountain offers a variety of amenities and services to keep everyone in the family happy and entertained.
Located in sunny St. George, Utah, Red Mountain Resort is only a one hour drive from Zion National Park. Red Mountain Resort gets its name from the beautiful red rock that surrounds the resort. You can reach this Southern Utah getaway by flying into either Nevada or St. George! This resort is the perfect option for the "glamper" who wants to explore the great outdoors during the day and return to the comfort of a luxurious resort at night.
Red Mountain Resort, 1275 E. Red Mountain Circle, Ivins, Utah
---
Additional Reading
For a list of things to do while visiting national parks check out our Utah's Bucket List and 5-Step Hiking Guide.
Have a pet along for the ride? Here's where to take them: https://www.sevenslopes.com/pet-friendly-hikes-in-utah/