One Of Utah County's Best Kept Secrets: Primrose Overlook Hike
A Guide to Primrose Overlook
Just a 30 minute drive from Provo, Utah, Primrose Overlook offers stunning views of both Mount Timpanogos and Deer Creek Reservoir. While many people hike the nearby Stewart Falls and Timpanogos trails, the trail to Primrose Overlook gets a lot less traffic.  You will have the opportunity to enjoy the scenery in peace and quiet. If you go in early summer, there are many different wildflowers to enjoy as you make your way to the top. This is one of the best hikes Utah has to offer, in my opinion!
The hike to Primrose Overlook is about 3miles and takes about a total of two hours round-trip. If you're traveling with young kids, plan on an extra 30-40 minutes. Although, the hike is mostly uphill but most of the hike only has a gradual incline. There are only a couple very steep stretches but they are short.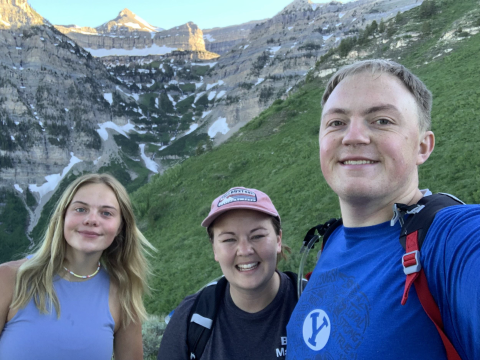 Directions to Primrose Overlook Hike
Primrose Overlook is located in the Alpine Loop just 10 minutes north of Stewart Falls. For detailed directions, click here.
The directions will take you to a round about located just off of Alpine Loop Road. As you enter the Alpine Loop, you will be charged a small entrance fee. If you have a national parks pass, it is free.
There are several trails heading downhill that will take you to the wrong place. To get to Primrose Overlook, take the one trail that goes uphill called Horse Flat Trail.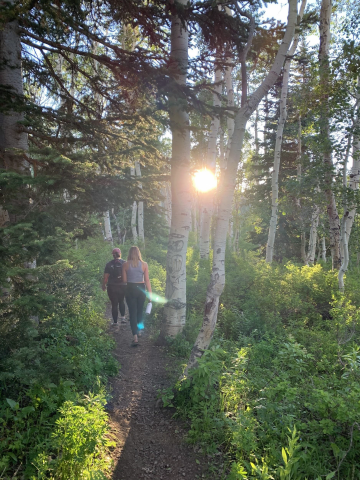 The Best Time to Hike Primrose Overlook
My favorite time to go to Primrose Overlook is during the month of June. During this time, the trail is lined with beautiful yellow wildflowers. While June is my favorite time, anytime between April and August would be enjoyable for this hike. If you're looking for an early or late season hike instead, check out Reflection Canyon!
Conclusion
If you're looking for a beautiful hiking trail that isn't overly crowded, Primrose Overlook is the place for you! This is my favorite hiking trail, and I hope it becomes yours too. Don't forget your sunscreen!