Hiking Day Trip in American Fork Canyon
Hiking Day Trip in American Fork Canyon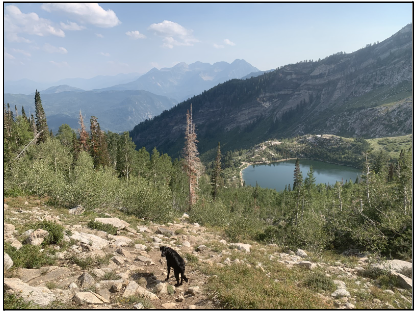 Located just 30 minutes south of downtown Salt Lake City, American Fork Canyon is a favorite among locals for good reason. Home to the trailhead for Mount Timpanogos, Timpanogos Cave National Monument, and countless alpine lakes, American Fork Canyon has something for everyone. While you could spend weeks in this canyon without seeing everything, it is hard to beat a day trip to Tibble Fork Reservoir and the three Silver Lakes (Silver Lake Flat, Silver Lake, and Silver Glance Lake). Whether you want to fish, hike, kayak, or just spend a day at the beach, this recreational area has you covered. Not to mention, American Fork Canyon allows dogs, so bring your canine along for the ride.
Getting There

American Fork Canyon is easily accessed from I-15 via Timpanogos highway. Follow this east and you will wind up directly in the canyon. Once here, follow W Alpine Loop Rd for ~5 miles until you reach N American Fork Canyon Rd. From here, continue about another 2.5 miles until you reach Tibble Fork Reservoir. Spend the day here or continue up Silver Lake Rd– another mile or two– until you reach the parking lot at Silver Lake Flat (another great swimming area). Keep in mind, Silver Lake Road is gravel, but you should be able to make the journey in just about any vehicle. These roads are generally open from Late May until Mid October, but you can check their status here. Also, American Fork Canyon requires a small fee to access, which can be paid at the ranger station on the way up the canyon. While this is rarely enforced, please ensure you pay the fee to help keep the area clean and protected!
Things to Do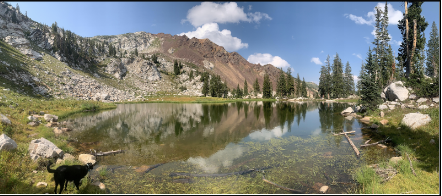 As mentioned earlier, there are a plethora of activities to do at Tibble Fork Reservoir and Silver Lake Flat: kayak, fish, take a swim, or sit by the beach all day. As of late, paddle boarding has been a major draw to this canyon. This is a great activity, allowing you to experience a beautiful body of water tucked in the canyon. If paddle boarding is your love language, check out other paddle board hotspots here! However, if you're up for a hike, the Silver Lake Trail provides some of the best views in Utah without the crowds of the other canyons.
Hiking to Silver Lake Trail
Hiking Silver Lake Trail is worth the effort. Rated as a moderately difficult hike, the hike from Silver Lake Flat parking lot to Silver Lake is about 4.7 miles roundtrip and requires ~1,400 feet of elevation gain. While regular hikers will not have a problem with this part of the hike, beginners may find it a little challenging. However, if you make it to Silver Lake and still have some energy left, climbing the extra 0.6 miles to Silver Glance Lake is well worth it. This part of the trail is far more strenuous and requires about 1,000 feet of elevation gain over the short distance, but the views are worth the strife, and it is super tranquil. If you tackle Silver Glance Lake, expect to spend about 5-6 hours total on the hike, but make sure to relax at the top. You will have earned it by this point! As always, make sure you leave no trace, and help keep Utah outdoors wild.
If you're able to spend a few days in Utah County, Stewart Falls is a beautiful waterfall hike that is definitely worth considering. Find out all you need to know about Stewart Falls by clicking the name! Find this article being talked about on Reddit.