4 Best Places to Spot Wildlife in Utah
A Quick Guide to Spotting Wildlife in Utah
One of Utah's most amazing and memorable qualities is its nature. Utah is full of national parks, canyons, and beautiful scenery. With this comes amazing wildlife. Utah is home to many native species as well as a handful of species from all around the world. The wildlife in Utah is some of the best you'll find in the country. With animals like deer, sheep, elk, foxes, wild cats, bison, and even more, you're sure to find a stunning creature to look at or get photos of. The places where you can find wildlife are nearly endless. You can see rare bird species driving on the highway daily. A simple drive up a canyon can reveal so many amazing animals, not to mention the many national parks that habitat these animals. When it comes to spotting animals and wildlife, the state of Utah is one of the best places to be. Keep reading to discover the 5 places in Utah you can go to take in the wildlife.
#1: National Parks
Utah's National Parks are home to hundreds of species of wildlife that you can have the chance to see! Zion National Park is a great place to see a wide variety of wildlife. The Utah National Park is home to over 78 species of mammals, 291 species of birds, 37 species of reptiles, and 8 species of fish. The most common animal sightings consist of mule, deer, foxes, bats, bighorn sheep, and rock squirrels. Some rare species include the Zion snail, which is only found in Zion or the Peregrine Falcon, who can dive at a maximum speed of 240 mph. Zion National Park's unique geographical location provides a large array of habitats for a huge amount of different species.
Another Utah National Park that is home to a large selection of wildlife is Arches National Park. Like Zion, they also have an incredible amount of species inhabiting their land. There are around 50 different mammals and 189 birds to name a few. Most species are more active at night due to the intense heat. These species include mountain lions, kangaroo rats, ringtails, and bobcats. The most animals sightings are usually birds which include the peregrine falcon, turkey vultures, great blue herons and eagles.

#2: State Parks
Utah boasts an impressive collection of 43 State Parks and recreation areas, spanning from the northern to southern regions of the state. Among these parks is the famous Bear Lake State Park, which sits on the border of Utah and Idaho. With 48 miles of shoreline and sandy beaches, Bear Lake is renowned for its turquoise-blue waters that resemble those found in the Caribbean. The lake has an average depth of 94 feet and summer water temperatures range from 68 to 72 degrees Fahrenheit, while winter temperatures hover between 35 and 40 degrees Fahrenheit. The best time to visit Bear Lake State Park is from June to September, when temperatures range from the mid-70s to mid-80s Fahrenheit. Bear Lake State Park is also home to a diverse range of wildlife. Some of the animals you may spot during your visit to Bear Lake State Park include mule deer, elk, black bears, mountain lions, moose, beavers, muskrats, and a variety of bird species such as ospreys, bald eagles, and great blue herons.
#3: Wildlife Refuges
Wildlife is especially abundant in Utah's three incredible and crucial wildlife refuges, which allow millions of birds to nest, feed, and rest. First, the Bear River Migratory Bird Refuge, visited by over 200 bird species year-round, is the perfect place to view for bird enthusiasts. Currently, it occupies over 74,000 acres of valuable wetlands along the Wasatch Front, and is located a few miles from Brigham City. This refuge offers a visitor center, the James V. Hansen Wildlife Education Center, which includes exhibits, resources, and a nature walk, where you're guaranteed to sight various birds. Additionally, this refuge is attractive to fishers who are likely to catch catfish, carp, and bullhead.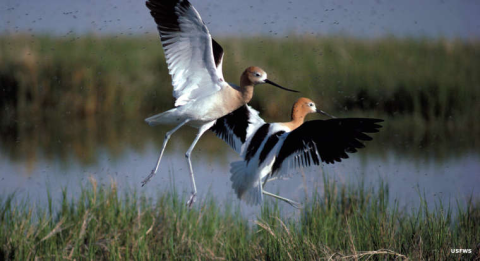 Next, the Fish Springs National Wildlife Refuge, located south of the Great Salt Lake Desert, spreads across over 17,000 acres and contains 10,000 acres of wetlands. Often, the best time of year to visit this area is the middle of April and the end of September which is during the peak of the spring and fall bird migrations. About 280 bird species have been recorded on this refuge, along with mammals such as deer, coyotes, cougars, and various reptiles.
Lastly, the Ouray National Wildlife Refuge is found in northeastern Utah, including about 16 miles of the Green River. This refuge spans across just under 12,000 acres of land and typically receives less than 7 inches of precipitation each year. Once again, around 200 species of birds are found here, along with 8 endangered species. There are also over 350 fish species and mammals such as elk, deer, and otters, making this refuge a great place to go fishing, birdwatching and view some incredible animals.
#4: Canyons
The Big Cottonwood and Little Cottonwood Canyons in Utah are a nature lover's paradise, with abundant opportunities to see a diverse range of wildlife. The Big Cottonwood Canyon is home to a variety of birds, including the black swift, and you might even catch sight of a golden eagle soaring overhead. Keep an eye out for mule deer and moose along the streams and in the meadows. The Little Cottonwood Canyon is also a great spot for birdwatching, with the chance to see red-tailed hawks and peregrine falcons. Bighorn sheep can often be spotted along the canyon walls, and black bears and cougars are occasionally seen in the area. Both canyons offer plenty of hiking trails and scenic drives where you can enjoy the beauty of the surrounding wilderness while keeping an eye out for the abundant wildlife.