Whether you are visiting Utah for a weekend to ski its world famous snow, taking a rafting trip down the Colorado River through Moab, viewing the wild flowers up at Alta Ski resort, or attending one of its many summer festivals, there are many attractions to see along the way! This blog has the ins and outs of when and where to find Utah's best attractions for every season!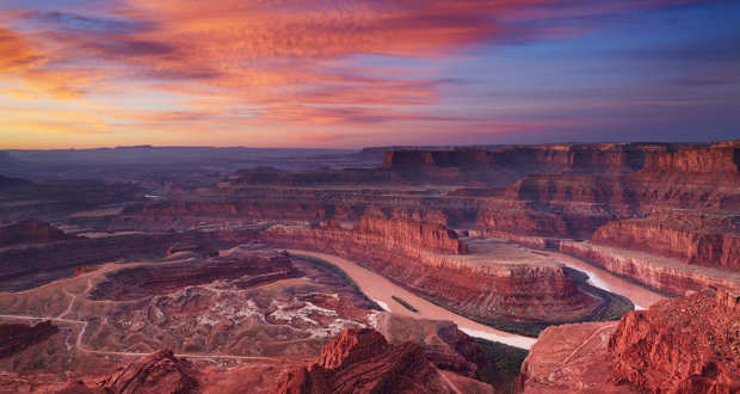 (Dead Horse Point State Park)
Summertime in Utah
Other than visiting any of Utah's 5 famous National Parks, there is much more to see that will offer less foot traffic, beautiful views, and an intimate experience that others may not get on their summer travels to the Beehive state.
If you are an outdoor lover that wants to get the National Park experience, without the long lines and expensive entry, then we have just the place for you. Located just a half hour away from the town of Moab, home to Arches and Canyonlands National Parks, Dead Horse Point State Park offers magnificent views, with significantly less people roaming the park. Often called the "Grand Canyon of Utah," Dead Horse Point offers an experience for all visitors. Whether you are an experienced hiker, or someone seeking views without the work, make sure to head on over to the Rim Overlook Trail. An easy 1.5-mile walking trail, this lookout gives some of the best views in the park. On lookers will often come to see the sunset over the deep, red rock canyons, but if you come early in the morning, you can watch this canyon come alive with the sun reflecting its beauty off of the solid sandstone cliffs.
Spring on into Utah!
When traveling through Salt Lake City in the Spring months, make sure to take the 25-minute drive up Little Cottonwood Canyon to see the Spring wildflowers paint the mountains at Alta Ski Resort.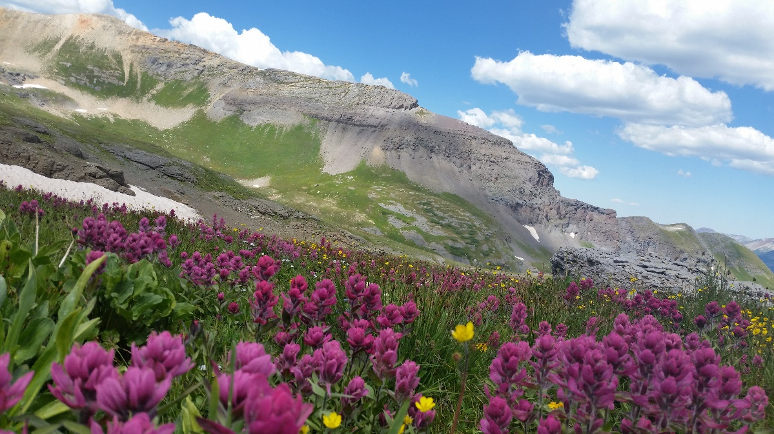 Generally speaking, the best time to view the wildflowers is sometime in June. However, with Utah being an elevated desert, the weather and temperature can be unpredictable, leading to earlier or later blooms. If the weather is in your favor when you are visiting, make sure to make the drive up the canyon. (Hint: Get up early to beat the crowds, and see how many different colors you can count coming off the beautiful Wasatch Mountains)
Fall for Southern Utah
(Cedar Breaks National Monument)
Utah's Uintah and Wasatch mountains often get all the credit for their beautiful fall colors, crisp air, and relaxing hikes. However, they are often infested with the modern teenager trying to get the "next best Instagram" picture. Lost in the shuffle of the modern world, Cedar Breaks National Monument, located on the edge of the Dixie Nation Forest, and nestled 1 hour between Bryce Canyon and Zion National Parks, offers some of the most beautiful fall views that one could imagine. On the way between places, make sure not to miss the beautiful fall foliage of Dixie Nation Forest through UT-148. Within the drive you will be pinched between beautiful canyon walls and surrounded by Utah's largest national forest.
Slip into Utah's Mountains
Apart from having the "Greatest Snow on Earth," Utah offers much more than its ski slopes, après, and bumper to bumper canyon traffic. Just 30 minutes east of Salt Lake City (with less traffic) is the world-famous Park City, Utah. Home to the 2002 Olympics, and Sundance film festival, Park City offers a wonderful mountain town feel, with delectable restaurants, cocktail bars, and high-end clothing shops. If shopping, eating, or drinking is what you want during your stay in Park City, we suggest staying right on Historic Main Street. This location puts you in walking distance of many bars, restaurants, and shops.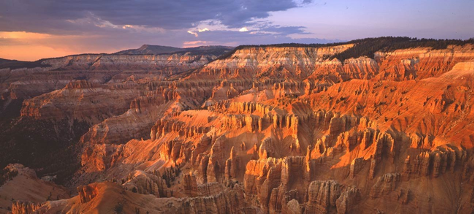 If the high roller cuisine and shopping is not in your itinerary, we suggest taking the family to the Utah Olympic Park. Here, you can do bobsledding, tube, walk through the ski museum, snowshoe, or sip a cup of hot chocolate while you watch skiers shoot off the 120-meter ski jumps. It is a family friendly environment that offers endless opportunities and experiences to enjoy the winter in the mountains.