Top 5 Highly Rated Restaurants in Salt Lake City
Salt Lake City has many unique restaurants. We decided to create a top 5 list of Salt Lake City's best restaurants, from breakfast to dinner. Some are well-known and some are hidden gems that the locals love! With such a variety, we know that you'll find a restaurant here that you'll love too!
---
Lone Star Taqueria
Authentic Mexican cuisine isn't hard to come by in Salt Lake City, but Lone Star Taqueria is one that brings your tastebuds right into Mexico. Located in Cottonwood Heights, Lone Star Taqueria has been featured in Guy Fieri's "Diner's, Drive-in's, & Dives" and has a vibrant, upbeat atmosphere. Their outdoor seating is nice in the Spring or Summer when you want to enjoy Utah's beautiful weather while also enjoying some chips and salsa. Their menu is straightforward: tacos, burritos, nachos, quesadillas, or salads, but Lone Star is specifically known for its fish tacos. Overall, a meal won't cost more than $10, the atmosphere is fun, and the food is amazing.
Check out their menu here: Lone Star Taqueria Menu
The Dodo
The Dodo Restaurant, located in Sugarhouse, is a unique neighborhood bistro that features American cuisine with an eclectic flair. They offer a variety of food on their brunch, lunch, and dinner menus, and are well known for their appetizers, unique entrees, and the desserts that are made in house daily. Their Pulled Pork Quesadilla and Blueberry Parmesan Halibut are just two of their bestsellers but don't miss out on dessert! The Toll-House pie and Banana Cream Cheesecake pie, drizzled in caramel, will keep you coming back for more. During the warmer months, their outdoor seating creates the perfect ambiance to enjoy your meal. As an upscale restaurant, The Dodo is usually very busy, but it is well worth the wait.
Check out their menu here: The Dodo Restaurant Menu
Eggs in the City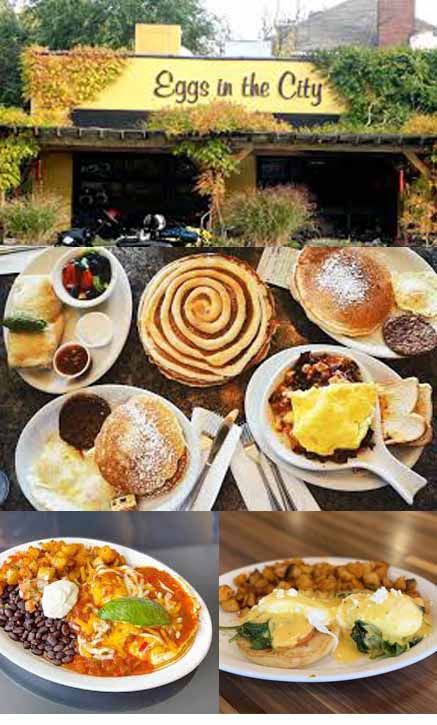 Located in Millcreek, if you are looking at brunch or lunch, Eggs in the City is the place! It draws in large crowds for its American style breakfast and lunch, where they serve traditional breakfast foods, but also a range of burgers, burritos, Mexican specialties, soups, and salads. If the wait is too long, check out this article for a list of some more delicious breakfast spots in Salt Lake City.
Check out their menu here: Eggs in the City Menu
Settebello Pizzeria Napoletana
Boasting 5 locations across California, Nevada, & Utah, Settebello Pizzeria Napoletana is a hit for Salt Lake City pizza and gelato lovers. It was one of the first pizzerias in the US to recreate "Pizza Napoletana" just like the pizza in Napoli, Italy where pizza was first created (here is an article about it if you are interested). The two owners lived in Italy before moving to Utah to open Settebello and it is clear that they know the art of authentic, Italian pizza, and gelato. Their most popular pizzas are the Margherita, Diavola, and Settebello with standard sizes of 12″ pizzas ranging from $11-$17. If you're wanting a little taste of Italy right here in downtown Salt Lake City then this is the place!
Check out their menu here: Settebello Pizzeria Menu and Online Orders
Current Fish & Oyster
Through extensive research and innovation, Chief Alan Brines brings to life a culinary experience at Current Fish & Oyster restaurant. If you are looking for freshness and high-quality seafood cuisine, with a spotlight on healthy choices, this is the place to go. The menu rotates frequently to give a new experience each time you dine, and signature wines, cocktails, and beers are offered daily along with handcrafted soft drinks, and local brewed beers and ciders. A must try special there is the branzino, a tender fish that melts in your mouth with the perfect combinations of flavors. Some other favorites are the seafood cobb salad, caramelized organic salmon, double R ranch ribeye, the un-common burger, and of course, the fresh oysters! The atmosphere is upbeat and friendly, and the staff maintains top service standards that make for an unforgettable experience.
Check out their menu here: Current Fish & Oyster Menu
---
Looking for some night life after dinner?
Check out Night Life in Utah or 4 Bars To Experience the Nightlife in Salt Lake City