Voted Best Waterfall in Utah
STEWART FALLS
Beautiful Utah Fall Hike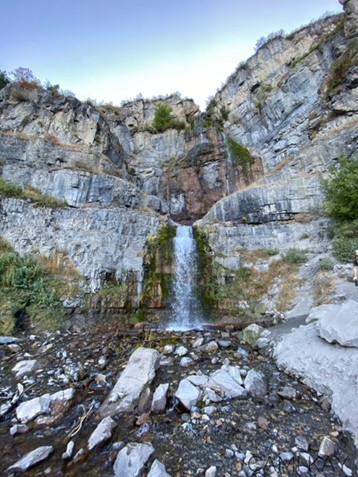 Things to know:
Distance: 3.2 miles round trip
Fees: $6 paid in self-serve envelope or free if you have a National Parks Pass.
Elevation gain: 830 feet
Rated: Moderate
Kid-friendly: Yes with caution.
Pet friendly: Yes
Bathrooms: Yes
Time frame: Count on 2-3 hours for picture taking and rest
Hiking this trail is dangerous in winter, as it is in prime avalanche country.
Directions: alltrails
More about this hike. Click here.
Other:
This hike has stinging nettle.
It is a very popular hike and can become busy. Be mindful of others.
Leave No Trace-pack it in, pack it out. Leave it better than you found it.
Other kid-friendly hikes: click here.
Other hikes for fall colors:click here.
Stewart Falls Hike Overview
Images and Hike Recommended for Fall
Stewart Falls is one of the most impressive waterfalls in Utah. It is over 200 feet and a two-tiered waterfall just behind Mount Timpanogos up Provo Canyon. (Stewart Falls is 52 miles from Salt Lake City and takes about 1 hour 20 minutes to get there). Stewart Falls starts in the Aspen Grove parking lot near Sundance Ski Resort (you can also take the tram from Sundance. See "other" at bottom for more information).
You'll start the short 3.2 mile (roundtrip) hike in the large Aspen Grove parking lot. Be aware that this parking lot houses more than 1 trail and it does get full. You will start near the bathroom with a sign stating "Stewart Cascades."  Follow the trail past the sign and it will turn left and then soon after you will start with a gradual incline through a luscious grove of pine trees, aspens, and stunning views.
The trail tapers out with jaw-dropping Provo Canyon views until just before the falls. Don't get too caught up in the views, as there is unfortunately stinging nettle on this trail. But don't worry, if you stay on the trail, you will be fine.
You'll start hearing the gushing water as the trail turns to the right and goes further into the canyon. It won't be long until you can see a glimpse of the falls. Depending on what time of year you go, and the water level from the snow, there could be other smaller cascades coming down from the mountain! This is a beautiful seasonal hike where you can expect to see wildflowers in the summer, fall colors in the fall, and a frozen waterfall in winter. (See above for dangers of hiking this in winter as it is in a very dangerous avalanche area). From here you will get to an overlook with a beautiful view of Stewart Falls. Both tiers will be in view and it's a picturesque opportunity to see the canyon full of trees in front of the falls.
Expert Tip
If you're feeling brave, you can take the short, but steep trail down to the falls. You can get right up to the falls or splash around in the water. Some people climb the falls but we do not recommend it, as there have been several fatalities trying. Enjoy the view, eat a picnic, and soak your feet.