Ski Weekend in The Cottonwoods
Utah has always been known for its light powder and epic ski resorts. In fact, skiing near Salt Lake City is known to be the home to some of the best ski mountains in Utah, let alone the country! Salt Lake is home to all kinds of skiers, riders, revelers, powder fiends, weekend warriors, and more. As a city perched at the base of America's meteorological miracle, a special vibe resonates throughout the city. When the clouds are low and heavy with powder, you can almost hear it in the air. While the secret about Salt Lake being America's best ski destination has been less of a secret since the 2002 Winter Olympic Games, what few people realize is that Salt Lake is truly a city for skiers. Day-to-day life here is most people's idea of living the dream—and the people here know it.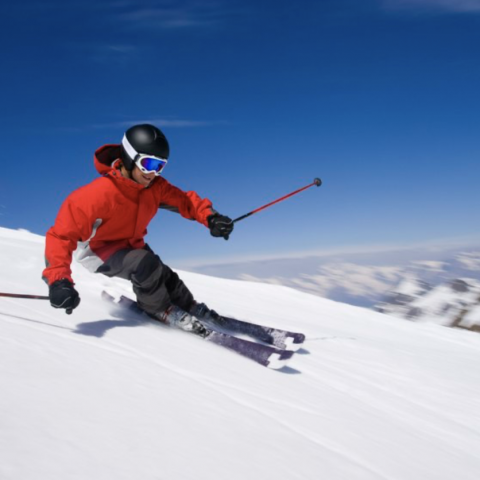 A quick weekend trip up to Big Cottonwood Canyon or Little Cottonwood Canyon will have you in awe as the Wasatch Front towers over you. With an average snowfall of over 500 inches at Alta each year, there's no shortage of fresh snow to ski and snowboard. With all of this in mind, it's safe to say there's a little something for everyone in the Cottonwood Canyons.
Big Cottonwood Canyon
Big Cottonwood Canyon is a canyon in the Wasatch Range 12 miles (19 km) southeast of Salt Lake City in the U.S. state of Utah. The 15-mile (24 km)-long canyon provides hiking, biking, picnicking, rock-climbing, camping, and fishing. in the summer. It is home to two world-class ski resorts Solitude and Brighton.
Solitude is a locals' favorite mountain with some of the best, most pristine terrain in North America. Unhurried and attentive staff, a family-friendly atmosphere, and a variety of lodging options make it a memorable experience for anyone. Only 30 minutes from downtown Salt Lake City, Solitude allows for skiing and snowboarding on over 1,200 acres, in addition to some exciting backcountry access. Moreover, plenty of lodging options are available in Solitude's village, along with great dining options on and off the mountain.
Brighton is Utah's only resort that can boast that 100% of its terrain is accessible by high-speed quads. Our five quads, one triple, and magic carpet service 1,050 acres and 1,875 vertical feet of incredible Utah skiing. What's more, kids 10 and under ski and ride free. Not to mention, there's Night Riding. Thinking about some social activity after a day's skiing? We got you covered.
Getting There
Fly in to SLC International Airport, hop in a shuttle or rent a car, and arrive at Solitude 34 miles later. With hundreds of flights arriving and departing each day, you'll be able to maximize your time at Solitude. Click on the below link for detailed directions from SLC airport, downtown salt lake city or park city
Getting to Brighton is easy! Brighton is located at the top of Big Cottonwood Canyon, just 35 minutes southeast of downtown Salt Lake City and the Salt Lake International Airport. Seventeen domestic airlines operate 972 scheduled flights daily, and 466 of the flights are non-stop. Delta Airlines serves cities nationwide with 108 nonstop flights daily.
For international travelers, a translation service is installed throughout the airport for on-the-spot translation of 250 languages via the telephone system. Click on the below link for detailed directions from SLC airport, downtown salt lake city, or south of salt lake city.
COTTONWOOD CANYONS ROAD RESOURCES
To help you navigate the Cottonwood Canyons, click here for a milepost location map, public transportation information, overnight parking information, and other roadway resources.
Travel Tips:
Want to learn how to Ski? Here are several options
Hungry while skiing? Here are our go-to spots
Little Cottonwood Canyon

Little Cottonwood Canyon is the home of two of Utah's favorite resorts, Snowbird, and Alta. The canyon lies within the Wasatch-Cache National Forest along the eastern side of the Salt Lake Valley.. While Little Cottonwood Canyon (called LCC by locals) is most well-known for its world-class ski resorts, there are many other amazing activities going on year-round. LCC provides an escape from Utah's hot summer weather, with temperatures typically 20 degrees cooler than the valley below. Summer activities include hiking, tram rides, wild-flower tours, a weekly concert series, and an Oktoberfest celebration from August to October at Snowbird resort. More information on summer activities in LCC can be found here.
Skiing and Snowboarding in Little Cottonwood Canyon

Peak ski season in Utah is between mid-December to April, but resorts are often open before and after these dates depending on the snow-pack. Little Cottonwood Canyon is home to two ski areas, Snowbird and Alta. While Alta is restricted to skiers only, Snowbird is open to both skiers and snowboarders. Both resorts are about an hour from the SLC Airport. Travelers wanting to save money can find a place to stay in the South SLC area and drive 35 minutes to the resort before skiing. For a more luxurious experience, travelers can find lodging in the canyon near the ski resorts.
0ptions for shuttles and ridesharing programs can be found here.
Lift tickets can be purchased online in advance or at the resort. There are options for half-day, full-day, or afternoon lift tickets. Remember, neither of these resorts offers night skiing, so plan accordingly. Food can be purchased at the ski lodge or brought from home.
Alta and Snowbird provide great slopes for skiers of all skill levels. If you are new to skiing or snowboarding, it is highly recommended that you schedule time with an instructor on the resort website in advance. Equipment rentals are also available and can be found here for Alta and here for Snowbird. With short winter days in Utah, both Alta and Snowbird operate from 9:00 AM to 4:00 PM. We recommend getting there early to avoid traffic and fully take advantage of a great day of shredding the powder. Looking for some great food after skiing? These are our favorite breweries. If starting the ski day  after a hearty breakfast is your style, you'll love these breakfast spots.