Mountain Biking in Salt Lake City and the Salt Lake Valley
With proximity to the mountains, Salt Lake City offers a wide variety of mountain bike trails suitable for every skill level. It's a new way to experience what its beautiful scenery and outdoor environment along the entire Salt Lake Valley.
We are here to help you with a few trails, places to unwind, and a place or two to buy your first bike or rent one while you are visiting to give you a chance to appreciate adventures of Utah mountain biking.
Keeping skill level in mind, these trails are recommended in Salt Lake Valley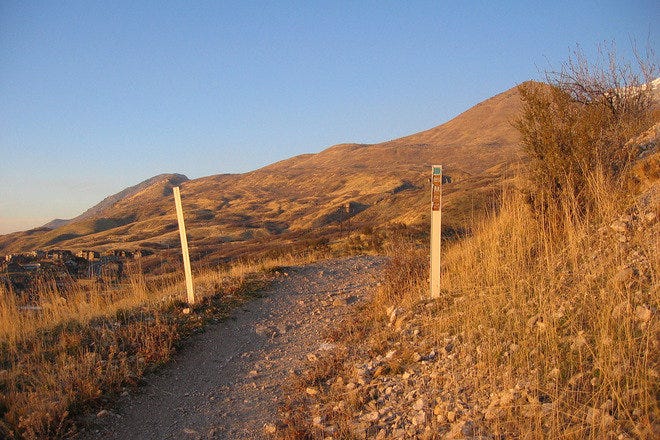 Beginner-Intermediate Skill Levels: Bonneville Shoreline Trail
While you're up there take some time to stroll around the beautiful Red Butte Gardens Red Butte Gardens or see the ferocious dinosaurs at the Natural History Museum of Utah.
If you get thirsty be sure to check out one of the many fantastic microbreweries in downtown Salt Lake. Squatters Craft Beers and Deseret Edge Brewery Desert Edge Pub Brewery both have great food in addition to a wide variety of beer.
Beginner-Advanced Skill Levels: Draper Cycle Park and Corner Canyon Trail System
Sitting in the southeast corner of the Salt Lake Valley is an amazing system of trails. Draper City has invested heavily in outdoor recreation. There is a free parking lot with large clean restrooms and easy access to multiple trail options.
The Draper Cycle Park has some fun and easy trails to practice your bike handling skills. There are even pump tracks if you'd like to try your hand at BMX riding.
Across the street from the cycle park is the Corner Canyon system of trails. Nicely graded trails take you through scrub oak and past waterfalls to the top of the canyon for great valley views. From the top downhill options are plentiful. For advanced fast and flowing downhill, give Rush or Ghost Falls a try.
**Watch for trail signs. Many of the trails are one way only and there are hiking and horse trails that prohibit bikes. This trail system is extremely popular so expect crowds on the weekends. Yield to pedestrians and horses and be kind to your fellow cyclists and everyone is sure to have a great time.
After climbing Corner Canyon you're sure to have worked up an appetite. Good Wood Barbecue Company can pack in some protein with awesome ribs or check out Penny Ann's Cafe for home-style cooking that will surely replenish those carbs.
Conquered these or looking for other trails?
Since the Salt Lake Valley has so many great mountain biking areas, you find more about the five best biking trails from our friends here on Seven Slopes.com.
Visiting, don't have a bike, or just don't know where to start?
There are plenty of bike shops around the valley ready to assist you with rentals or gear for a fantastic day on the trails. For rentals in Salt Lake try GO-RIDE Mountain Bikes or Wasatch Touring.
Need other ideas for restaurants after a long day of biking?
Seven Slopes.com has many ideas for dining out in Salt Lake, too! Check out all of the various cuisines Utah has to offer after a long day playing in the mountains and sun.
Spending a few days from out of town and need a place to stay?
We love it when people come to Utah and we can share our beautiful state! As you can see, our mountains offer endless mountain biking opportunities and you will need a nice place to rest in the Seven Slopes area. Check out our Places to Stay to find Utah hospitality that will keep you coming back.