Motorcycle Mountain Adventures
If you are looking for a chance to get away from the busyness of life and smog-infested air, take time to enjoy the mountains of Utah on the back of a motorcycle so see, learn, and find peace.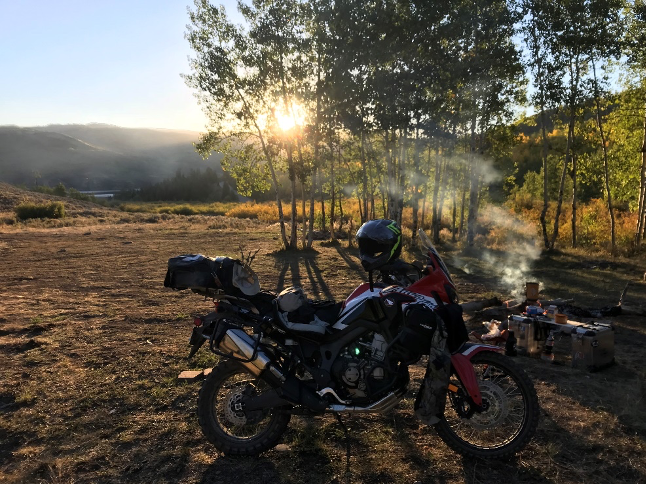 Utah has much to offer for motorcycle riders…
Utah is home to some of the most majestic and awe-inspiring mountain views in the world. People travel from all over the world to hike, bike, and motorcycle Utah's red rock and mountainous passes. From Moab to Bear Lake, the mountains are full of trails, dirt roads, and paved highways for any type of motorcycle riding.
Mirror Lake Highway, a favorite for many motorcycle riders…
Mirror Lake Highway is a gorgeous route only a short distance from Salt Lake City with things to do for every family member. If carving highway curves on your Harley Road King or Honda Goldwing, this route is for you.  A route frequented by motorcyclists is starting in Salt Lake City, travel east toward Park City, Utah then wind through the farmlands of Kamas. By continuing on Highway 150, you pass Provo River Falls, where on a hot day you can stop, slip off your boots, and wade out into river and array of small waterfalls to cool off. The route then takes you to Mirror Lake, a popular spot for campers. Fishing for white trout has made it a relaxing day for those who find putting a line in the water and relaxing on the water their style. If you can fit your kayak on your bike, take a paddle around the lake! At this point, you can turn around and go back to Salt Lake City, or continue on the road to Evanston, Wyoming and stop off at Suds Brothers Brewery for an amazing burger, Diet Coke, or if your heart feels so inclined, a cold beer. Evanston is only a short distance from Salt Lake City on Interstate 80. This route is hands-down an expression of all that is beautiful in Utah, from mountainous passes, to spectacular farmlands peppered with cattle, this is sure to please!
So many other options to consider in Utah on a motorcycle…
The Back Country Discovery Routes (BDR) are off road adventure routes that a team of riders have taken years to map out and develop into an incredible pathway through the most remote areas of a many states. Utah is one of their most proud accomplishments. The route runs from south to north, starting at Mexican Hat on the southernmost Utah boarder traveling north through Moab, and essentially the heart of the Rocky Mountains. The ending of this route is spectacular driving up over a mountain peak, which then coasts into Bear Lake Utah and finally reaching the terminus in Idaho. This route is full of challenging twists and turns.  It is not for the lighthearted rider. There are however some alternate routes which allow for less advanced way-finding. Take a good GPS unit, camping gear, and plenty of water as the remote nature can find you in unfamiliar but spectacular areas. The BDR team has outlined specifics including GPS coordinates, packing supplies, riding abilities, and highlights to see along the way. 
If you are looking for a more off-road adventure close the Salt Lake Valley, you can check out areas like Five Mile Pass. You will find changes in terrain perfect for motor cross riding. This is located just 45 miles south of Salt Lake City and makes for a great day-trip for the family.
Utah's desert mountains are popular recreational spots for the adventurous off-road motorcycle rider, too. Consider Southern Utah and the many opportunities to ride in the sand dunes or desert canyon areas of this beautiful state. Just don't forget the water and sunscreen!
Utah's history is revealed and speaks on a motorcycle ride…
Off-road riding can send into places that reveal Utah's rich mining history. There is always something around the corner to find! The Utah mountains are full of history from our forefathers and native people whose lives are etched on the walls of rock. You will witness many petroglyphs that if reverenced can speak to each person individually as you become one with the mountain.