Twist Bar - Bistro - Social
Twist Bar and Bistro is not only one of the most recognizable and beloved nightlife destinations in downtown Salt Lake City, it is a local favorite amongst college students and young adults alike. If you are looking for a vibrant scene with live music and weekly entertainment then look no further than spending your evening out at Twist. Whether you're enjoying live music and dinner on the main floor or dancing the night away with friends downstairs, Twist bar and Bistro has it all. Twist owes the majority of its popularity to its spacious two story venue as well as its duel bar. Over time Twist has proven itself to be an affordable and fun choice for any night out. Be sure to check out the large drink menu on their website! In addition to their menu, here's a clip about Twist!
The Green Pig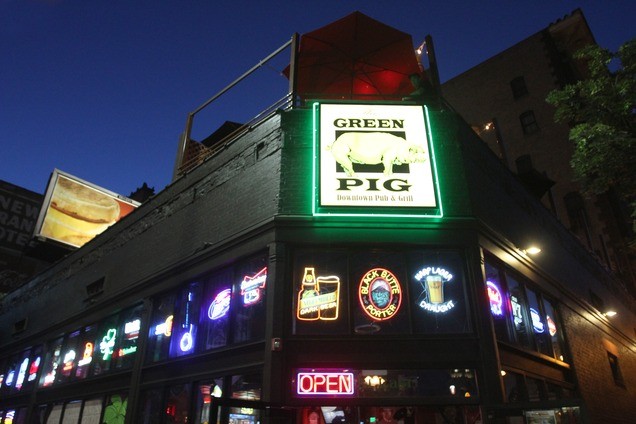 If you find yourself in need of Thursday night plans and enjoy a little bit of energetic Karaoke, look no further than the Green Pig. Being a college favorite, the Green Pig caters to all age groups and many different crowds. With it's weekly karaoke, rooftop bar views and welcoming atmosphere, the Green Pig has solidified itself as a popular nightlife destination for college students and adults alike. 
O'Shucks
O'Shucks serves as Salt Lake City's premier Irish bar as well as another top destination for local college students. Most students will be found at O'Shucks on a Wednesday night drinking their $3 schooners all while enjoying its welcoming atmosphere. This modern take on the classic Irish pub is equipped with a traditional pool table and free snacking peanuts for patrons to socialize over making O'Shucks a local favorite.
Bodega
There's no better start to the night than beginning at Bodega. Bodega's quaint rustic interior creates the perfect atmosphere for a laid back and relaxing night out with friends. Bodega proudly runs a two story restaurant/bar with exclusive dining downstairs and the more popular drinks only operation upstairs. While visiting be sure to take advantage of their drink specials on Saturday nights!
London Belle
London Belle is a great weekend destination with their popular club like atmosphere on Friday and Saturday nights. It is during this part of the weekend where London Belle transforms half of its dining area into a full blown dance floor! Though on the pricier side, London Belle is still a must for anyone visiting Salt Lake as they have a great venue and welcoming ambiance loved by locals.
Not interested in the bar scene, or want somewhere to dine before exploring the bars? Check out our favorite restaurants in Salt Lake City!
Looking for more activities to do in Salt lake City? Check out the best nightlife in Salt Lake City.