Salt Lake City Breweries; The Best 3
Utah is well known for its breathtaking landscapes, expansive mountain ranges, and fresh powder. However, one of Utah's lesser-known but best features is its craft beer scene and selection. Local Utah breweries have been popping up on every corner over the last few years, and frankly, everyone is worth a visit! Whether you're in town for the weekend, new to the area, or a Utah native, we'd recommend checking out a few breweries in Salt Lake City. To help you choose which ones to try first, we've compiled our top 3 favorite Salt Lake City breweries based on their exquisite beer selection, excellent service, and overall good vibes. And because we value our furry friends, all breweries on our top 3 list have dog-friendly patios.
1. Hopkins Brewing Company
Hopkins Brewery proudly uses sustainable ingredients in the beer they brew and the food they serve. Their award-winning beer is always local and natural whenever possible. Come by with your friends or coworkers for some great beer, food, and vibes at one of the best breweries in Salt Lake. Hopkins attracts a young, local crowd with weekly live music, trivia, and local art. This is the place to go if you're looking to liven up your Tuesday night.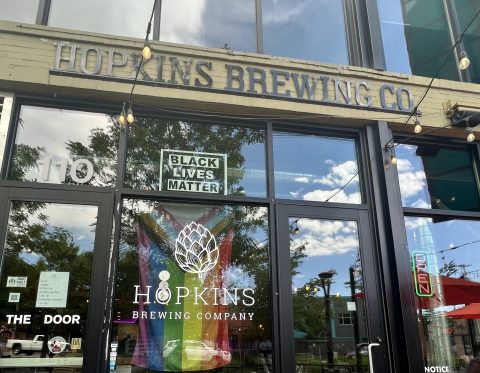 Must be 21+: YES
Hours: Monday -Tuesday 11 am-11 pm; Wednesday – Saturday 11 am-12 am; Sunday 10:30 am-11 pm
Location:  1048 E 2100 S, Salt Lake City, UT 84106
2. Templin Family (T.F.) Brewing
TF Brewing is always a crowd favorite, boasting their iconic Firda IPA, beer hall-style venue, and large patio equipped with corn hole, giant jenga, and fire pits. This brewery brings in locals, Salt Lake newcomers, and beer-lovers alike. Whether you're coming after a new pow day or a summer afternoon, you'll be met with top-notch customer service and some of the best beer in town. Massive plus – not only are pups welcome, but they are treated like royalty with beds, treats, and water bowls!
While TF itself has a limited food menu – consisting of primarily a giant, delicious pretzel – there is a different local food truck right out front daily. It's also worth noting that they have a limited wine and spirits selection in addition to their freshly brewed batches.
Must be 21+: YES
Hours: Monday – Thursday 12 pm – 11 pm; Friday – Saturday 12 pm – 12 am; Sunday 12 pm – 9 pm
Location: 936 South 300 West, Salt Lake City, UT 84101
3. Salt Lake Brewing Co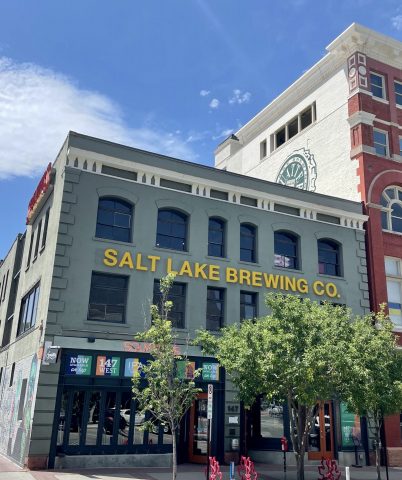 Salt Lake Brewing Co is a larger local brewery, and is better known as Squatters or Wasatch Brew Pubs. If you're looking for somewhere the whole family can enjoy one of these Utah breweries are your place. Wit
h a full lunch and dinner menu – brunch on Saturdays and Sundays – it's a great place to keep yourself fed and hydrated. The Squatters
and Wasatch brew pubs serve their locally brewed beer, along with a full
spirit and cocktail menu, in their 6 locations, so whether you are in downtown Salt Lake City, Sugarhouse, Park City, or
waiting to catch your next flight at the Airport, a local brew is always close by. Each location (excluding the airport) has a lovely outdoor space to enjoy a happy hour beverage with your dog in tow!
Must be 21+: NO
Hours: See specific locations for accurate hours.
Locations: Find your closest Squatters or Wasatch location.
Interested in College Bars? Check out these youthful bars: