The Best Sandwiches in Salt Lake City
Sandwiches are a summer favorite! They are quick and easy to eat as we enjoy our outdoor activities. Thankfully, Salt Lake City has lots of local delis with plenty of options for anything you are craving. Here we have some of our favorite sandwich places nearby that you can take on the go as you explore the city.
Toasters
Toasters Deli serves fresh, locally sourced, incredibly tasty, and classic lunch and breakfast items. All of their sandwiches are toasted to perfection. This makes them guaranteed to leave you satisfied. Their menu has something for everyone and it is sure to be a crowd-pleaser. All of their sandwiches can be bought as a half or whole and come with chips. What makes this deli even better is that Toasters is, "a family-owned business that brings a European approach to an American standard: the corner sandwich shop" – Utahsown.org. Support local families and give Toasters deli a try!
Moochie's Meatballs and More
As featured on Diners, Drive-Ins and Dives, Moochie's Meatballs and More is a local favorite. There's a reason why it's rated #10 out of 115 for best Quick Bites in Salt Lake City. Unassuming on the outside, Moochie's offers a homey Mom and Pop experience on the inside. It's an atmosphere that perfectly complements its authentic American food. Although most famous for its Meatball Sub and Philly Cheesesteak sandwiches, Moochie's also offers cold deli sandwiches, fresh-made salads, pasta, and tasty desserts. So don't let the outside fool you — it's what's on the inside that counts.
The Robins Nest
The Robins Nest is, in my opinion, the best local sandwich shop in the downtown area. It's not well known due to its small location and little visual indicators of the restaurant itself. However, don't let that fool you. They have a large variety of sandwiches for anything you could be craving. Since the menu can get a little overwhelming, here are 3 sandwiches we recommend to start with!
-The Heritage; a classic italian sandwich with roased bell peppers and an olive spread.
-The COBALT; a perfect mix of chicken, bacon, and avocado on ciabatta
-The Gouda Smoker: A classic turkey sandwich with gouda cheese.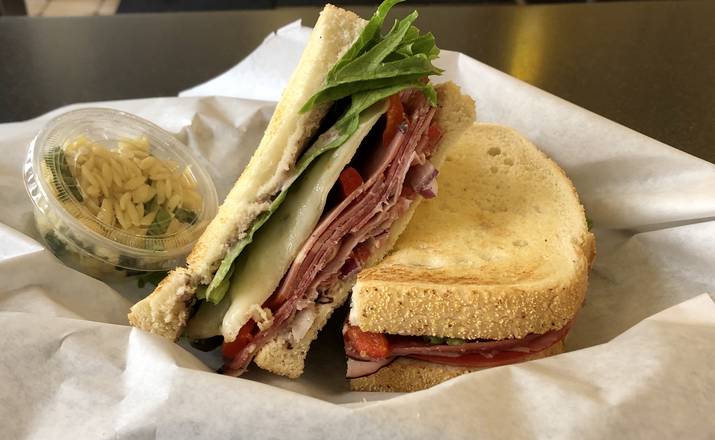 They are located at 311 S. Main St and are only open during lunch hours during the week. Make sure you take the time to go! We recommend getting a sandwich with one of their combos with a side of homemade orzo pasta, a cookie, and their lemonade sweetened with honey.
Feldman's Deli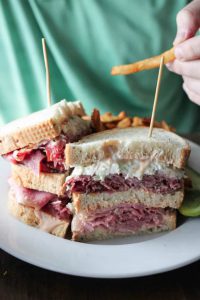 "Feldman's Deli is a New York-style delicatessen offering a variety of traditional Jewish Deli sandwiches and European/Old World specialties, in a café setting, where New York chic meets ski chalet comfort." This award-winning restaurant has become an essential part of Utah's cuisine history. With a wide selection of food and affordable price, there's something for everyone! They are located on 2005 E. 2700 S. in Salt Lake City, UT, and are open Tuesday through Saturday. Feldman's Deli offers a wide menu for all meals of the day. Here we have a few to try out.
-Reuben Sandwich: Corned Beef, Kraut, thousand island, Swiss cheese on Jewish rye. An award-winning combo.
-Signature Meatloaf: So juicy and tender. The perfect comfort food.
-Lox Platter: Includes tomatoes, red onions and capers, lox, and choice of schmear. Simple, delicious, and perfect for sharing!