5 Romantic Winter Date Activities in Utah
Dating can be hard, especially when you are looking for something unique and fun in the wintertime! But don't worry, we got you covered! From living like royalty to experiencing your own personal northern lights, these 5 romantic winter date activities will surely change the dating game in Utah!
1. Anniversary Inn
Most couples who have been around long enough have stayed in a hotel. Or, maybe you met your partner in a hotel. Either way, the Anniversary Inn adds a new twist to the staycation. Here, there are exciting themed rooms. If you're going to "get a room," it might as well be unique! From jungle safaris to princess castles, there is sure to be a fun, eccentric experience that your dearly beloved has never experienced before. Why spend thousands on a trip to a far off land when you can get the same feeling right here in Utah?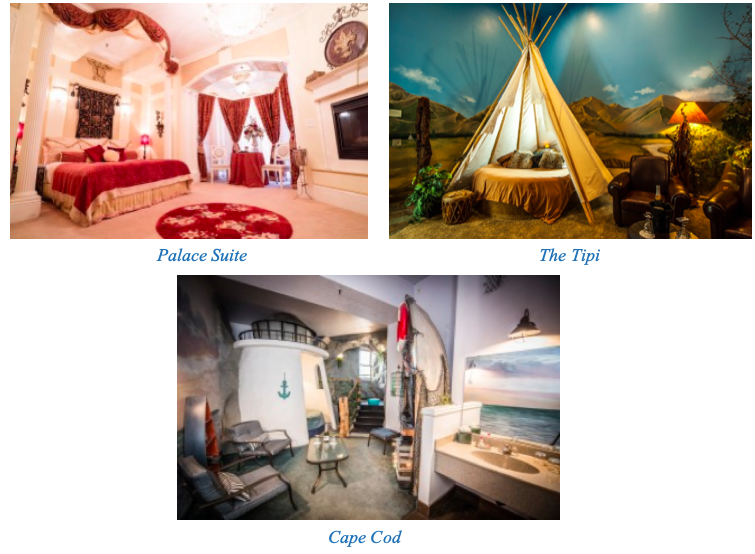 Location: 460 South 1000 East, Salt Lake City, UT
Phone Number: 800-324-4152
Link: https://www.anniversaryinn.com/
2. La Caille
A dinner date is not a new idea, but La Caille offers super fancy 6-course dinners that are unlike anything else. Often called "the most romantic restaurant in Utah," there may not be a better place to sweep your loved one off of their feet. Nuzzled in the mouth of Cottonwood Canyon, La Caille will give you the feeling of being whisked off into a fantasy as you drive down a beautifully filled road with beautiful lights and gorgeous trees. The cost will put you back $90 a person, but your partner will be left asking how they ended up so lucky to have you.


Location: 9565 Wasatch Blvd, Sandy, UT
Phone Number: 801-942-1751
Link: https://www.lacaille.com/
3. Thanksgiving Point
It's not Thanksgiving, but you get the Point. And your partner will, too, after you bring them to the romantic Thanksgiving Point Dinner Dance. As the name suggests, this event offers live music, dancing, and an extravagant 3-course meal. The music is performed by renowned Jazz group Gold Standard, with music inspired by the likes of Frank Sinatra. With a fun photo-booth on the dance floor, you will never have to forget the memories you make, even if you do have a little too much champagne. With Staybridge Suites right next door, the night can turn into something truly special.

Location: 3003 N Thanksgiving Way, Lehi, UT
Phone Number: 801-768-2300
Link: https://www.thanksgivingpoint.org/events/valentine-dinner-dance/
4. Sleigh Ride Tours
If being snuggled up together like two birds of a feather, sounds like your kind of evening, then the Park City Sleigh Ride Tours are just for you. For 30 minutes, a horse-drawn sleigh will pull you through the beautiful Park City snow. Experience what it is like to be Mr. and Mrs. Claus, just with less flying and reindeer. ALSO, if you want to take it a step further and experience Park City as a whole, then you should take the time to read our other blog post dedicated to the magical city!
Location: 4000 Canyons Resort Dr, Park City, UT
Phone Number: 435-640-2273
Link: https://www.parkcitysleighrides.com/
5. Midway Ice Castles
Unlike Elsa from the hit Disney Film Frozen, your date will not want to "Let It Go" after you bring them on this fantastical experience. These handmade ice castles provide a unique experience that will leave you and yours feeling like you stepped into another world. These colorfully lit ice structures provide many photo opportunities, as well as a perfect environment to sneak in a kiss or two. Or just hold hands, whichever works.


Location: 700 Homestead Dr, Midway, UT
Link: https://icecastles.com/
We added a 6th, just because!
6. The Grand America Spa & Salon
Head over to The Grand America Spa & Salon to book you and your partner a luxurious experience. Feel relaxed and revitalized after your appointments, they have a wide range of services. Check out more details on our post dedicated to the Spa & Salon here: https://www.sevenslopes.com/the-grand-america-spa-salon/