Natural History Museum of Utah: A Must See
The Natural History Museum of Utah is located near the University of Utah. It is a must see, family friendly indoor activity in Salt Lake City. It is open from 10 AM to 5 PM every day. In addition, they offer extended hours on Wednesday until 9 PM.
Exploring the Intermountain West
The museum focuses on the history of the Intermountain West. They offer many permanent collections as well as seasonal exhibits. You can see which exhibits will be open at the time of your visit by clicking this link.
There are many activities and events that the museum hosts throughout the year. This includes scientific lectures and special exhibits that are exciting for children and adults. You can check out their events calendar here.
Child-Friendly Activities
Educating Little Explorers
If you have children, this is a great place to visit on any occasion. The museum offers summer camps every year for children who want to learn more! The camps focus on skills in Science, Technology, Enginnering, Art, and Math, or STEAM for short. The summer camps happen between June 7th and August 9th. Classes are currently available in person and virtually to accommodate for COVID-19. You can find more information and registration dates here.
Children's Birthday Parties
Children's birthday parties are another reason to love the Natural History Museum. You can host your child's next birthday at the museum, with a party planned by museum staff. During the pandemic, they are offering virtual birthday parties via Zoom. The parties focus on education and creativity, and they last for an hour and a half and include party favors. You can expect lots of different activities such as balloon blowup, elephant toothpaste, and slime time. Materials for the activities as well as goodie bags are mailed out in advance in order to make the virtual party experience more interactive! Parties are offered Saturday mornings from 10:30 AM to noon or Saturday afternoon from 2 PM to 3:30 PM. To schedule your child's birthday party, click here.
We just celebrated my son Jacob's 8th birthday party virtually with the Natural History Museum of Utah. What a great experience!  Every time I had a question pre-party it was answered promptly and in detail. Shelli is wonderful.  Also, Katie and the other lab techs (aka "the mad scientists") made it really fun.  The experiments that we performed were hands-on and exciting. The goody bags that were provided were perfect.  Thank you for making my son's birthday one that he won't forget. 5 stars! – Liz

Birthday party review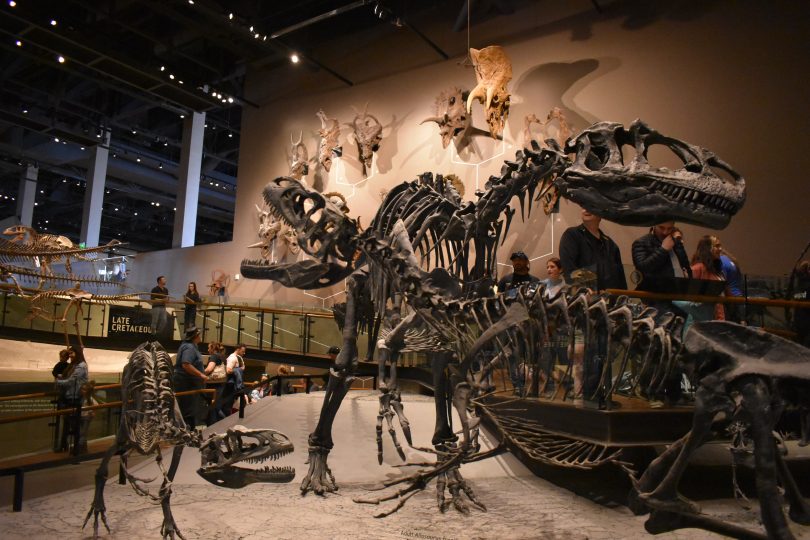 Enjoyable for Everyone
The Natural History Museum offers a great experience for children and adults alike. There, you can learn, explore, and have fun with family or friends. If you plan on visiting the museum, tickets can be purchased online. This is a very affordable activity, with tickets ranging from free for students and members up to $14.95 for adult general admission. (For more free activities for University of Utah students, click here.) The museum also offers discounts for seniors, young adults, and children. However, the Natural History Museum tickets often sell out, so we recommend purchasing your tickets at least one day in advance.
We hope you have a lot of fun at the Natural History Museum, for more unique activities in Utah, check out this post.