Best Plant Based Restaurants in Salt Lake City
Before moving to Salt Lake City, I had never experienced plant-based or vegan food like this. These three restaurants were co-founded by Alex Jamison with extremely different menus all located in downtown Salt Lake City, have become my go-to restaurants and I do not consider myself to eat a plant-based diet.
Bolt Cutter SLC – Instagram: https://www.instagram.com/boltcutter_slc/
With a modern and hip interior, and location next to The Gallivan Center, this restaurant cannot be beat! Their menu provides a vegan spin on street tacos, Mexican dishes, flavorful sides, as well as delicious cocktails and horchata.
Prior to the COVID-19 outbreak they were constantly at full capacity, in which you would need to get their early to put your name on the list. To accommodate the uncertainty and changes of the pandemic, they offered takeout dining options, however have recently decided to close the doors while they renovate and update their menu.
Pictured below:
Stuffed Quesadilla – cheese sauce, refried beans, guac, pico, asada seitan, sour cream, and cilantro.
Nachos – corn chips, cheese sauce, beans, pico, pickled jalapenos, green onions,sour cream, guacamole, and barbacoa jackfruit.
Buffalo Cauliflower – Battered florets, habanero buffalo, almond cilantro chimichurri, ranch.
Street Corn – Grilled corn, cashew cream, chili powder, almond parmesan, chipotle, and cilantro.
All plant-based!
Monkey Wrench SLC– https://monkeywrench-109928.square.site/
Located next door to Bolt Cutter, Monkey Wrench is the perfect after dinner treat. Their menu consists of plant-based desserts such as ice cream, milk shakes, baked goods, and coffee. Made of varieties of plant milks or milk alternatives (almond, cashew, oat, etc.), their ice-cream has delicious flavor and consistency. They have seasonal flavors for ice cream, as well as waffle cone options and you have to stop by year round to experience their creative and delicious flavors!
Pictured Below:
Brownie Sundae – made with coconut, wheat, and soy and coconut based vanilla ice cream
BUDS SLC https://budsslc.com/
Now, if you are in the mood for a killer sandwich, Buds is the best hole in the wall, place to go. They are located in the heart of Salt lake City near the Convention center and City Creek Center. You can walk a short 20 min from the convention center or take a scooter ride there! You will not be disappointed by this place. They really know how to make a delicious and super fresh sandwich. They are known for making classic sandwiches but always with a twist. And those twists are what make the sandwiches to die for!
If you are in the mood for something pesto, the Pesto sub cannot be beat. And let's stop and talk about the barbacoa sandwich for a minute. It is served with grilled jackfruit. Yeah you read that right, grilled jackfruit. It is amazing. You will love their menu options, there truly is something for everyone, vegan or not. You will fall in love with the flavor packed sandwiches and this might become your regular sandwich stop. It is for sure mine!
Pictured Below:
BUDS Sandwich Shop SLC – 509 E 300 S Salt Lake City, UT 84102
Barbacoa Sandwich – Grilled jack fruit and black beans slow cooked in a chipotle BBQ sauce with shredded cabbage, guacamole and ginger sour cream on toasted sourdough.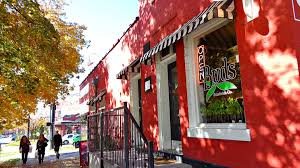 BUDS and Monkey Wrench currently have take-out food options in which we definitely recommend, and we hope Bolt Cutter will be open soon., whenever you are in Utah, definitely give these plant-based restaurants a try! After you grab a bite from one of these delicious vegan restaurants, take a trip to Utah's Natural History Museum.