10 Things to Do in Utah to Bring out Your Inner Olympian
By Olympic Gold Medalist, Nikki Stone
There are very few areas where you can try out several unique Olympic sports to unleash these Olympic dreams. But Utah not only has an abundance of Olympic sports to try. It also presents the opportunity to be coached by some of the world's best coaches and train alongside actual Olympians. Thanks to the 2002 Salt Lake City Olympics. The city and the surrounding towns were left with this hub of world-class venues and awe-inspiring athletes worldwide with things to do in Utah.
I was 5 years old when I told my parents I would win the Olympics someday.  It took me another 12 years to even find my Olympic sport. I could only dream of finding a sports mecca filled with experiences to help me find my calling.Through my Olympic background, I gained some great insiders' information on where you can go to experience your own Olympic dreams—no matter your age.
Here are my top 10 Things to Do in Utah to Bring out Your Inner Olympian:
#10. Cross Country Skiing and Biathlon at  Hollow Nordic Center: Soldier Hollow was the venue for all the Cross Country Skiing and Biathlon events in the 2002 Olympics. Learn the art of gliding and shooting like the Olympians. The venue offers both winter (on skis) and summer (on roller skis) training to hone your skills.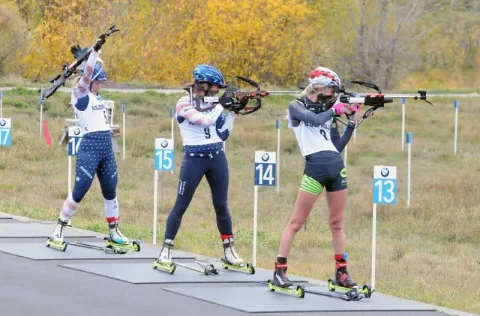 #9. Mogul Skiing at Deer Valley Resort: Ski the 250-meter Olympic mogul run above the base at Deer Valley Resort. The course shares hundreds of Volkswagen Bug-sized bumps and 2 air jumps to show off your best tricks before you snake your way to the bottom of the slope. And if you want to master the course, you can hire one of the resort's world-class ski instructors or go all out and hire one of Deer Valley's Olympic ambassadors.
#8 Curling at the Utah Olympic Oval: Take it from me, this sport is harder than it looks. It's like shuffleboard on steroids.  Sign up for lessons at the Olympic Oval, so you can learn proper delivery of the stone, sweeping and basic strategy.  It's a unique and fun outing that will appeal to nearly every fitness level.
#7. Snowboarding at Woodward Park City and Park City Mountain Resort (PCMR): First develop your skills in the 125-acre indoor/outdoor action sports campus of Woodward Park City.  Then head over to PCMR to drop into the huge, snow-packed Olympic halfpipe to try your best "Air to Fakie", "Stalefish" or "McTwist". For the faint of heart, you can even just ride up and down the sides of the giant pipe to experience the undulating motion of this world-class venue. Keep your eyes peeled because you may just catch site of the likes of Shaun White or Chloe Kim dropping in behind you.
#6. Speedskating at the Utah Olympic Oval: Whether you are looking to improve your figure skating or hockey technique and speed or you want to try a new sport, The Utah Olympic Oval will offer you training on the very track where the world's best skaters broke records and brought home Olympic medals. Don't be surprised at how many Olympians you will encounter.  Even the venue's sports director, Derek Parra, was a 2002 Olympic gold and silver medalist. Be sure to tell him Nikki Stone sent you.
#5. Downhill Skiing at Snowbasin Resort: You likely won't get up to Olympic speeds of 90mph, but you can still schuss down the same downhill ski run that won American Bode Miller one of his first Olympic medals. For amazing, powdery ski runs without the long lines, put Snowbasin Resort on your list of ski resorts you must hit. Speeding down the long, winding runs will be sure to get your adrenalin pumping. For another great Utah ski resort, check out Brighton.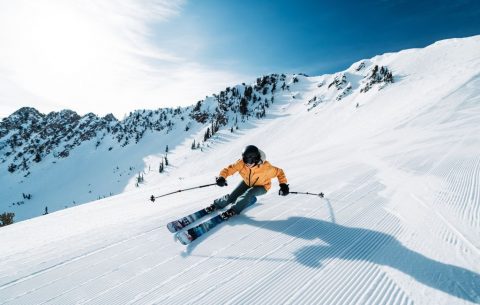 #4. Skeleton & Luge at the Utah Olympic Park:  For those of us who loved sledding as kids, and want to take it up a few notches, you have to try the sports of skeleton or luge. In the sport of skeleton, you plunge headfirst down the bobsled track and steer with your head and shoulders around turns. While luge requires you to recline backward and steer with your legs and toes. Both sports can be experienced at the Olympic Sports Park. After trying both, I can tell you that one does seem to be much easier than the other. Give it a try and see which one it is.
#3. Nordic Jumping at the Utah Olympic Park: Want to soar like the eagles? We've all admired the inspiring feats of the Nordic jumpers as they lean out over their toes soaring above the crowds.  Though the flight may appear daunting, there is no need to fret as the jumpers are actually never more than about 15 feet off the ground at any given point. And they have you start out on very small jumps to get your jumping legs under you. My son was 8 years old when he skied off his first Nordic jump.  If he can do it, so can you.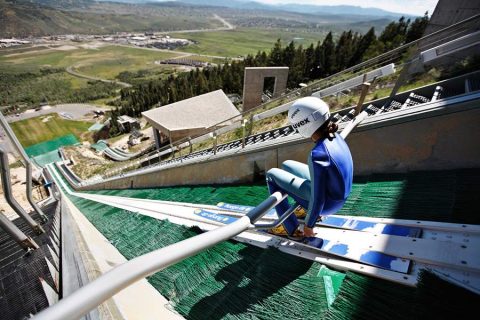 #2. Bobsled at the Utah Olympic Park: Experience the rush of your life.  Qualified, professional bobsled drivers will steer you down the actual course that World Cup and Olympic athletes compete on every year. The G-forcers will make your stomach drop through your toes but the stories you can share will last you a lifetime. I loved it so much that I went twice.
#1. Aerial Skiing at the Utah Olympic Park: Alright, I may be a bit biased on this one, but skiing off simulated snow jumps into a one-million-gallon pool will be an epic experience you won't soon forget.  Start out on the world-class fly-bed trampolines with bungee cords that will help create more airtime for your tricks. Then move over to the jumps and try any trick your heart has ever desired before landing in a pool that is aerated to help soften your impact. Before you know it, you'll be flipping and twisting 50 feet in the air like the Olympians
It is truly remarkable how many unique sports can exist in one small region. Very few places around the world can boast such a variety of Olympic experiences.  It's time to awaken that Olympian within.  Your Olympic dreams await!