Brighton Ski Resort
Brighton was the first ski resort in Utah when a couple of locals, a part of the Alpine Ski Club, built a rope tow. Brighton opened in 1936 and in 1955 they installed the first double chair lift. Brighton was voted number 2 for the best snow in North America, they get about 500 inches of snow every winter. Brighton is located in Big Cottonwood canyon and is just a short 45 minute drive and 34.8 miles away from the Salt Lake City Airport.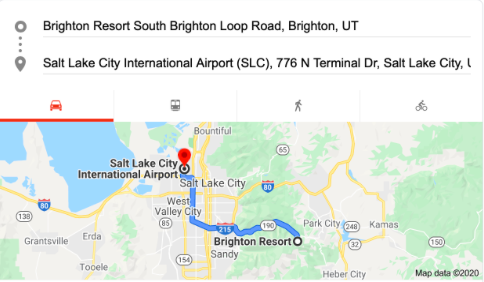 Ticket Pricing
Brighton offers a wider variety of ticket pricing https://brightonresort.com/lift-tickets  . They offer 12 hour, 7 hour, and 4 hour days you can buy tickets online normally getting a better deal and at the ticket booths upon arrival. If you travel to Salt Lake City often Brighton also offers a couple of different season passes. https://brightonresort.com/season-passes  these season passes are a great deal if you plan to travel to Salt Lake a couple times this winter.
                  Ski School
Brighton offers both adult and kid ski camps. For kids they offer both ski and snowboarding camps for beginning skiers and snowboarders on saturdays and sundays. For more advanced skiers and snowboarders they offer a freestyle camp. https://brightonresort.com/camps-and-programs/kid-programs . For adults Brighton offers 3 or 4 day workshops for all different skill levels during the week. https://brightonresort.com/camps-and-programs/adult-programs They offer top of the line instructors for both the kid and adult camps ensuring you get the most bang for your buck.
             Renting Gear
No need to worry about packing your gear if you are traveling far. Brighton offers rentals both in packages with skis or snowboards, boots and poles or you can rent everything separately. They also provide options for helmet renting and wrist guards. Brighton provides both full day rentals and half/ night rentals if you are not planning on being on the mountain all day. These rentals make traveling to Salt Lake much easier without having to worry about buying new gear or traveling along way with your current gear. https://brightonresort.com/rentals
          Lodging Options
Are you from out of town or a local looking for a nice getaway? At Brighton Resort you don't have to look far. The resort offers on-site lodging options with a variety of packages. You have options of rooms ranging from dorms to suites, both with and without lift tickets included. These options are conveniently located on Brighton's website at this link https://brightonresort.com/the-brighton-lodge. If staying right on sight isn't your cup of tea, there are an array of other accommodation options within short driving distance. There are a number of AirBnB options in the canyon with everything from cozy cabins and chalets to luxury manors. Check them out here: Airbnb_Brighton_Resort Of course, you could also choose to stay at a number of motels located in the Salt Lake Valley if you're up for a brief commute.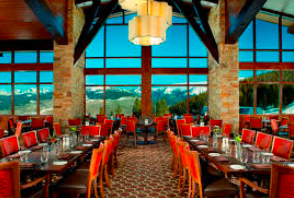 Food and Drink
Whether you're in it for the apres ski, luxury dining, or casual grub, you can find exactly what you're looking for at Brighton Resort. Molly Greens, located on-site, is a favorite for drinks and food. With the option to ski or walk in, the bar is incredibly accessible and offers a full service array of drinks. https://brightonresort.com/molly-greens. The resort also features a cafeteria that serves basic lunch options from sandwiches to pizza, soft drinks to coffee and hot chocolate. If you're willing to branch out a bit, surrounding resorts and towns have a vast array of delicious dining options with everything from fine dining to seafood. Dining_Near_Brighton The link will take you to a lengthy list of options to satisfy your palate. If you're looking for fun nightlife, the bar scenes of Salt Lake and Park City will always provide for good times and fond memories.
Fun things to do in the area
In addition to phenomenal skiing and world class resorts, there's plenty of fun to be had outside of the resort. Seven Slopes is a website that has a lot of information about other resorts you may like to visit as well as nightlife, dining, and so much more. Check them out here: https://www.sevenslopes.com/  Exploring the mountains, especially in the summer can make for some memorable moments. Silver Lake and Wasatch-Cache National Forrest land are some fun areas to explore. You can find more about them here Silver_Lake_and_Wasatch_Cache_NtnlForest. A trip down the mountain and into the Salt Lake Valley might be just the thing for those looking to do some shopping or exploring at a museum. City Creek is a large outdoor mall with a wide variety of stores. The Clark Planetarium is another family favorite for the scientist among you, young and old. With movie theaters, rock climbing gyms, and so much more, there's a bit of everything to explore and enjoy!
Don't forget to stop by one of the best Italian restaurants Utah has to offer when in town at Carmines. https://www.sevenslopes.com/best-italian-restaurant-in-salt-lake-city-carmines/
Catch a movie and drink and Brewvies https://www.sevenslopes.com/brewvies-cinema-pub-salt-lake-city-movies/
If you will be visiting in the summer attending a Bees game with the family is a perfect way to end your night. https://www.sevenslopes.com/salt-lake-bees/