College Football in Utah
Utah College Football Teams
College football is alive and well in the great state of Utah. There are five universities competing in division I football.  Three schools currently compete at the FBS level including the University of Utah, Brigham Young University, and Utah State. Weber State and Southern Utah University currently compete at the FCS level.
The University of Utah – Utes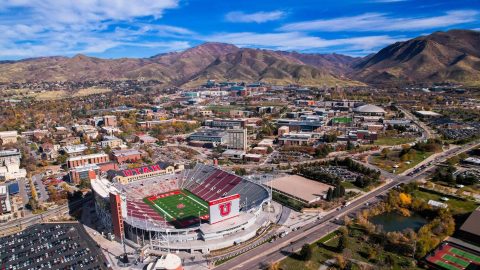 Football has a 691-469-31 all-time record in 127 seasons. In the mid-1990s, the Utes evolved into a national force and won nine consecutive bowl games from 1999-2009, tying for the second-longest bowl winning streak on record. The original "BCS Buster," Utah has gone 2-0 in games that are now part of the CFP New Year's Six with wins in the 2005 Fiesta Bowl (Pittsburgh) and 2009 Sugar Bowl (Alabama). The Utes have finished in the Top 25 national polls 10 times, including a No. 2 ranking in 2008, No. 4 in 2004 and No. 10 in 1994. Utah has sold out every game fans have been allowed to attend in Rice-Eccles Stadium since the 2010 opener.
Utah State University – Aggies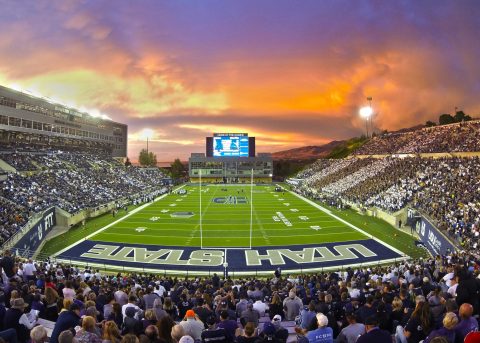 The Utah State Aggies are a college football team that competes in the Mountain West Conference (MWC) of the Football Bowl Subdivision (FBS) of NCAA Division I, representing Utah State University. The Utah State college football program began in 1892 and has played home games at Merlin Olsen Field at Maverik Stadium since 1968. They have won thirteen conference championships in four different conferences during their history, most recently in 2021.
Brigham Young University – Cougars

The BYU Cougars football team is the college football program representing Brigham Young University (BYU) in Provo, Utah. The Cougars began collegiate football competition in 1922, and have won 23 conference championships and one national championship in 1984. The team has competed in several different athletic conferences during its history, but since July 1, 2011, they have competed as an Independent. On September 10, 2021, the Big 12 Conference unanimously accepted BYU's application to the conference.[3] BYU will begin Big 12 play in the 2023-24 season. The team plays home games at the 63,470-seat LaVell Edwards Stadium, named after head coach LaVell Edwards who won 19 conference championships, seven bowl games, and one national championship (1984) while coaching at BYU.
Weber State University – Wildcats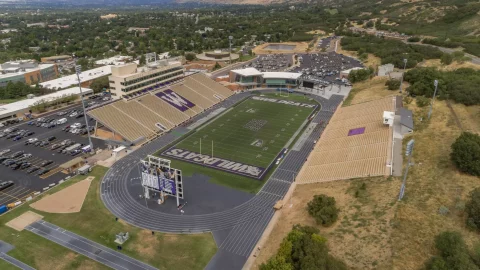 The Weber State Wildcats football program is the intercollegiate American football team for Weber State University, located in Ogden, Utah. The team competes in the NCAA Division I Football Championship Subdivision (FCS) and is a charter member of the Big Sky Conference, founded in 1963. The school's first football team was fielded a year earlier in 1962. Home games are played at the 17,312-seat Stewart Stadium, and the Wildcats are led by head coach Jay Hill.
Southern Utah University- Thunderbirds
The Southern Utah Thunderbirds football (also referred to as the SUU Thunderbirds) program is a college football team that represents Southern Utah University (SUU). With a history dating back to 1963, SUU currently competes in the NCAA Football Championship Subdivision[2] as a member of the Western Athletic Conference. The Thunderbirds play their home games on campus at Eccles Coliseum in Cedar City, Utah, and have been led by head coach Demario Warren since 2016.