Sawadee Thai Restaurant – Salt Lake City
Hungry for an authentic Thai restaurant near you while on your hop-on, hop off open bus tour? Then Sawadee Thai Restaurant is the perfect answer to what's for dinner! During your sightseeing tour of historic Salt Lake City, you will – at some point – need to take a break and refuel with one of the many restaurants that are home to the valley. Salt Lake's unique food culture offers meals from different countries and regions across the globe, including South East Asia! Sawadee is a 3 time winning Best of Utah Restaurant that offers easy lunch ideas and quick dinner ideas. Sawadee in Thai translates to a welcoming greeting of hello, so come say hello to this delicious lunch and dinner Thai restaurant.
Location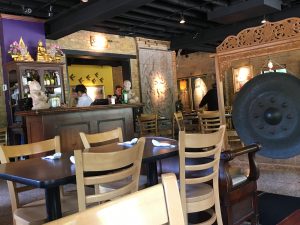 Sawadee on Google Maps
Address: 754 East South Temple Street, Salt Lake City, Utah 84102.
Sawadee Thai Restaurant is located right along your tour of Downtown Salt Lake City. It is a quick 6 minute – 0.3 mile – walk directly east (towards the mountains) from the US Bus Utah, Stop Schedule 7: Governor's Mansion: on South Temple. Sawadee offers both indoor seating if you are visiting during the cold months, or outdoor seating for a relaxing summer evening. It's Utah unique red-rock colored exterior makes it easy to find for both locals and visitors to Salt Lake City.
Beware that Sawadee closes in-between lunch and dinner! Sawadee's operating hours for lunch are 11 A.M. – 3 P.M. Dinner operating hours are from 5 P.M. – 9:30 P.M on Monday – Thursday, and 5 P.M. – 10 P.M. on Friday and Saturday. Closed Sunday. Planning your hop-on, hop-off stop at the historic Governor's Mansion around these times is critical to ensure you do not accidentally arrive during a time when the restaurant is not open. This interruption in operation also does mean there is a different menu for lunch and dinner; there is also a difference is size for restaurant dinner plates sizing. If you do not feel like stopping and sitting down to eat during these hours, the restaurant offers call-in orders you could pick up while on the go.
Pad Thai – Sawadee Thai Restaurant
Sawadee Thai Restaurant has great restaurant special offers on the lunch menu. For an affordable $10 lunch, you will receive an unbeatable amount of food. Special offers include both large portion single dish items – such as Pad Thai or Drunken Noodles – and Lunch Specials that come with salad and spring rolls. With over 20 lunch items to choose from, there is something for everyone.
With over 50 hand-crafted dishes on Sawadee's dinner menu, everyone in your traveling party will be happy. The popular red Thai curry sauce and green Thai curry sauce are created with rich Thai coconut milk. The low-cost $15 dinner portions are worth the cost! These family-sized portioned dishes allow for every one within the party to adventure and try new authentic-flavored dishes together, or provide enough food to pack into a to-go box and save for a quick bite at another hop-off along the site seeing for the day.
Much like the lunch and dinner menus, dessert at Sawadee is a must, and the place to buy Thai sticky rice with Mango, Thai custard, or Jackfruit! To pair with dinner and dessert, two authentic Thai wines are offered: Monsoon Valley Pokdum and Monsoon Valle Rosé.
Atmosphere
Sawadee Thai Restaurant is full of Thai Décor. The authentic elephant engraved war art, elevated Buddha statues, and silk sown, wall length images transport restaurant goers to what feels like a dining in Thailand. Amongst the décor, the open floor plan provides optimal seating for large parties, couples, and individuals. This seating allows for the best family experience with kids dining, as well as just adult parties. The welcoming and smiling staff works in an accumulative effort from to ensure each table is well waited upon.