Mount Timpanogos – Utah's Most Popular Peak
Following Mount Nebo, Mount Timpanogos (11,749 feet) is the second-highest summit of the Wasatch Mountains. It is one of the most popular hiking destinations in Utah and located on the northeast side of Utah Valley close to Alpine.
There are two main trails to the top of Timpanogos: the Timpooneke Trail and the Aspen Grove trail. Both are dog friendly and boast of beautiful wildflowers as well as opportunities to spot wildlife including mountain goats and moose. An old shack marks the summit and offers great views of Emerald lake and Utah Valley in day and night.
And here is a breakdown of the major differences between the two routes.
We will describe the Timpooneke Trail because it is not as steep and more enjoyable to hike with more shade. If you are interested in hiking from Aspen Grove trail, you can find useful information here.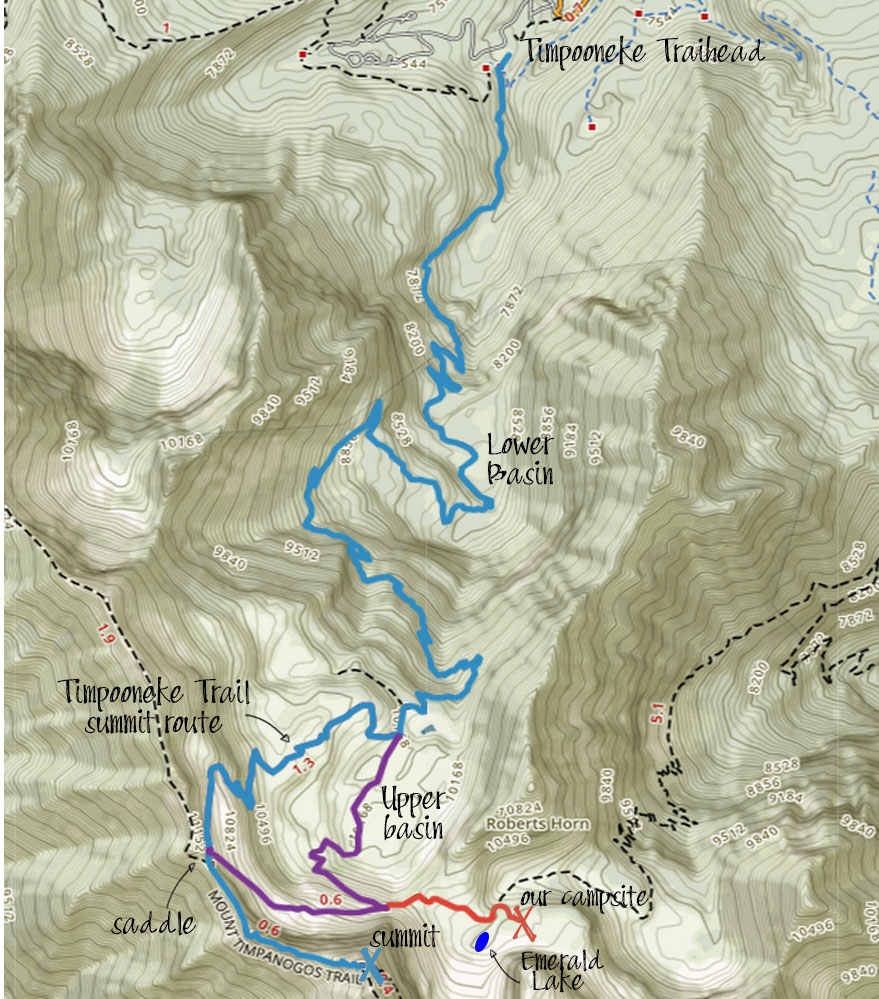 Timpooneke Trail
Difficulty: hard
Length: 14.3 miles
Starting elevation: 7,360 feet
Summit elevation: 11,750 feet
Total elevation gain: 4,390 feet
Route type: out & back
Time required: Most of a day (9 ~ 11 hours)
Weather: Often used during April – October; best hiking season is July – September, especially late July and early August
Timpooneke Trailhead: (40.4313, -111.639) At the Timpooneke Campground in American Fork Canyon (vault toilet provided)
Getting there / Approach
Exit at 284 of Interstate 15 and go east on highway 92. Drive 8 miles until you reach the American Fork Canyon. Continue for another 8.2 miles passing Timpanogos Cave National Monument area until you reach the Timpooneke Campground on the right side of the road.
Things Good to Know
During summer, the parking lot is often filled by 5 a.m. on Saturday mornings, so be aware of that.
This mountain was used by the Utah mountaineering group as the training ground for Mt. Everest preparation.
Other Things to Do
There are more other things you can do than just climbing to the summit.
For example, you can picnic by one of the rivers that borders Timp, go camping or horse packing, hike to Stewart Cascades, take a tour of Timpanogos Cave, explore a lesser known peak or trail on the massif, and etc. etc. Last but not least, enjoy!
Links to Other Sites about Mt. Timpanogos
What Else in Utah?
Wondering whether there is anything for you to explore in winter? Then you have come to the right place again! We have so many wonderful ski resorts in Utah at where you will meet great people and have an unforgettable experience! Remember to check out the end of ski season events as well if you come for spring skiing.