Patriot Park – Family Friendly Fun in Saratoga Springs
Patriot Park
Family-Friendly Fun in Saratoga Springs

Over the past several years, the Saratoga Springs area has had explosive levels of growth.  If you happen to be one of the many new residents in the area looking for family-friendly outdoor experiences, I encourage you to check out Patriot Park.
What is Patriot Park?
Patriot Park, located just off of Redwood Road on 400 South, is a sports complex with six baseball fields that encircle a large play area for children, eight pickleball courts, multiple shaded pavilions, and a large open field.  The complex has restrooms that are open seasonally and, like the other areas of the park, are kept very clean and are well-maintained.  As the name would suggest, the park has a patriotic theme and honors those who have served in the military and as first responders.  The park entrance contains a tribute to Saratoga Springs residents who have served in the armed forces and each of the baseball fields' names honor either a branch of the US Military or first responders.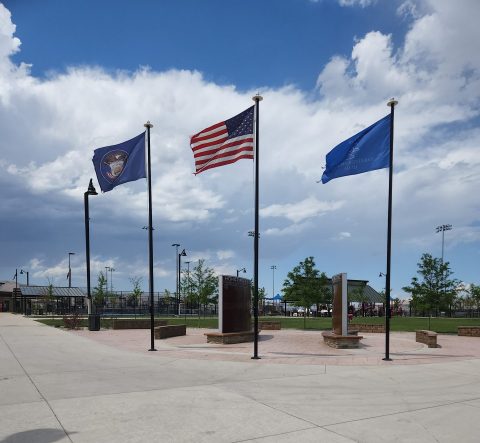 Playground
The playground has options both for younger and older children.  Younger children have an area with slides, platforms to climb, and rocking animals.  There are also swings with baby/toddler seats available.  Older children will enjoy the park's slides and platforms, and those who love to climb have ample opportunity with the cargo nets and climbing tower.  All of the equipment appears to be very well maintained, with nothing appearing to be in disrepair.  The playing surface provides a nice amount of cushion to help with falls, but as a synthetic surface, could be a bit painful to slide across.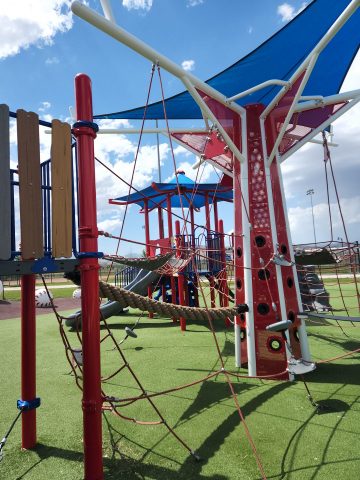 Courts and Fields
The park has six full-sized baseball fields and eight pickleball courts.  Each of the baseball fields has covered bleachers where spectators and supporters can enjoy games, while getting some relief from the elements.  The pickleball courts are kept in excellent condition by the city.  The playing surface is free of cracks or missing paint, and the nets are taut without any ripping or tearing.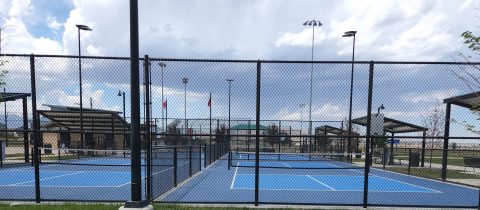 Pavilions and Restrooms
Patriot Park has multiple pavilions that provide an area to eat, rehydrate, and get cooled off in the shade.  The City does not provide reservations for the pavilions, so if you're planning on having a large gathering during high-usage times, you may be competing for space.  The Park's restrooms are centrally located in the park and are very clean and well-maintained.  It is important to note that the restrooms are opened on a seasonal basis, so from October through April, they will not be accessible.
Final Thoughts
If you're in the Saratoga Springs area and looking for a safe, clean area where the entire family can have a great time, stop by Patriot Park!  If you are interested, you can see more of what Saratoga Springs has to offer at www.saratogaspringscity.com.