Five Crazy Must-Ride MTB Locations in Utah
Get to Know Some of the Best Riding in Utah Before you Visit
1. Deer Valley Bike Park
We start our list with the Deer Valley Bike Park, Utah's premiere lift serviced mountain bike destination. Deer Valley is best known for their luxury ski experience, catering to their rich and famous clientele throughout the winter season. Don't be fooled though, during the summer months the mountain is much more affordable and laid back, dedicated to being a mountain biker's paradise. At the top of the lift, you're able to choose from an endless number of trails, with options spanning everything from beginner flow trails to technical downhill trails. If climbing is more your thing, you can even skip out on the lift and pedal to the top yourself for free. Season passes and day tickets are reasonable priced though, and they even run a special for $20 tickets every Wednesday evening. You can check out the Deer Valley Bike Park Website.
2. Park City Bus Laps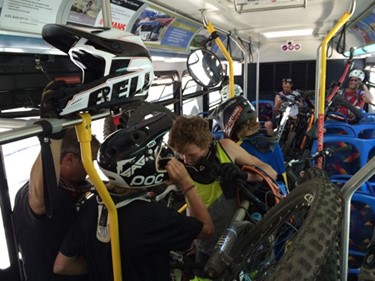 Not too far from the Deer Valley lies the Park City Transit Hub. All of the busses on the Park City transit system are free to ride, and a few of them can drop you and your bike at the top of any number of amazing trails along their route. Each bus makes a stop at the transit hub two or three times an hour, allowing you to take as many laps as you can handle throughout the day. We recommend the 4 Orange and 9 Purple routes, as they provide access the highest number of amazing trails along their routes. If your unfamiliar with the area, the best way to choose a trail is to look at the bus routes on the Park City Transit Website. From there, you'll want to use the TrailForks app to see options for trails that can be accessed along the bus routes. If you haven't used TrailForks before, it's an excellent app that provides a detailed map with accessory information about bike trails in any given area. Alternatively, you can also just arrive at the transit center and ask one of the locals with a bike for route and trail suggestions, there's almost always a few hanging around who will be happy to point you in the right direction.
3. I-Street Bike Park
Just a short drive down from Park City, the I-street bike park is a staple of the Salt Lake mountain bike scene. This jump focused bike park has beginner lines, pro lines, and everything in between. If you look hard enough, you can even find dual-slalom courses and giant canyon gaps nestled away in the woods. The park was started in the 90s as a secret, locals only spot, built on public land tucked away in the Avenues neighborhood of Salt Lake. After a couple decades of growth and expansion though, the park became an undeniable gem of a playground for riders from across the state. Recently, Salt Lake County moved to officially protect the land and designate it as a bike park, allowing it to flourish for generations to come. There are no employees at I-street though, so all the digging and trail maintenance is done by local rippers. It helps to be mindful of the fact that a lot of these locals are passionate about the "no dig no ride" mindset, so you'd be wise to bring a shovel if you plan on staying for a while. Also, if you plan on staying in the greater Salt lake area for a while be sure to check out some of the other attractions Utah's capitol has to offer. This article has some great recommendations for places to grab a sandwich between rides, and this one has some of the best spots to grab post ride beers with your group.  If you want a better idea of what I-street is like, check out this video of local shredder Carston Oliver shredding the park.
4. Moab Trail Network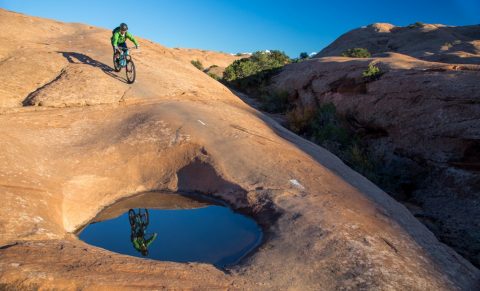 Moving further south, perhaps the most well-known mountain biking destination in Utah is the town of Moab. Home to the Arches and Canyonlands national parks, Moab County has some of the most unique riding on earth. The Moab trail network is famous for its amazing biking, hiking, and off-roading that can be done on the area's signature slickrock terrain. While the area may lack some of the downhill and freeride thrills of the other destinations, what they lack in this department they more than make up for with picturesque cross country and enduro rides on pristine terrain. In a single ride you can find yourself surrounded by red rock arches while you climb, before spending a while riding on top of thousand-foot mesas, and eventually overlooking some of our countries major rivers while you descend. Along with the TrailForks app, the Moab mountain bike trails system website has a lot of great information . We would recommend visiting one of the local bike shops and picking up a physical map too. Cell service can be spotty in the area so having a physical copy of the map is a good backup, and as a bonus most bike shop employees will be happy to chat with you so you can get familiar with the area. One last tip, if you plan on visiting Moab, try to avoid the summer months as temperatures can regularly get into the 110s.
5. Virgin Freeride Zones
All the way at the southwestern tip of Utah lies the town of Virgin. Located just outside of Zion national park, Virgin has the most storied mountain bike history of any mountain bike destination in the world. This small town is legendary in the mountain bike community for hosting Red Bull Rampage, the most watched mountain bike competition on earth. If you've been living under a rock and are somehow unfamiliar with the event, check out this video of last year's competition recap to get an idea of what the area has to offer. The red spines and extreme terrain in Virgin are responsible for the birth of freeride mountain biking, and this area has continually allowed progression in the sport year after year. Perhaps the most special thing about this area is that nothing is off limits. Most of the riding isn't done on established trails, so if you see something that looks like it would be fun to ride your bike down, there's nothing stopping you from hiking up and riding it. The best place to start if you're new to the area is at the original Rampage site. Since it's inception in 2001 Rampage has taken place at several different zones in Virgin, but the original site has become a favorite for riders of all skill levels from around the world. It won't come up on maps, but if you type in Kolob Terrace Road you can find that road and follow it for about two miles, where you'll be able to clearly find the site on your left as you're driving. Keep in mind that if you thought the summer temperatures in Moab were bad, Virgin can be even worse with temps climbing into the 120s, so it's best to visit in the spring or fall.