Seafood in the MidWest! The Best Sushi Restaurants in Salt Lake City, Utah
What's a straight-A student's favorite type of sushi?
The Honor Roll.
---
Itto Sushi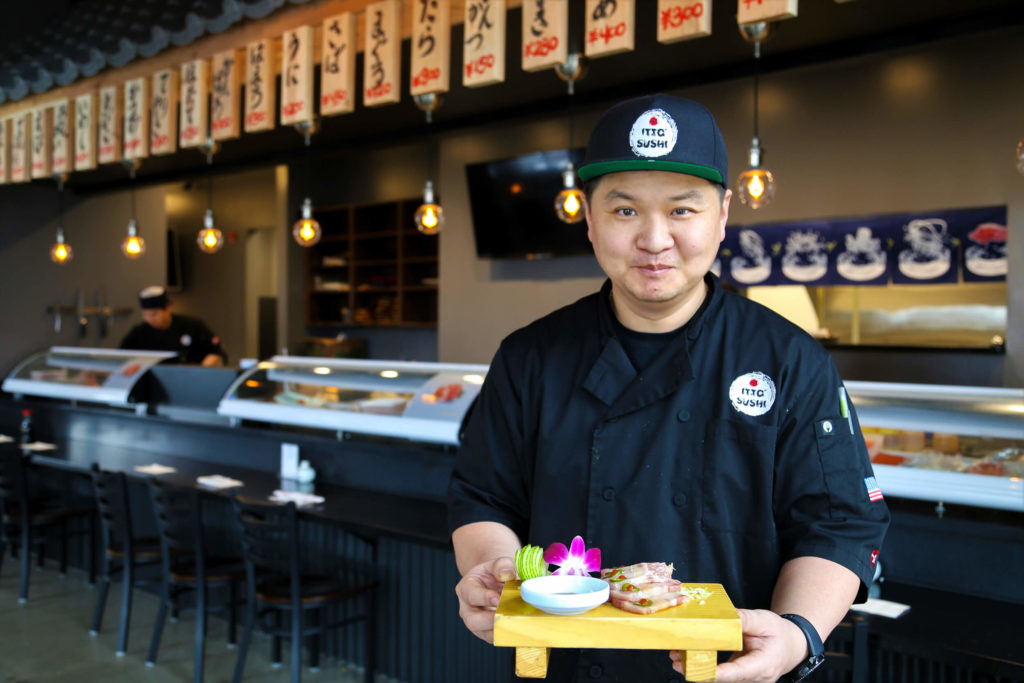 Local favorites and highly-rated sushi spots founded by Chef Itto. This sushi restaurant showcases a unique array of dishes with fresh sustainable ingredients. Chef Itto and his wife Elyse run two locations within the Salt Lake Valley that will provide you with all your sushi cravings and more! Itto Sushi features your traditional specialty rolls to vegetarian options, bento box specials, and even for your party, boats!
Here's a helpful tip when you visit: Happy Hour is every Tuesday and Wednesday evening from 5 PM until closing, receive up to 50% off* on 25 selected rolls. *This discount cannot be combined with any other coupons or offers.
Here are their locations:
Salt Lake City: 12 Broadway, Salt Lake City, UT 84101
Midvale: 856 Fort Union Blvd, Midvale, UT 84047
---
Takashi Sushi
Takashi is a highly rated sushi restaurant that is known for its fresh seafood. Every roll that is sent out is carefully hand-made to blow away your taste buds. Their location offers an intimate experience with Japanese decorations placed around their restaurant making you feel like you're in Japan. Although most of their rolls are pretty pricey, do not let that stop you from going in and experiencing why they are so popular. Strawberry Fields is one of their most popular rolls and is only $8.95 for 8 rolls!
Here is their location:
Salt Lake City: 18 W Market St, Salt Lake City, UT 84101
---
Tsunami: Restaurant and Sushi Bar
Tsunami is easily one of the best sushi places in Salt Lake City. With their wide range of offerings to their unique sushi rolls, Tsunami is always busy with customers eager to get in. If you plan on going here, I highly recommend making a reservation beforehand so you don't have to wait! Once you're in, definitely make sure you order their famous Tsunami Roll which includes deep-fried prime soft-shell crab, spicy sauce, and cucumbers. Topped with tuna, avocado, sesame seeds, and eel sauce. Although it is one of their most expensive rolls, you will not regret it!
Here are their locations:
Sugarhouse: 2223 S Highland Dr Salt Lake City, UT 84106
9th: 1059 E 900 S, Salt Lake City, UT 84105
Union Heights: 7628 S Union Park Ave, 1300 E, Midvale, UT 84047
South Jordan: 10722 S River Front Pkwy, South Jordan, UT 84095
---
Kobe
Kobe offers a wide variety of sushi rolls at a very reasonable price. If you don't have much to spend but want high-quality sushi rolls, Kobe is the place to go! Their delicious and yummy variety of food is in high demand. And since their venue doesn't allow for many customers to be seated, make sure you go early as their seats fill up quickly. Their ability to only seat a limited number of customers allows their staff to give you the best customer service as well as quick delivery on your orders!
Here is their location:
Salt Lake City: 3947 S Wasatch Blvd, Millcreek, UT 84124
---
Kyoto Japanese Restaurant
Kyoto offers an authentic Japanese experience that stems all the way back to its founder, Sam Tada. Tada helped with the construction of the restaurant to make sure it showcased traditional Japanese architecture. Since 1984, Kyoto has been running a successful restaurant has been a local favorite! Their success is credited towards the craftsmanship of creating their sushi; with Peggy Ince-Whiting (head sushi chef) and Marlene Noda (sushi chef) leading the way!
Here is their location:
Salt Lake City: 1080 E 1300 S, Salt Lake City, UT 84105
---
---
Desserts and Drinks?
Once you're filled with some delicious sushi rolls and ramen, grab a drink or dessert at these locations!