Top 5 Family-Friendly Activities In Salt Lake City
Utah has the highest average household size in the United States*. From museums, zoos, and parks, to sports, and water activities, there are plenty of family-friendly activities. Below is a brief guide to some of the top family-friendly activities in the greater Salt Lake City area.
1. Museums
Museums are a great way to spend some time with the family and a great opportunity for everyone to learn! Salt Lake City is home to many interactive museums, and you're sure to find something for every member of your family. What young child doesn't love dinosaurs, bones, and rocks? The Natural History Museum of Utah has all of that and more! Want something a little more hands-on? The Discovery Gateway Children's Museum has interactive exhibits that will thrill everyone in the family! If you want to foster a love and appreciation of the arts, the Utah Museum of Fine Arts will inspire awe.
2. Sports
Salt Lake City hosts several professional and amateur sports teams. Choose a sport, buy some tickets and take the family for a day at the ballpark, on a soccer pitch, or a night at the basketball court. You can watch the Utah Bees, a Triple-A Baseball team April through October at Smith's Mobile Ballpark. If Soccer is your sport of interest, the family can enjoy the Real Salt Lake Football Club: the 2009 Major League Soccer Champions. Basketball is always an exciting sport to attend. The Utah Jazz provides a fun atmosphere to cheer on your favorite team April through October!
3. Water Activities
Take some time to cool off by participating in the various water activities that Salt Lake City has to provide! Water activities in Salt Lake City include floating the river, splash pads, public pools, and our very own water park. For more information on water activities around Salt Lake City click here.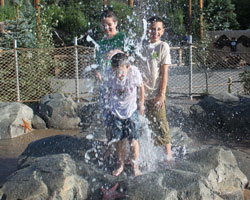 4. Parks
From Zions National Park to Bryce Canyon, Utah is known for its majestic parks and landmasses. However, if you don't want to drive 4 hours to the five National, there are plenty within a short drive of Salt Lake City. This is the Place Heritage Park invites guests to live like a pioneer and learn from blacksmiths and saddle makers, ride ponies, and pet farm animals. Located in the Great Salt Lake, Antelope Island State Park is home to bighorn sheep, american bison, mule deer, and more. The park is perfect for hiking, biking, or just soaking in the beautiful landscape and wildlife. On the outskirts of Salt Lake City, in Park City is nested Utah Olympic Park, which hosted the 2002 winter olympic. The park is open year round with tubing, bobsledding, ziplining, and performances from professional winter athletes.
If you are looking to stay within the Salt Lake City limits, Temple Square and Liberty Park bring mountainous landscapes to urban parks. Liberty Park is a local hotspot for walks, picnics, and to explore Tracy Aviary and botanical gardens. Temple Square spans five blocks throughout downtown Salt Lake City, showcasing historic sites, beautiful gardens, and engaging exhibits.
5. Utah's Hogle Zoo
What's it like to feed a giraffe? Check out Utah's Hogle Zoo, which has hundreds of different animals representing hundreds of different species, to find out more and see for yourself! Utah's Hogle Zoo spans over 42 acres with something to offer for the whole family. Some of the best exhibits not to miss include the African Savanna, Rocky Shores, Asian Highlands, and Elephant Encounter. Here you may catch a glimpse of zebras, lions, polar bears, sea lions, endangered Asian cat species, elephants, rhinos, and more. Utah's Hogle Zoo also hosts numerous daily, monthly, and seasonal events so be sure to check out the Events Page for what's coming up next. Children 2 and under are FREE. The Zoo is open 7 days a week, but closed Christmas Day and New Years Day.