White Rim Road: Motorcycle Adventures in the Desert
Where to go and getting started.
You can find the ultimate motorcycle adventures in the desert on the White Rim Road, sometimes called the White Rim Trail. This is a road below the Island in the Sky mesa of Canyonlands National Park. It is a total of 71 miles (marked in red on map) and can be traveled either direction.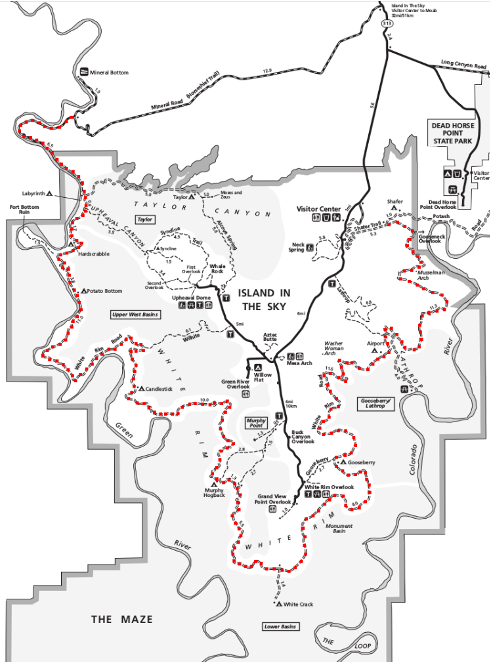 Important Notes
The White Rim is only open to motorcycles, bicycles, and four-wheeled vehicles or trucks.
ATVs and UTVs are not allowed.
Only a limited number of people are allowed on this road per day. Thus, you must sign up for a free pass.
What to expect on the White Rim
Starting on Mineral Road toward the White Rim Road, this route goes from gentle gravel road to packed and loose red rock roads while winding down an incredible canyon road with twisty switchbacks. At the end of Mineral Road, you join the White Rim Road at the River. The White Rim Road is an adventure motorcyclist's dream with terrain of gravel road, dusty red rock, sand, and slick rock. Depending on the time of year, this is a beautiful water crossing. You will also encounter some steep obstacles, both ascending and descending, that have a high pucker factor and are not for the faint of heart.
Some of the most spectacular canyons and rock formations this world has to offer, shadow the wild terrain. Because there is only a limited number of people on the trail, it makes riding it feel like you are alone and the vast nature. It opened my feelings to a sense of grandeur. There were times I felt insignificant as well as powerful trying to tame the wild.
Toward the end of this trail is Musselman Arch, which in and of it self is not the most spectacular arch, however where is sits, it looks like a natural bridge across a vast canyon. (Please do not walk over it). The end of the trail once again takes you through a series switchbacks climbing out of the canyon. At times, the switchbacks make you feel like you can see your back tire around the corner.
White Rim gets hot
Motorcycle adventures come with risk. It's important to note that due to the remote nature and sheer heat of this trail in the spring and fall months, make sure you bring plenty of water and food. There are little to no trees or shade on this road. We took breaks under the ledges of rocks to get out of the sun and rest for a time.
Camping on White Rim
If adventure motorcycling is your love, grab your bike, food, camping gear, and some extra water and spend the night on the trail in one of the many designated campsites. This gives way to further exploration of the smaller trails and roads off the White Rim Road. Riding this road changed me as a rider. It made me better, it challenged my skill level, and overall it changed me as a person. I found a deeper love for nature and the beauty of our state.
Arches National Park, which is not far from Canyonlands is home to many spectacular arches and rock formations. You can take some time exploring the area and seeing more spectacular views and Utah's signature "arch" while you are there.