3 Kid-Friendly Hikes Near Me in Utah
These are our many kid-friendly hikes in Utah, but here are three of our favorites consisting of Doughnut Falls in Big Cottonwood Canyon, The Bonneville Shoreline Trail near Salt Lake City, and the Mesa Arch trail in Canyonlands National Park.
Doughnut Falls
Doughnut Falls is a 1.5-mile out-and-back kid-friendly hike with a spectacular waterfall feature at the end. This hike has 305 ft elevation gain, making it perfect for adults, that is kid-friendly, and is accessible all year round. Parts of the trail are shaded, but be sure to pack enough water for each hiker! Donut Falls is about a 40-minute drive from downtown Salt Lake City up Big Cottonwood Canyon, and there is plenty of parking at the Mill D trailhead. 
Bonneville Shoreline Trail
Another great kid-friendly hike that is close to Salt Lake City is the Bonneville Shoreline Trail. This trail is used by many Salt Lake City locals and tourists alike. The trail boasts a great view of the city with plenty of access points throughout, so it's easy to make the hike longer or shorter when planning your outing. The trail is a 9.1-mile point-to-point hike with a 1,500ft elevation gain that features a river. The trail begins at Pioneer Park and runs all the way to the Avenues of Salt Lake City, and features great panoramic views of the city, Mount Olympus, and the Wasatch. This trail is a great way to see the city from a higher view while also exploring the foothills of Salt Lake! The best time to hike to Bonneville Shoreline Trail is in the spring or late fall, as the summers are quite hot. If you choose to hike during the summer, try to go early in the day or at sunset, and be sure to bring plenty of water for each hiker. Another nice thing that the Bonneville Shoreline Trail offers is that it is dog-friendly, so you can bring your pup along for the family hike! Many other trails along the Bonneville Shoreline Trail are great for mountain biking as well. The Bonneville Shoreline Trail is a 13-minute drive from downtown Salt Lake City, and is a great option for any family looking for a mellow, moderate, or longer hike for their kids!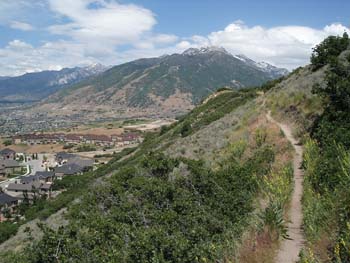 Mesa Arch Trail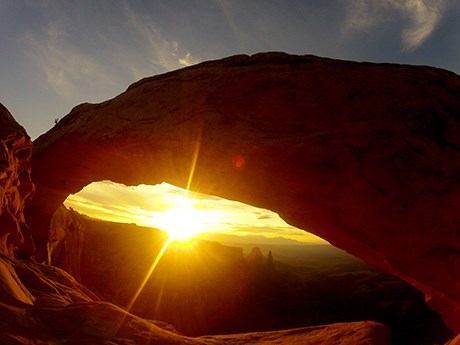 Lastly, we have the Mesa Arch trail in Canyonlands National Park. This trail is a 0.7-mile loop hike with 88 ft elevation gain and is a 4 hour and 15-minute drive from Salt Lake City. From the Island in the Sky Visitor Center in Canyonlands National Park, the Mesa Arch trail is about a 12-minute drive. At the apex of the loop, this kid-friendly- hike features the beautiful Mesa Arch, which is a pothole arch! Unfortunately, there is no climbing allowed on the arch, but the view of the La Sal mountains and Washer Woman Arch in the distance are a beautiful feature seen from the arch. Spring and fall are the best time to visit this hike in Canyonlands, as the summers get very hot in the desert, and many say that the view is most impeccable at sunrise or sunset.
If you are looking for good places to eat after your hike in Utah, that is family-friendly check out this post!
If you are looking for a winter alternative to your hikes, check out this post for some skiing options in Utah!