Best Authentic Afghan Restaurant in Salt Lake City
Afghan Kitchen: Salt Lake City's Best Afghan Food
The best authentic Afghan restaurant in Salt Lake City is the Afghan Kitchen. This local gem is run by two families who are originally from Afghanistan. It is an excellent place for people who are looking for a lunch or dinner restaurant in South Salt Lake City. The restaurant is open from 12:00 pm-9:00 pm Tuesday through Friday and 1:00 pm-9:00 pm on the weekend, making it ideal for lunch or dinner.. The building is unassuming, but don't be discouraged. This local Utah restaurant is definitely worth a visit next time you are in SLC and looking for a casual restaurant with low wait times and delicious cheap food.
On our most recent visit, we arrived at around 7:30 pm on a Thursday, although traffic did not pick up until around 8 pm. We began the evening with mantu, a steamed dumpling in yogurt sauce recommended by Salt Lake City foodies in Slug Magazine. Although some dumplings are beef, we tried the pumpkin, which was delicious. The yogurt sauce adds plenty of flavor to this dish. The table also comes set with several sauces, including an explosively spicy habanero oil, a fruity-but-heated chili sauce, a mint chutney, and a mint and cucumber yogurt sauce.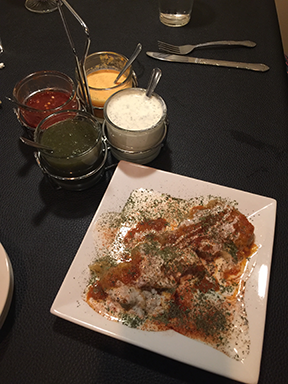 Many of the options have a Middle Eastern or Mediterranean flavor. The lamb, chicken, and beef kababs are all delicious, with a light marinade that imparts flavor without overpowering the meat. The garlic naan was also excellent. For those who want to try more traditional Afghan food, the Kabuli Palow is a treat. Palow is the national dish of Afghanistan, and is traditionally a rice and lamb dish spiced with carrots and raisins. Afghan Kitchen's Kabuli Palow comes with either lamb or chicken and is served with roasted eggplant and cucumber salad.
The lamb shank szabzi is another delicious dish. The lamb is slow roasted in a garlic tomato and sauce. The meat is tender and mildly spiced and is served over a bed of long-grain rice.
Vegetarians, however, should not despair. The menu has a wide range of choices, including roasted eggplant (burani banjan), spinach, pumpkin and eggplant dishes. There are also gluten-free options that are clearly marketed on the menu. The waiters were also quite helpful in explaining the many delicious options on the menu. For those who prefer to decide by site, the Afghan Kitchen website also hosts a gallery of mouth-watering images of popular entrees.
For those with a sweet tooth, the menu also has two amazing options. The first is a rice pudding spiced with cardamom, while the second was a light pistachio pudding.
The restaurant also offers doogh, a traditional cucumber and mint yogurt drink and Joos E Am, a mango yogurt drink similar to lassi.
For anyone new to town or just staying for a short time, Afghan Kitchen is a great place to try Salt Lake City's authentic Afghani cuisine.
Once you've tried Afghan Kitchen, take a minute to visit a few more of the best local restaurants in Salt Lake City. For instance, check out Tosh's Ramen and try a couple of the four awesome ramen dishes they provide. The tonkotsu ramen is a must! Looking for the best authentic Mexican food in Salt Lake City? Visit Los Machetes for tacos and pozole.
If you aren't planning to spend much time in Salt Lake City, we can also recommend other great restaurants. If you are headed to Park City, take a quick trip to Cortona Italian Cafe to sample the gelato. Looking for an awesome brunch spot? Try a few on this list, like The Bridge Cafe and Grill. If you aren't going quite that far but are headed to the Bountiful, Utah area, take a break to enjoy some amazing BBQ and Pizza at Smokin' Bones Barbecue.