Brewery Passes
Salt Lake Brewery Passes Are the Best Way to Sample Local Brew Flavor!
Whether you're a visitor in town for a day or a local who grew up here, you can spice up your time in Salt Lake City with a Salt Lake Brewery Pass from VisitSaltLake. With 14 participating local breweries, your Brewery Pass is a ticket to your own self-guided tour of Salt Lake area suds.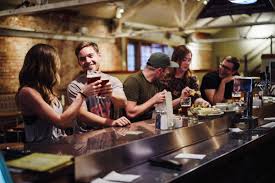 You can choose a 1-Day, 3-Day, or 90-Day Salt Lake Brewery Pass. Which one is right for you depends primarily on how much time you'll have to get the most out of your Brewery Pass – but you can't go wrong with any of them. Each Salt Lake Brewery Pass comes with a $5 credit at each of the 14 breweries, which you can use toward food, beverages, or merchandise – that's $70 of value!
The logistics are simple – just get the Salt Lake Brewery Pass that meets your needs at https://bit.ly/3fuuMwl – it will be instantly delivered to your phone for immediate use. You don't have to start right away, though, as you have 180 days to start. On first use, the time begins to run (1 day, 3 days, or 90 days).
The low cost along with the $5 credit at each brewery makes the Salt Lake Brewery Pass a no-brainer: the 1-Day Brewery Pass is only $15, the 3-Day Brewery Pass is only $20, and the 90-Day Brewery Pass is only $30. This way, the 1-Day pass pays for itself with visits to only three breweries – if your visit is short, this is the best way to go. The 3-Day Brewery Pass pays for itself by the time you've visited four local breweries, and the 90-Day Brewery Pass adds only two more visits to reach the break-even point – leaving you 87 days to redeem the remainder of your credits. The additional credits are free money at each additional Salt Lake Brewery you visit!
Up to $55 of net value – for free – makes this a hard deal to beat for locals and visitors alike, for yourself or a friend. Get yours today!