Our Favorite Apres Skiing Spots in Little Cottonwood Canyon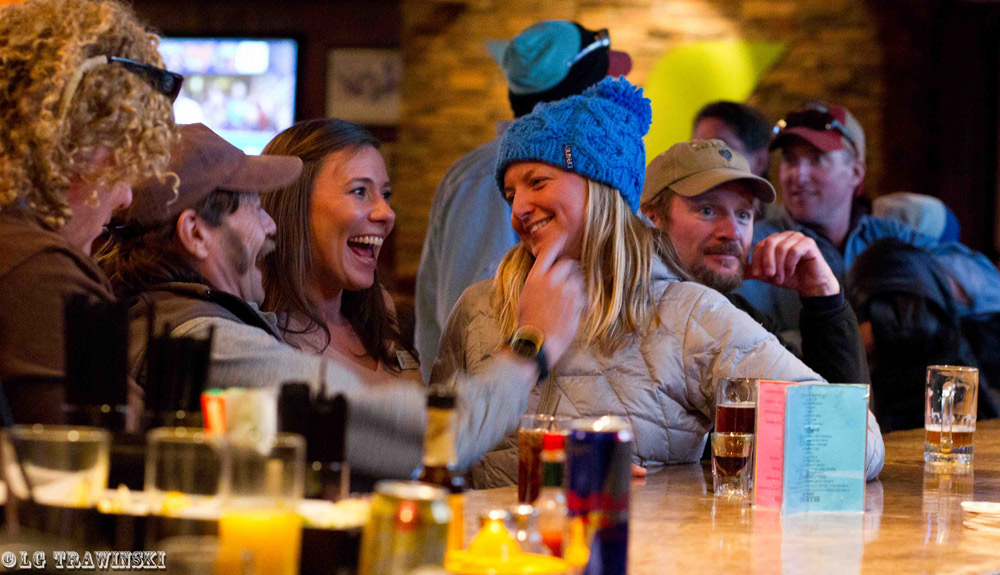 Little Cottonwood Canyon is home to some of Utah's steepest terrain at both the Snowbird and Alta resorts. These resorts get some of the best snow in Utah, but many people aren't aware of all the fun activities to do between runs or after a long day of skiing the best snow on earth. Whether you're into nice champagne or a cold beer mid-mountain, there are options for everyone from your granddad to your ski bum friends. Cheap drinks and good vibes are common in these places.
The Bird (Snowbird)
Snowbird is the larger of the two ski areas and is definitely more of a resort compared to Alta. Snowbird is home to a variety of bars, restaurants, and grills. Your choices for the best food and drinks vary based on how much you really want to ski or ride, but here are the local's top picks. Snowbird has held a record of having the longest season in Utah and that means that the apres fun goes on almost year round at this ski resort.

Tram Club
Snowbird is home to the Snowbird Tram Club and a proper high five goes to the first person to guess where it's located (At the bottom of the tram?). This bar is at the top of our list purely because of the atmosphere and the fact that its the only true bar at The Bird. Where else can you walk in with your ski boots on, play a game of pool, and run into a pro skier at the bar? This place is the center of the snowbird apres skiing community due to its location in the Snowbird Center. With a great selection of local craft beers and ski bum classics, Tram Club is the place to be if you want to meet your friends at Snowbird after they crashed on their last run and you got tired of waiting. The classic choice is their $5 beer and shot that'll make you a little warmer on a cold winter day This bar tends to get crowded so if you need breathing room, you might not want to go to Tram Club during busy hours.
Forklift Restaurant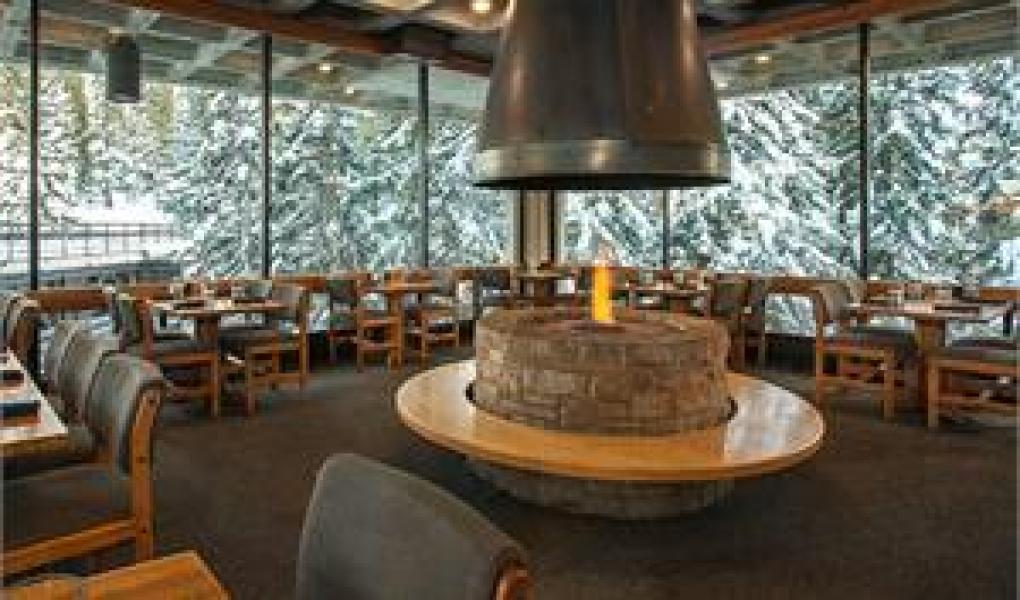 The Forklift Restaurant is not a bar, but they do offer drinks if you're looking for a sit-down breakfast, lunch or brunch during the middle of your ski day. Who said apres ski drinks had to be after the whole day of skiing? We personally love the name of this restaurant, but we love the food even better. Forklift is home to a wide variety of wines, mixed cocktails, and beers. If you are a skier who packed your lunch of PB&J and trail mix, you might not want to dent your wallet with a $7 bottle of beer or $9 cocktail. With that being said, Forklift is a perfect spot for a nice glass of wine, casual conversations, and good company. The Forklift burger is definitely a favorite among tired skiers. Check out the wonderful Forklift Restaurant next time you want to have a nice relaxed mid-day drink at The Bird.
The Lodge Bistro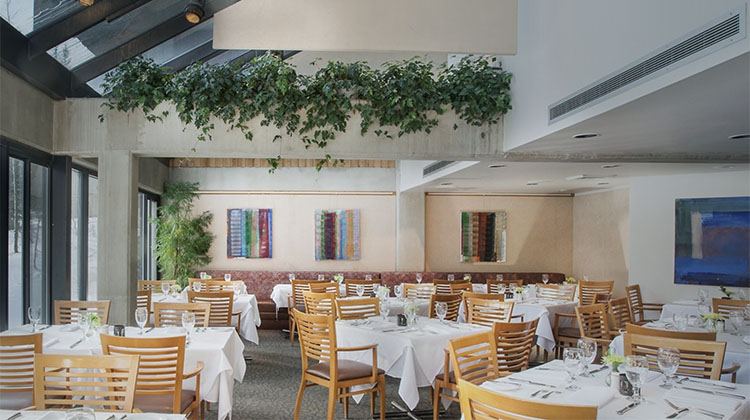 The Lodge Bistro is an upscale, American restaurant that is located in The Lodge. With views of the front face of The Bird. This is one of the less casual spots to go after skiing, but if you are on a business trip this would be a great place to take your client after impressing them with your ski moves. Are wanting to go big on the last meal of your vacation? This would be a great spot for you to get a wonderful dinner and drinks. One perk of being so classy is that The Lodge Bistro has the largest drink menu with everything ranging from cheap beer to fancy specialty cocktails. Stop by The Lodge and shmooze while you booze.
Alta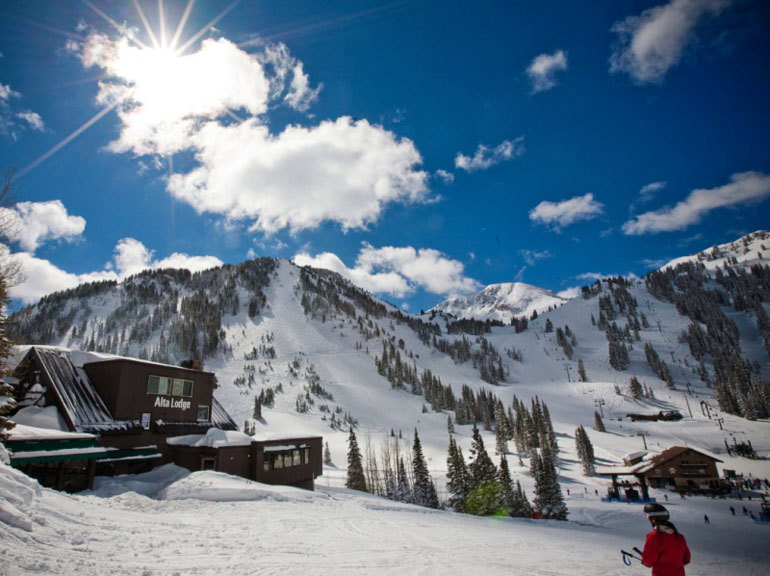 Alta is a historic and beautiful resort that skiers flock to when the snow gets good. Unfortunately, all of our sideways oriented snowboarding friends are not allowed to ride this resort (but that doesn't stop you from going to most of their bars!) Alta's culture is a little more relaxed, a little less serious, and a lot more fun when you hang out with the apres ski crowd. If you really are looking for more of a snowboarding crowd check our best apres spots at Brighton.
Goldminer's Daughter Saloon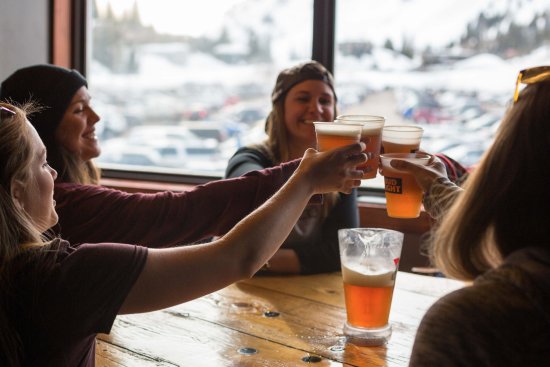 The Goldminer's Daughter Saloon is arguably home to the best food and drinks you can get at Alta. With pizzas, wings, and other pub fares, this spot is perfect for those who have been skiing all day and eating granola bars for breakfast and lunch. Seems like the move to make is to split a pizza with a nice pitcher of beer between a few friends. This Saloon is located at the base of the Collins Lift and offers a good view of the Alta skiing action. If you want cheap food and beer without having to leave the canyon, this is your spot.

Check out all the cool activities, food, and drinks you can find at The Goldminer's Daughter Lodge here:
https://www.goldminersdaughterlodge.com/
Slopeside Joe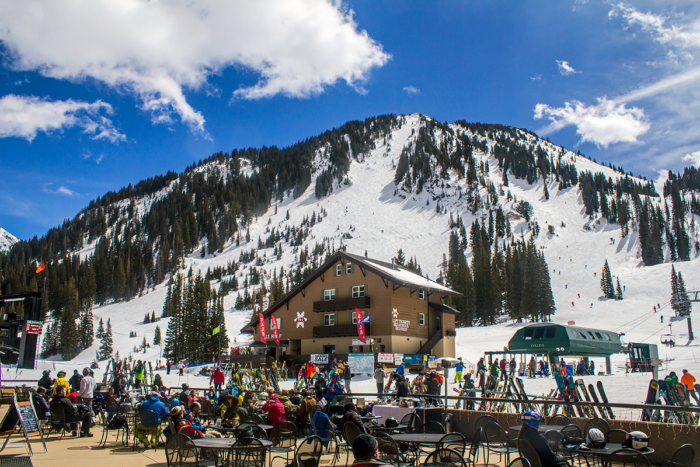 Alta skiers know how to bomb downhills, but REAL Alta skiers order a round of Alta Bombs from The Slopeside Joe before doing so. Slopeside Joe (also "The Slopeside Cafe") is also located in the Goldminer's Daughter Lodge. While this is not really a bar, and not really a restaurant, it definitely is an Alta tradition. You can get coffee, smoothies, beer and most importantly, the aforementioned Alta Bombs. Now, an Alta bomb is a wonderful drink that consists of one shot of espresso dropped into a pint of beer (usually PBR because why would you mix craft beer and espresso). This weird drink actually tastes quite good, especially if you're still kind of sleepy and you also want to drink beer. All in all, Slopeside Joe is a spot to get your quick fix, whether its drinks, coffee, or a nice conversation at the bar. Be sure to hop over to our other post about Alta, it gives you all the details that you could ever need! Check it out here!
Collins Grill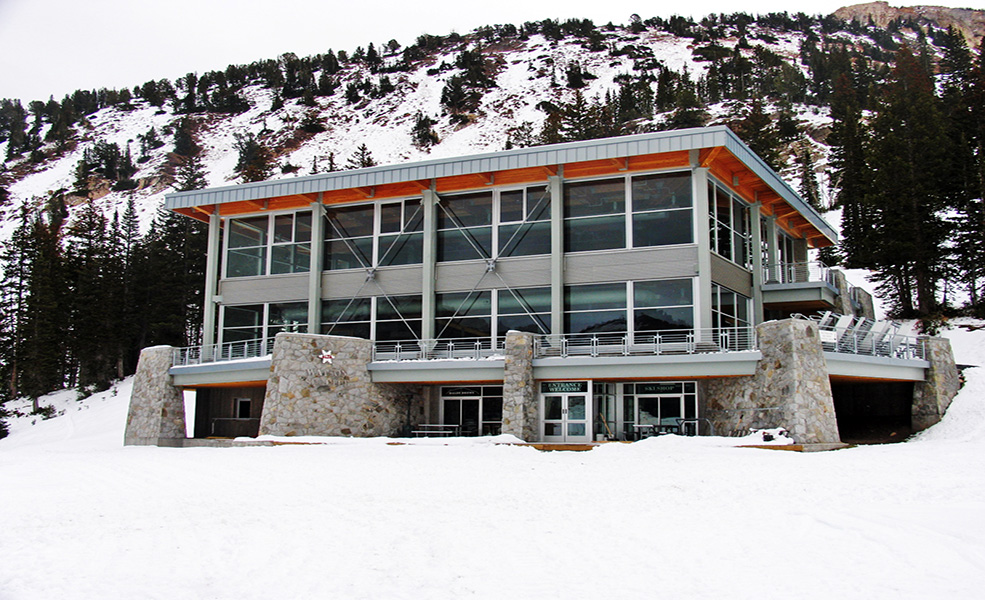 If you're looking for a drink during the middle of your ski run, make sure you check out Collins Grill. This grill is located (you guessed it) right under the Collins lift. It features a wide variety of grill food, beers, wines, and more. This is the place to go if you want to warm up on a cold day or cool down with a cold beer on a warm one. With moderately priced food and drinks, Collins Grill is definitely a good place to go if you don't want to go all the way down to the car to get your last Cliff Bar. This spot also has the benefit of being the best place to spectate all the other Alta skiers do their thing. Ski right up to Collins Grill next time you need to take a break with your gang of skier friends. If none of these ski spots landed then check out our article on some of the best bars in Salt Lake City.