Quarters | The Arcade Bar for Locals
Sick of the mainstream Dave and Busters or the children infested Nickelmania? Well then we have quite the recommendation for you. Check out Quarters Arcade Bar! Located at 5 East 400 South it's locally owned, easy to reach by scooter, child free, and has more than 60 classic games! This barcade has everything a video game nerd would love, pinball, old school racing and even an old Nintendo 64. If you're seeking more than an ordinary bar, you should definitely head to Quarters. 
Located right downtown, this hidden gem may look like a hole in the wall from outside, but the inside is trendy and highlights local SLC artists. Beware, this place may end up taking all your money with addictive games like Teenage Mutant Ninja Turtles and the tournament classic, Killer Queen. Definitely bring extra cash to have on hand in case you need more quarters!
Offering more than some arcade fun, let's not forget the fantastic booze Quarters has to offer. The bar highlights some of Salt Lake's finest breweries and offers many of their own unique cocktails. Our personal favorite is the Princess Peach, a local peach whiskey with lemon, house orgeat, amaretto and a local mint liqueur, the perfect drink to end your Friday night.
While Quarters features music, games and drinks, your food options are limited to a vending machine. Plan on eating either before or after your arcade time, but don't be concerned; Salt Lake has many local restaurants located within walking distance.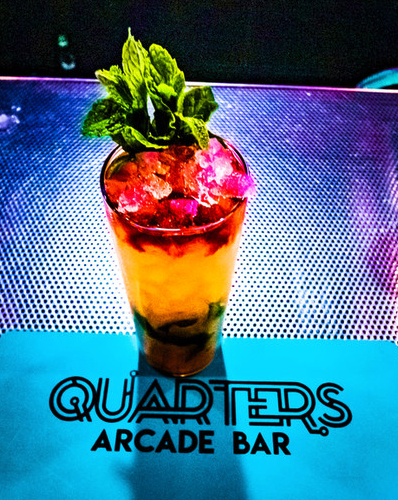 Quarters took your quarters, so where to head next?
Quarters is fun, local, and conveniently located. However it's not the only option for those looking to indulge their competitive streaks while exploring the city. Salt Lake has a variety of bars that feature anything from pinball to card playing and board games. Make sure to check out Kiitos Brewing and some of our city's other nightlife options.