The Best Part of Growing Up is Playing Games WHILE Drinking Beer
Everyone wishes that time would slow down so they'd stop aging. While I don't know how to stop time, I do have a few suggestions on where to go to forget about how old you're getting. Whether you like the classic arcade games like pinball, or calling out your friends bluff while playing cards, or even trying out a new board game, these are the best breweries in Salt Lake City for you to put your competitiveness to the test.
Kiitos Brewing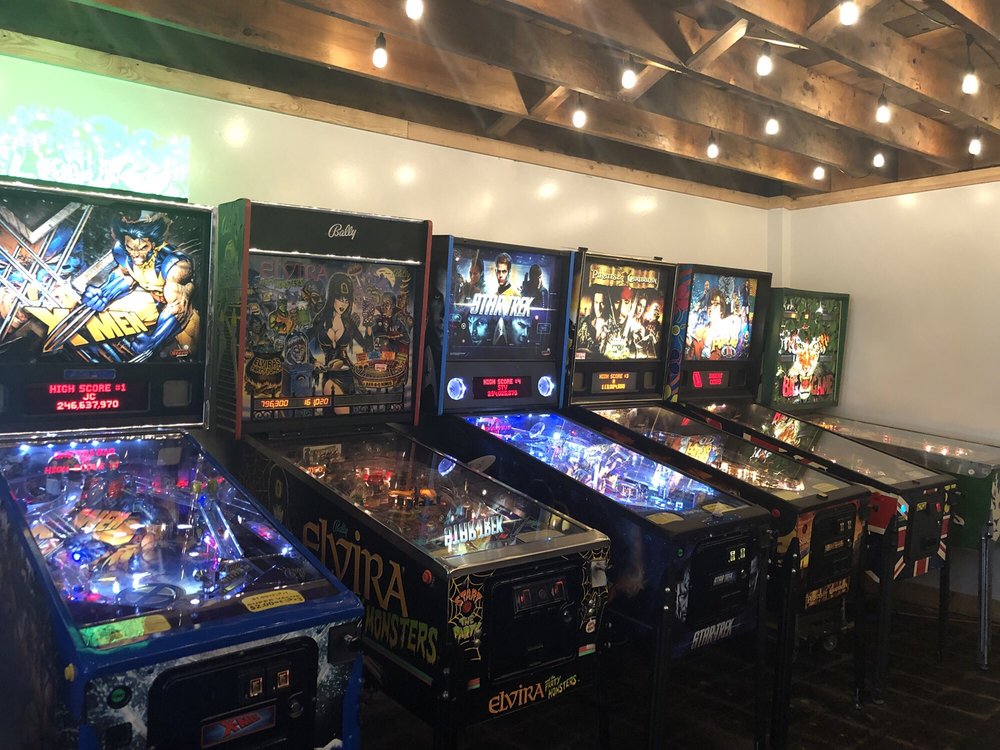 If you're looking for a friendly welcome to Salt Lake City be sure to stop by Kiitos Brewing. The foundation of their brewery is their gratitude to what they have been given. Here you are guaranteed to have an encounter with the nicest staff in the city, after all, their motto is "Do Good. Drink Beer. Give Thanks." Whether you just want to sit at the bar and chat with the bartender, or have questions about their rotating taps (don't worry, they have year round beer too) they are more than happy to oblige. Not only does Kiitos have some great beer, but they have partnered with locally owned Rico Foods to deliver authentic Mexican food for you to sit and enjoy while admiring Kiitos tap room. But the best part about Kiitos is the wide array of entertainment that they offer. If you want a blast from the past, this is the place to be. Kiitos has a multitude of pinball machines, new and old. No quarters? No problem! There's a quarter machine inside. Speaking of quarters, check out this post about Salt Lake's very own arcade bar, Quarters! Looking for something a little more interactive to do with the friends you came with? Don't worry! Kiitos has board games too! What's better than playing Cards Against Humanity with an ice cold brew and some friends?
* Unique find in Utah: Have a beer loving friend whose birthday came up too quick? Kiitos allows you to purchase gift cards online
Located at 608 West 700 South Salt Lake City, Utah 84104
Monday – Thursday 11:00 am – 10:00 pm
Friday – Saturday 11:00 am – 12:00 am
Sunday 11:00 am – 9:00 pm
Shades of Pale Brewing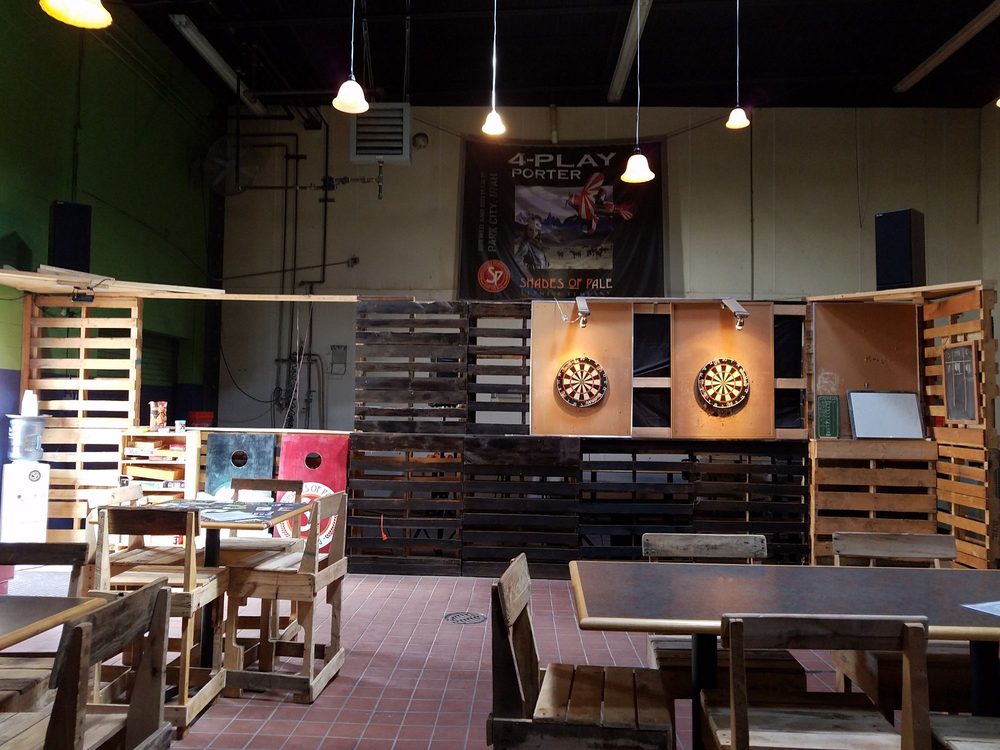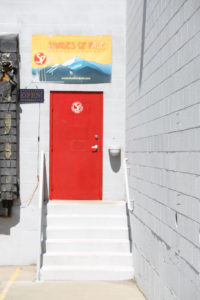 Shades of Pale Brewing is a self-proclaimed "speakeasy." If you're thinking to yourself as you walk through the red side door into a long warehouse hallway "Am I in the right place?" you are definitely in the right place. Have you ever heard of a brewery allowing you to bring in your own food? Probably not until now. Forgot to pack some snacks? Shades has your back and offers Ricos burritos. Not in the mood for a burrito? Pat's BBQ is right around the corner and vegan Vertical Diner is just down the street. If you have a competitive mindset, this is the perfect brewery for you. Shades has numerous games that you can play sitting at your table like Jenga and cards, or standing up if you're feeling ambitious enough to try giant Jenga. Oh, and how could we forget the dart boards? If you visit on a nice day, you can out to the patio and challenge your friends to some cornhole. And the best part about cornhole is you only need one hand. That means you can use the other to keep sipping on Shades handcrafted beers that have subtle twists to the traditional beer that you're used to.
Located at 154 West Utopia Ave Salt Lake City, Utah 84115
Sunday – Monday Tap Room is closed – Only cold beer to go 11:30 am – 4:30 pm
Tuesday – Thursday 3:00 pm – 11:00 pm
Friday 11:30 am – 1:00 am
Saturday 3:00 pm – 1:00 am
Templin Family Brewing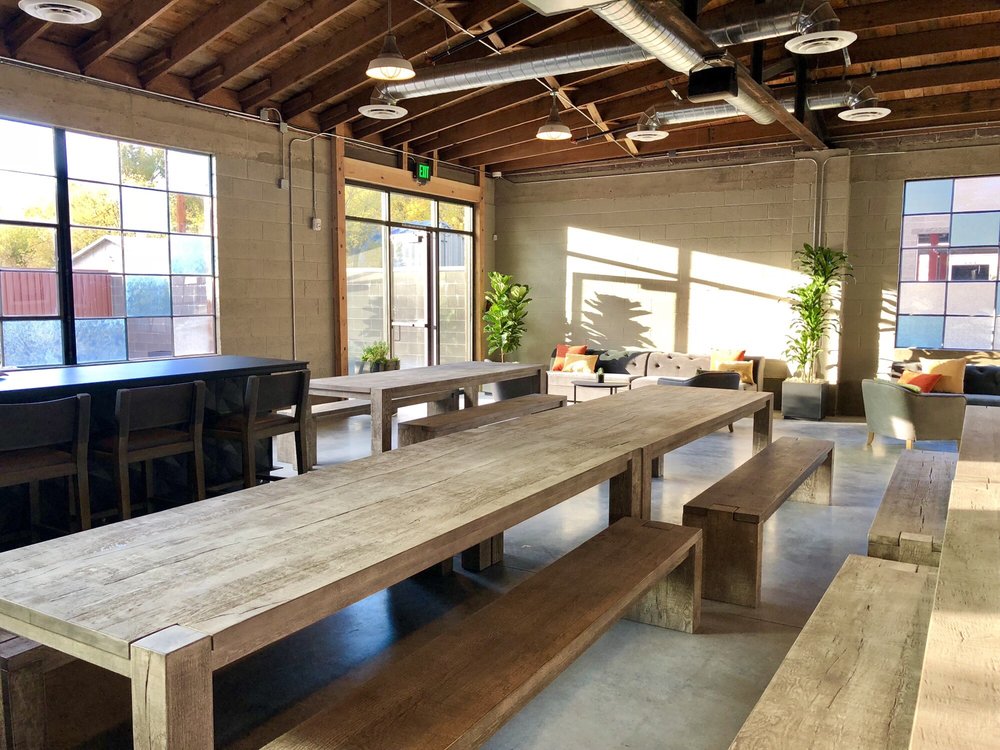 Templin Family Brewing is one of Utah's newest breweries and it surely has that family feel when you walk in. From the smell of the delicious food coming from the continuously rotating food trucks outside, to the massive picnic tables and comfy couches, all the way to the marble backsplash behind the draft beers you are sure to feel right at home here. Whether you just want to catch up with friends around the fire pit outside or sort through the plethora of games, T.F. Brewing is a guaranteed good time with even better beer. Before you head here be sure to check out the events page to see if they have anything going on that may interest you!
Located at 936 South 300 West Salt Lake City, Utah 84101
Monday – Thursday 12:00 pm – 11:00 pm
Friday – Saturday 12:00 pm – 12:00 am
Sunday 12:00 pm – 10:00 pm
Proper Brewing Company
Proper Brewing Co. is the parent brewery of Avenues Proper located just south of downtown Salt Lake City. And while Avenues Proper and Proper Brewing Co. have the same beer, each location is an entirely different experience. This location is meant for the burger lovers of the group. The best part about this brewery is that if you choose to go to the restaurant side, you don't have to be 21 to enjoy their delicious, unique burgers. If you want to hang out in the bar area and eat a burger, you still have to order at the counter in the restaurant but just go ahead and tell them you'll be at the bar and they'll bring your burger over to you when it's ready. Once you finish your burger your time at Proper doesn't have to end. The area has pool tables and pinball machines for everyone to enjoy.
Located at 857 Main Street Salt Lake City, Utah 84111
Proper Brewing Co. Hours:
7 days a week 11:00 am – 2:00 am
Proper Burger Co. Hours:
Monday – Wednesday 11:00 am – 10:00pm
Thursday – Friday 11:00 am – 1:00 am
Saturday 10:00 am – 1:00 am
Sunday 10:00 am – 10:00 pm