Most Beautiful Hikes Near Salt Lake
It is no secret Utah is known for its world-class skiing. Once the snow is melted, it also offers outstanding hiking. Salt Lake City trails are no-doubt Instagram-worthy. With all the trails, it might be challenging to decide where to hike if you want to visit the most beautiful hikes in Salt Lake.
We have broken down our favorite trails in the Salt Lake Valley to help you decide where your next adventure is. While these trails are stunning, they might not be the most suitable for children. Make sure to check out 3 Kid-Friendly Hikes in Utah if you are looking for something fit for the whole family.
Salt Lake City Overlook via Desolation Trail
A quick drive up Millcreek Canyon will bring you to the relatively easy yet gorgeous hike in Salt Lake City Overlook via Destonational trail is a 5.2 miles out and back hike with lots of shades and switchbacks up the mountain. You will park at the South Box Elder parking lot, which offers picnic tables and restrooms. As you journey up the mountain, you'll pass many friendly faces and dogs as the trail is quite popular. Once you are at the top of the mountain, a picturesque outlook provides an ample opportunity to snap a photo-filled with greenery and rolling mountains.
Difficulty: Moderate 
Length: 5.2 Miles 
Elevation Gain: 1,322 ft 
Route Type: Out & Back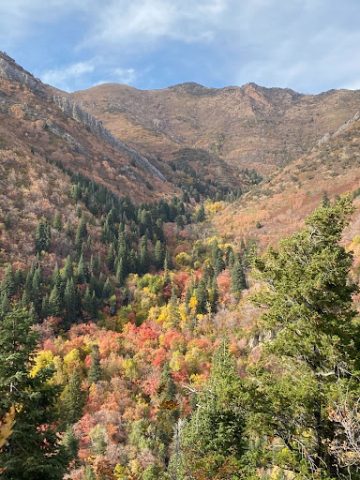 Lake Blanche Trail
Lake Blanche Trail is located 4.2 miles up Big Cottonwood Canyon in Cottonwood Heights, Utah. You will park at the Mill B South Fork Trailhead off Big Cottonwood Canyon Road. Although the hike is not incredibly long at 6.8 miles, you gain a quick 2,800 feet in elevation, making it a more difficult journey to reach Lake Blanche.
The hike is filled with plenty of great photo opportunities, especially as you near the last mile of the lake. Once you reach the gorgeous lake, you see Sundial Peak making for a gorgeous backdrop for a photo. Walk around the lake to find additional photo opportunities, including the Salt Lake Valley peering down the canyon. Lake Blanche Trail is a part of the Utah Watershed, so dogs and swimming are not permitted. When you are done, make sure to get a beer and a burger from Utah's favorite Porcupine Grill.
Difficulty: Hard 
Length: 6.8 Miles 
Elevation Gain: 2,808 ft 
Route Type: Out & Back

Pfeifferhorn via Red Pine Lake Trail
Pfeifferhorn is among the most infamously beautiful and strenuous hikes near Salt Lake City. The 11-mile trail will leave you breath taken by its world-class views and difficulty. This trail is a watershed, so dogs are not allowed. 
The parking lot is just south of Snowbird up Little Cottonwood Canyon. For the first half of the hike, you will follow signs up to Red Pine Lake, where the trail is easy and populated with other hikers. Many people end their journey at Red Pine Lake, which is a beautiful destination.
On your way up to Pfeifferhorn, you will want to stop at the lake to take a photo. The trail to the Pfeifferhorn summit wraps around the lake, where you will begin a rock scramble up the mountain. There are not many hikers that continue to the summit. We highly recommend using the All Trails app as the trail is not well marked. Don't be fooled once you reach the top of the Alpine Ridge, the Pfeifferhorn summit is still another mile. You will journey along the ridge line towards the Pfeifferhorn summit making for a dramatic moment. The final half-mile is another rock scramble to the top rewarded by one of Utah's most beautiful summits.
Don't forget to snap a photo standing on the top of the Pfeifferhorn summit rocks! You will want to document this moment for bragging rights.
Difficulty: Hard
Length: 11 Miles 
Elevation Gain: 3,971 ft 
Routge Type: Out & Back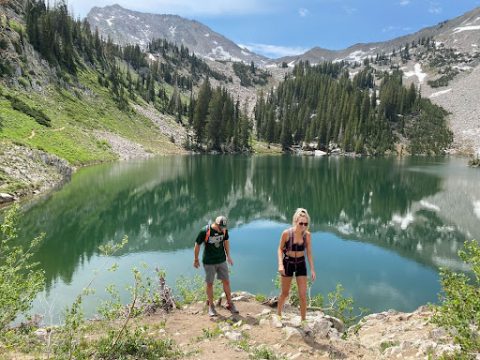 There you have it, 3 of some of our favorite hiking trails near Salt Lake City. Are you a mountain biker looking for more than a hike? Make sure to check out 5 Crazy Must-Ride Mountain Bike Locations in Utah.