Brewvies Cinema Pub: Salt Lake City Nightlife
Would you like to drink a pint and enjoy the newest movies out in the theaters? Before you head to the liquor cabinet or grab your roomiest purse, there is a better way. No one is advocating sneaking in outside food or, um, beverages. If you haven't been to Brewvies Cinema Pub, well let's just say it's the place you've been waiting for. Brewvies puts a new spin on Salt Lake City nightlife.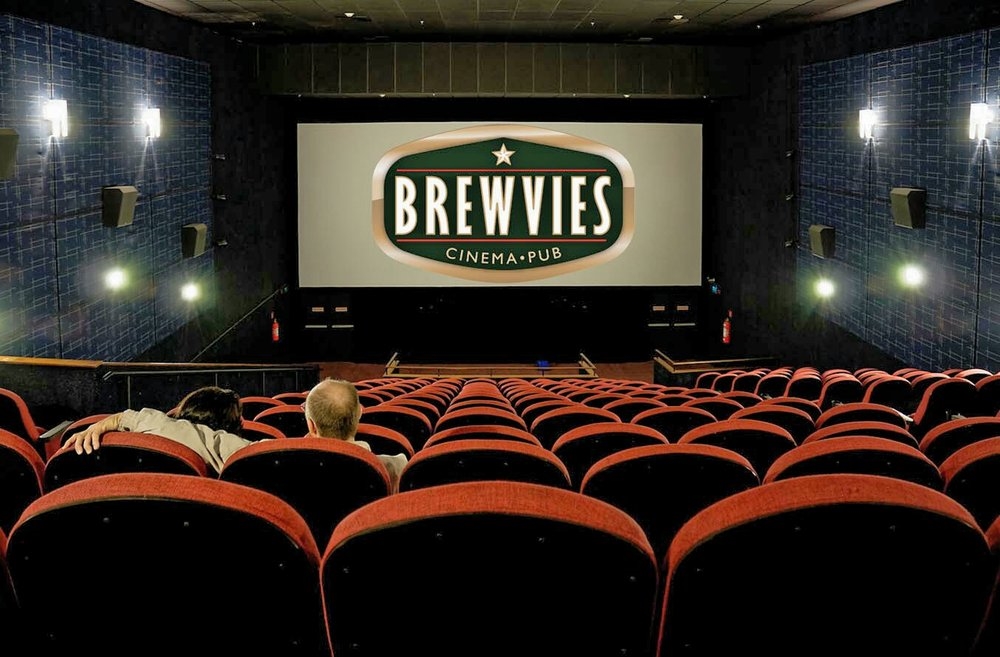 Like peanut butter and chocolate or Fred Astaire and Ginger Rogers, movies and margaritas are meant to go together. Not to worry, if you're not a margarita fan, there is a full bar to substitute your choice of cocktail, wine or beer.
Brewvies opened in 1997, making it over twenty-one years old, which is apropos since you need to be twenty-one to get in. Founded by two Salt Lake locals on the belief that beer and movies make a great combination, this inspired idea has been entertaining locals and visitors ever since. 
Brewvies is the perfect place for a date night and will soon become one of your favorite bars for a group of friends. With pool tables and arcade games and a full menu, it's more than just a place to see a movie. Over the last two decades, it has earned the reputation of being a Salt Lake local's favorite. Speaking of reputation, Brewvies is even part of some serious legal controversies supporting first amendment rights. (They won, of course.) Do you want more reasons why Brewvies Cinema Pub is the place for you? Read on.
Brewvies: Your Favorite Movie Date Night + An Ice Cold Beer
Part movie theatre, part neighborhood bar, Brewvies Cinema Pub features digital projectors and sound with room for luxury seating. 'Now Showing' at Brewvies includes a rotating selection of recent releases and cult classics like Scott Pilgrim vs. The World.
Brewvies is currently the only cinema pub in the state of Utah and has two locations – northern Utah at 2293 Grant Ave. in Ogden and downtown Salt Lake City at 677 S 200 West. Salt Lake visitors and locals will appreciate its convenient access to Trax lines in the heart of the city.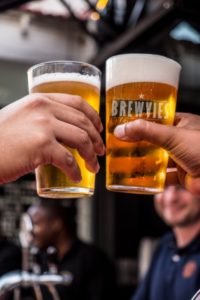 When you're looking for a place to bring a group of friends, Brewvies Cinema Pub is the perfect place. Where else can you go for a free movie ticket on your birthday and get 2-for-1 passes for your friends? Just be sure to bring a valid ID.
For date night on a budget, late night Mondays are just the ticket. Save dancing at one of Salt Lake's best dance clubs for the weekend. Impress your date with "Film Buff" night with a different movie every Monday and a 10 pm showtime. And don't forget the magic words – it's FREE. Bring a few bucks and get there early for a game of pool and a couple of drinks.
Brewvies: Pool, Pub Grub, and Popcorn
Brewvies isn't just a place for seeing new movies, as they are a full functioning bar, serving over a dozen types of beer on tap, wine, and liquor. Brewvies serves a variety of foods from their slow-roasted pulled pork sandwich and boneless wings down to your tastiest movie candies and classic buttery popcorn with slight menu variations for their Ogden and Salt Lake locations.
Serving a large selection of draft beer, Brewvies pours up classic brew favorites  alongside drafts from local breweries like Squatters, Park City Brewery, and Kiitos Brewing. Maybe an elixir named the Walking Dead is more your style, mixed with silver rum, pineapple, lime and orange juice, it will make even the most discerning zombie smile.   At Brewvies you will also find every day fun inside the main bar area, including arcade-style games and billiards. So even if you happen to miss the movie sit back and enjoy a drink or two at the pub.
A Salt Lake City Favorite: Brewvies Cinema Pub
Wondering where to go out midweek? Tired of the usual hangouts? If you want something more than dinner and a pint at one of the many Salt Lake brewery favorites, give Brewvies a try. 
This Salt Lake City cinema pub also participates in discounted movie days by hosting $5 Tuesdays. So be sure to grab your tickets and a pint before they sell out this Tuesday!
This popular cinema pub has variety when it comes to what they offer for their big-screen events week to week. Brewvies currently has bi-weekly themed events outside of the current film showtimes which is constantly being updated on their Facebook page. These events include anniversary celebrations of classic blockbusters, movie marathons, festivals, film roasts and more. Brewvies always wants to make sure their customers have a great time for a fair price as they host free events throughout the year to give back to their devoted fans.
It's no wonder Google Reviews for Salt Lake City's popular cinema pub are nearing 1,300 at publication with an average 4.5 star rating. Reviewers boast it has a "cool neighborhood hangout vibe", others say "rowdy and irreverent…a good time." Google Local Guide Emily Bryan's experience really sums it up.
Great atmosphere, food, and drinks. They honored my boyfriends veteran ID with discounting both our movie tickets. Great sound system, I was genuinely impressed. Comfortable seats and ample leg room with a place to put your food and drinks. Seating is first come first served. We went to late night showing, I'll have to come back to play some pool! Inexpensive games in a great atmosphere. Be back soon!

Emily Bryan, Google Local Guide
Utah Cinema Pub's Controversial Lawsuit
Political activist or inner rebel? When you go Brewvies for drinks and a movie, you are part of a long-standing Utah legal controversy. Brewvies is known in Utah judicial circles for being in a month-long lawsuit for their showing of Deadpool which contains sexual content. In the state of Utah, it is illegal to have both the showing of nudity and the serving of alcohol simultaneously. The Department of Alcoholic Beverage Control (DABC) threatened the cinema pub with a fine of $25,000 and a temporary suspension of their liquor license. In the end, District Judge David Nuffer issued the ruling in favor of Brewvies based on their first amendment rights.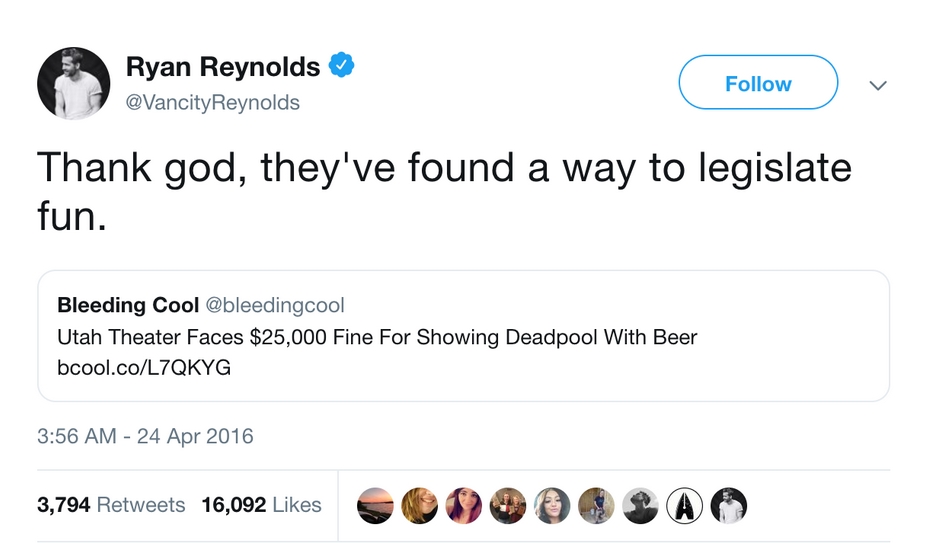 This wasn't the first time Brewvies Cinema Pub has dealt with this issue. Court documents report that Brewvies was fined more than $1,500 in 2011 for showing the movie The Hangover Part II, which also includes nudity. Prior to this hefty fine, the theater had been warned when it showed other sexually explicit movies like Magic Mike XXL and Ted 2. The hotly contended case brought enough attention to have Ryan Reynolds (the lead actor in Deadpool) to personally donate $5,000 to Brewvies case during the trial. This outcome was a huge win not only for businesses serving alcohol in Utah but demonstrating that Brewvies Cinema Pub is a force to be reckoned with. 
Make It to Brewvies Cinema Pub Tonight! 
So what are you waiting for? Do you need directions to Brewvies? Maybe a menu or a list of movies playing this week? Whether it's date night or you're out with a group of friends, head to Brewvies Cinema Pub for a pint, a game of pool, and to catch a movie. Be sure to raise your glass and toast to $5 Tuesdays or just to someone else picking up the spilled popcorn.
When the movie credits roll, if you still have a sweet tooth, make a quick trip to savor Salt Lake's best ice cream and gelato. After all, the only thing better than beer and movies is the rich creaminess of your favorite ice cream.