The Charm of Gardner Village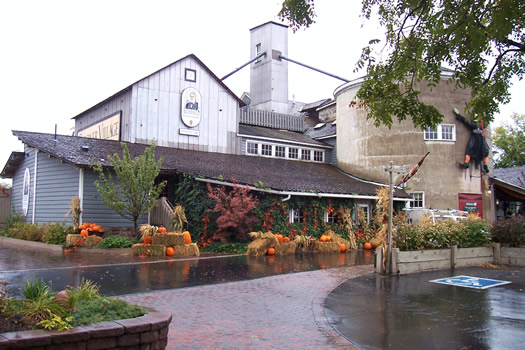 If you are in search of a hidden, relaxing escape in the Salt Lake Valley, then look no further: Gardner Village dazzles and delights, no matter the season. It's brick-lined paths will lead you to 22 locally-owned boutique shops surround the Utah Historic Site, Gardner Mill, which is listed on the National register of Historic Places. Enjoy the latest shopping trends, dine in one of the famous eateries, relax in the day spa, or experience one of their special events that occur year round.
Why Gardner Village?
The Shops in Gardner Village
With the ambiance and charm of an early Utah village, you'll discover shops filled with chic furniture, home decor, clothing, collectibles, jewelry, art, hand-crafted chocolates, and more. Relish the relaxing atmosphere for an afternoon stroll: follow the winding brick pathways and bridges over a duck-filled pond, and end your visit with a delicious meal in the historic flour mill at Archibald's Restaurant. Some famous experiences at Gardner Village includes dinner and a magic show at Mystique Dining, Naborhood Bakery's cookies, and Utah's famous salt water taffy at the Chocolate Covered Wagon – which has been featured on the Travel Channel andFood Network, and was listed as one of America's top 50 candy stored by the Food Network Magazine in 2015.
Most importantly, Gardner Village creates a creative community that welcomes all participants. It encourages you to take a break from your normal routine and treat yourself to something fun. Throughout the year, you can take classes such as floral arrangements, sewing, furniture painting, chocolate making, and fairy garden crafting. See their list of current classes. In addition to their classes, Gardner Village hosts extraordinary events that promise to keep you and your family entertained. The Village particularly comes alive during it's WitchFest, which is held mid-September through Halloween. WitchFest received a Best of State award during 2016 as Utah's best fair, festival and event. You will also discover Woodland Fairy, Festival in the spring, Farmers Markets, and other events year round – such as Eggs Legs 5k Run, Mommy & Me Fairy Tea Party, and Easter Brunch. See their upcoming events.
---
About Gardner Village
Free Admission
Miles from SLC: 12
Family Friendly
Liquor Service Available
1100 West 7800 South, West Jordan, UT 84088-3500
801-566-8903 ext. 2206
Hours of Operation
Mon 10:00am – 8:00pm
Tue 10:00am – 8:00pm
Wed 10:00am – 8:00pm
Thu 10:00am – 8:00pm
Fri 10:00am – 8:00pm
Sat 10:00am – 8:00pm
Sun Closed
Dining and Night Life
Restaurants and Coffee Shops on Premises
Kids Menus Available
Take Out Options
Payment Methods Accepted
Visa, Master Card, American Express
Cash
Check
How else can I relax in Salt Lake City?
Hoping to relax more central to Salt Lake City? Want to feel yourself immersed in the Salt Lake culture? Check out Temple Square in Downtown Salt Lake City or Sugarhouse Park in the nearby beautiful suburb!
"Gardner Village." Salt Lake City Hotels, Restaurants, Events, Things to Do & Shopping, Visit Salt Lake, www.visitsaltlake.com/listing/gardner-village/54342/.