Utah Art Exhibit – Dreamscapes
If you're in Salt Lake City for the weekend, or if you're a local looking for something new to do, consider visiting Dreamscapes. It is an interactive Utah art exhibit in the heart of the Downtown SLC area.
What is Dreamscapes?
Dreamscapes is an interactive Utah art exhibit inspired by surrealism. It consists of physical and digital artwork that takes you through an imaginative journey. The museum is sure to captivate adults and kids alike because of its bright colors, lights, and a collection of unique objects.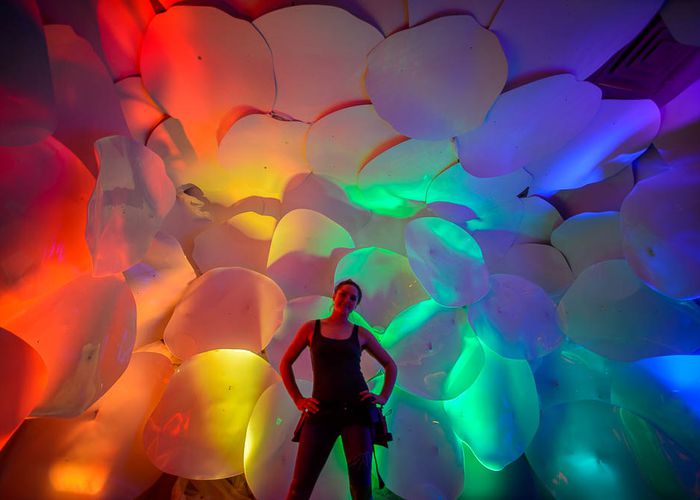 Dreamscapes manifests the surreal nature of the subconscious labyrinth suitable for all ages and abilities to play, explore and of course, dream. Don't miss this opportunity to dream with your eyes open as you move through the colorful vignettes that change the way you experience art.

-Dreamscapesslc.org
Local Artists Come Together
If you want to immerse yourself into the Salt Lake City art scene, Dreamscapes is the place for you. Over 100 local Utah artists, builders, and volunteers came together to create the art exhibit. Above all, they wanted to keep sustainability at the heart of their mission. The artists worked with reclaimed materials generously donated by community members and local partners to create this museum.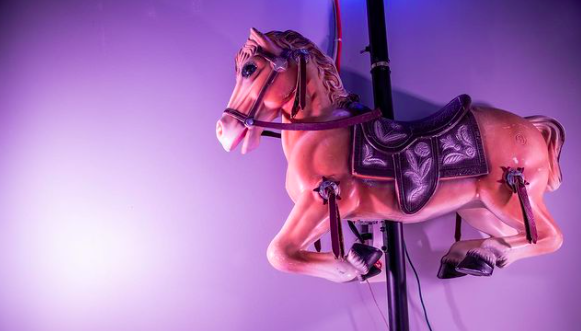 Planning Your Trip to the Exhibit
Dreamscapes is located inside Gateway Mall, an open air shopping center in the Downtown area. (111 S Rio Grande St., Salt Lake City, UT 84101). When you arrive at the shopping mall, you can park at the South Garage. Then, follow the signs to the Dreamscapes exhibit, which is across from the Discovery Gateway Museum.
Drop-in tickets are available, however, we recommend purchasing tickets to the museum in advance on their website at dreamscapesslc.org. Keep in mind that the art exhibit is closed Monday-Wednesday. It is open 12-9 PM on Thursdays and Sundays, and 12-10 PM on Fridays and Saturdays. General admission tickets are $15, while seniors, children, military, and healthcare workers can get discounted tickets for $12.
Once you arrive, you will present your ticket and go through a simple temperature test. Dreamscapes provides a stroller and coat check, and is ADA accessible. After that, groups of 10-15 people will be let in at a time according to their time reservation. Next, an attendant will explain the layout and rules of the art exhibit. Dreamscapes consists of several different themed rooms. Visitors can walk through at their own pace! Because of this, you will be free to take photos and interact with the art as much as you want. Our personal favorites are the hall of mirrors and the white room, which you will visit at the end.
Once you exit the museum you will be brought back to the lobby. After that, you can pick up your coat or stroller, purchase art prints from the gift shop, or take a photo in front of the Dreamscapes neon sign!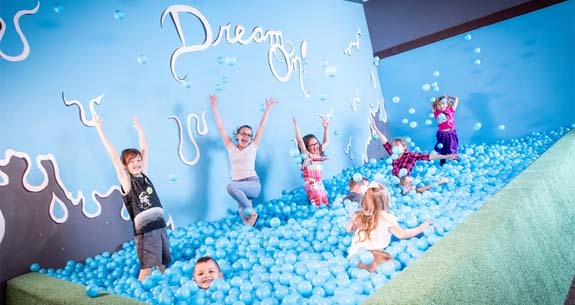 Utah Family Friendly Art
This is an excellent activity for adults and children, since you won't have to worry about your kids touching something they shouldn't – Dreamscapes is designed for everybody to explore, dream, and play! For 3 other Kid-Friendly activities, check out our blog post HERE. If you visit Dreamscapes and love it, make sure to visit again every few months, as they are planning on changing the Utah art exhibit seasonally!
After you visit Dreamscapes, make sure to check out the great dining and shopping options at Gateway Mall! If you're interested in other Salt Lake City hole-in-the-wall restaurants, check out our blog post HERE!
Click HERE to purchase your Dreamscapes tickets today!