Salt Lake City Ski Shops and Repair
Get ready this summer for the biggest winter sport in Utah! Skip going to REI for overpriced equipment and check out these three local shops for great quality, price, and experience.
SPORTS DEN
Sports Den, 1350 Foothill Dr, Salt Lake City, UT 84108
Sports Den has a great catalog of  equipment and services for all of your powder needs. They provide all major brands of skis and ski equipment with comprehensive employee advice. Dropping off a pair of Rossignols couldn't be easier at their repair shop with drop in appointments. From the basic "Signature Tune" for $60 to their "World Cup Race Prep" for $80, skiers of all types and skill sets can be fully serviced. Boots can be custom fitted with their own in-house foot scanner and boot mold.
Sports Den has a homely and family oriented setup. Located in Foothill Village, a suburban complex, this shop brings in a lot of clientele from the local area. Sports Den is geared for the skiers that are driven by the sport of skiing to the casual enjoyers.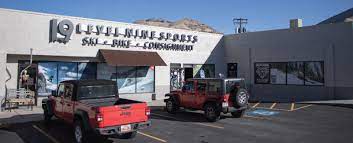 LEVEL NINE
2927 E 3300 S, Salt Lake City, UT 84109
Level Nine is a ski thrifters dream. Sales are a frequent free-for-all and spending a day or two sifting through the racks of clothes can yield some Arc'tyrex and Patagonia gold! The repair shop offers a $75 an "L9 Premium" service which includes the basic wax, edging, P-Tex in their $60 "The Goods" package with an added full base repair, bevel edging, and iron wax.
Level Nine is conveniently located on 3300 South between Parley's Canyon and Big Cottonwood Canyon. The shop is a must for the ski bums and certified mini-van pilots, which they offer ski racks for. It is a great spot for some quick and cheap pickups for those times you forgot to bring gloves.
7EVEN SKIS
25 Louise Ave S, Salt Lake City, UT 84115
7even Skis is a local brand that sells their own in house, high performance skis. Their skis are fully to semi customizable. The biggest draw to 7even skis is the self proclaimed "Best Ski Tune in SLC!" and they don't lie. They offer a base "Pro Tune" with no P-Tex for $50, to a a$85 "Pro Tune Plus" with unlimited p-tex fillings. For their most premium ski service, 7even Skis has a $90 "Race Pro Tune" for the professional end attention. All repairs include custom edge bevels. Furthermore, 7even Skis will bring the repair shop to you by providing irons, wax, edge sharpeners and p-tex supplies.
Maybe you came to ski Utah with all your equipment, but you only need a fine tune. 7even slopes offers highly customizable and premium grad  tune-ups for your ski. Check them out and maybe you'll fall in love with their custom sticks!
Now that you know where to get ski's and tune ups, find out where to take them! Here are some articles to the best resorts and best passes:
Ikon vs. Epic Pass for Utah Skiers
Eating Before, During, and After your ski day
The Best Ski and Snowboard Lessons.
Ski Weekend in the Cottonwoods.
Needing help routing your adventure to Deer Valley, click here for assistance.
Want something warmer?  Check out our guide to Southern Utah State parks.